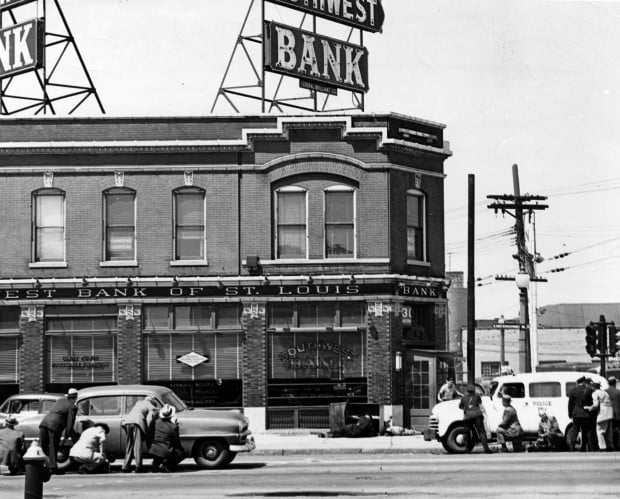 ST. LOUIS • It was Friday — pay day — and bank teller Alice Ruzicka was ready for the rush. Eva Hamilton waited to cash a check for her boss. Salvation Army worker Myrtle Howard sought donations at the front door.
At 10:19 a.m., three masked men rushed past Howard and into the lobby of Southwest Bank, Kingshighway and Southwest Avenue. Swinging a sawed-off shotgun, ringleader Fred Bowerman jumped onto a counter and shouted, "This is a holdup! Everybody stand still!"
Bowerman, a seasoned criminal still in the trade at 60, had earned his way onto the FBI's 10 Most Wanted. He knew a fat target — the neighborhood bank had $200,000 in handy cash for paychecks. Bowerman and his cronies from Chicago planned their moves in nearby Tower Grove Park. But they ran out of luck on April 24, 1953, taken down in one of the St. Louis Police Department's proudest moments.
Ruzicka struck the foot alarm, one of three turned in by employees. Telephone repairman Joseph Bauer, working in a side room, dialed police and said, "I can see a holdup going on."
Police officer Melburn Stein and Cpl. Robert Heitz, two blocks away on Kingshighway, took the radio call at 10:21 a.m. Bowerman and two accomplices had stuffed $140,769 into a bag when Stein took the front door and Heitz rushed for the side door.
The getaway driver sped away.
Heitz traded pistol shots with two robbers but was knocked down by a blast from Bowerman's shotgun. Stein fired from the front door, then took cover behind a newspaper box.
By then, everybody was on the floor — customers, employees, robbers and the bank's directors, who had been meeting when gunfire erupted. "Grab a woman," shouted Bowerman, who picked on Hamilton. He shoved the shotgun into her back and pushed her toward the front door.
Frank Vito turned to fellow robber William Scholl and said, "I can't take a pinch." Vito shot himself in the head.
As more officers arrived, Bowerman pushed Hamilton outside. Stein saw an opening and fired twice, hitting Bowerman. Hamilton fell to the sidewalk, breaking her wrists. Post-Dispatch photographer Jack January, who reached the scene by following a speeding police car, took pictures.
Inside, Scholl surrendered. Despite 40 gunshots and tear-gas shells, no one else was hurt. Police found the getaway car six blocks away and, three days later, caught up with driver Glenn Chernick in Chicago. In 1959, "The Great St. Louis Bank Robbery" hit the theaters. In the cast was young Steve McQueen.
Bowerman died a week after the robbery. Scholl and Chernik drew long sentences. Heitz recovered.