This article was originally published on June 21, 2005
On a cold March day, a caisson pulled by six black horses carried a flag-covered coffin through the winding roads of Arlington National Cemetery, the hallowed ground where America buries its heroes.
A crisp north wind bore through winter-bare branches. The rustle of dead leaves mingled with the click of horse hooves on pavement. A military band assembled on a hilltop played "Nearer My God to Thee."
The grave site rested in the late afternoon shadows cast by a sturdy oak tree. Soldiers in blue dress uniforms unloaded the silver coffin with practiced precision. An Army chaplain said a few words. Seven riflemen fired three volleys each. A lone bugler played taps. Family and friends shed tears for someone who believed so much in duty, honor, country.
As the bereaved began to drift away, Tammy Duckworth lingered for a moment in her wheelchair. Three days shy of her 37th birthday, she wore her crisp green Army dress uniform. Oak leaves on her collar indicated her recent promotion to major. The Air Medal ribbon on her chest recognized her actions in combat. On Nov. 12, 2004, the Black Hawk helicopter she had been piloting was shot down in Iraq by an insurgent using a rocket-propelled grenade. A blanket on her lap covered what remained of her two legs. She kissed her good hand and held it out toward her father's casket.
"Bye, Daddy," she said quietly.
More than anyone, Franklin Duckworth had molded his daughter into an overachiever. She tried so hard for so long to please him. Like every child, she longed to hear him express his pride in her. Even his wife urged him to let his daughter know his feelings.
But Frank Duckworth was a stoic man and like many of his generation often found it difficult to express his emotions, especially with his children.
Of course, he was proud of his daughter, he would tell his wife. Surely he didn't need to come right out and tell her for her to know that.
Over time, Duckworth grew to believe she'd never hear the words from the man she still called daddy. She moved on.
Reunion with father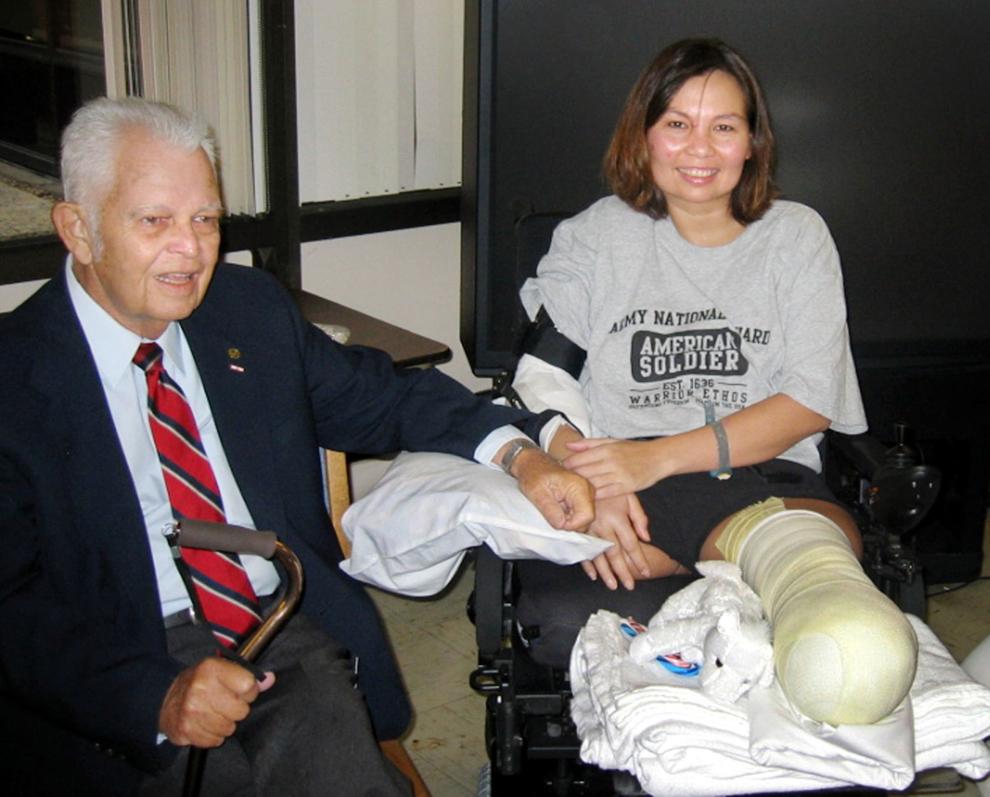 Frank Duckworth had been recovering at his home in Hawaii in late November when his daughter entered Walter Reed Army Medical Center in a fight for her life.
He had suffered a heart attack just a week before his daughter had been shot down and another in early December. By mid-December, he had regained enough strength that doctors cleared him to travel to Washington to visit her. He arrived three days before Christmas, the same day that a general pinned the Air Medal and an Army Commendation Medal on Duckworth's uniform.
It had been a year and a half since Duckworth had last seen her father. The man who walked into the reception room that day at Walter Reed looked 10 years older than she remembered. A barrel-chested athlete in his younger days, he now looked thin and drawn. He leaned on a cane.
Frank Duckworth acknowledged the military brass in the room and then went straight to his daughter, hugged her and held her hand tightly. He sat down next to her wheelchair. Even now, he was sparse with words. They talked about his flight, how she was doing and whether she was being treated well.
He returned with his daughter to her hospital room, where she got back into bed, exhausted by the day's activities. He dozed in the chair next to her.
On Christmas Eve morning, Frank Duckworth suffered another heart attack and was admitted to Walter Reed, in a room one floor below his daughter.
After a few weeks at Walter Reed to regain his strength, Frank Duckworth transferred to a Maryland hospital to undergo heart surgery.
Frank Duckworth never woke from the operation. He held on for about two weeks before any hopes of recovery ended. The family gathered at his bedside to offer their final goodbyes before he was removed from life support. He died shortly after midnight on Jan. 28 at age 76.
Longing to fly again
The day after her father's funeral at Arlington, Duckworth was back at Walter Reed, where she pushed her damaged body through a grueling rehabilitation session that left her wet with sweat and out of breath.
The five-day-a-week regimen is part of her effort to reach what may be an impossible goal-- to once again fly a Black Hawk for the Army.
She knows she could take her military discharge and disability payments and leave the Army behind. But her father had always taught her not to take the easy way out, to work harder than everyone else to achieve her goals. She wants to put her uniform back on, lead soldiers again and climb into the cockpit. It's a matter of who decides when she stops flying -- an insurgent who got off a lucky shot with a rocket-propelled grenade or her.
Within the next year, a review board will decide the extent of Duckworth's disability and whether she will be allowed to stay in the Army. In a way, she finds herself in a Catch-22 situation.
On one hand, she wants to present herself as being 100 percent disabled to ensure she receives the maximum disability payment once she leaves the armed forces. On the other, she wants to prove to Army officials that she is still capable enough to fly. If her request to remain in the National Guard is granted, she is almost certain they'll want her to take a desk job.
She hopes to appear before a flight evaluation board and a flight medical board and prove she can perform all the duties required of a helicopter pilot.
For now, she is delaying as long as possible her appearance before the medical evaluation board. She wants to get as healthy as possible first. She wants to show them not just that she can walk again, but that she can run.
Some tears of loss
Over the last several months, Duckworth has enjoyed and endured a measure of fame. She has talked to veterans groups, testified before a Senate committee and been a guest at the State of the Union address. She routinely says she is thankful to be alive, credits the actions of her fellow soldiers and lauds the Walter Reed staff.
In private moments, she admits she misses the feeling of being tall, fit and strong. Her life now involves compensating for her injuries. When not testing out her new artificial legs, she uses a motorized wheelchair. She spends most of her days in physical therapy, being fitted with her prosthetics and learning how to walk again. She spends most afternoons napping, exhausted by the work.
"I know that I'm going to be affected and upset by my appearance," she said. "I'm not the same person that I was, but you just kind of have to acknowledge you have those feelings. If you have to feel them that day, then you feel them that day, but then you need to set them aside and get back to your job and do your job. My job is get myself back healthy and back in the aircraft."
At times, she gets depressed.
On a recent night she found herself watching the television show "America's Next Top Model." She looked at the women and realized that she would never look that way again. The short skirts, the high heels, the feeling of femininity. At those times, she admits, she wept.
"The rest of my life is going to be spent compensating for the lack of legs and wearing clothes that cover that," she said. "I cry, and it annoys me that I can't wear pretty things anymore."
But often at those moments, it's her husband, Bryan Bowlsbey, who is there to put things back in perspective.
"Yes, it's going to be a pain in the ass," he'll say, "for the rest of your long, happy life."
Precious final words
Around her neck, Duckworth wears a medal that contains a portion of the soldier's creed. Among its directives is to always place the mission first, never quit, never accept defeat, never leave a fallen comrade. It is a warrior ethos that her injuries did not dim.
At the hospital in Baghdad, personnel who treated her shortly after she was shot down later told Duckworth that she woke briefly. During that time, she repeatedly asked about the men aboard her Black Hawk. She is proud that despite her grievous wounds, she continued to try to fly her aircraft, that the mission remained paramount and that she continued to ask about the welfare of her crew even after she was injured.
"I don't want to fail my soldiers, myself, the Army, the people I serve," she said. "You make a commitment, and you live to keep it. It's good to know that I was a professional, that I didn't collapse under pressure."
For now, Duckworth is on her mission to heal.
Her injuries no longer are considered life-threatening, and doctors expect her to lead a long life. She is learning how to walk again on her new artificial legs. She plans eventually to return to her civilian job with Rotary International.
When she looks back on the last six months, there are small victories she clings to: Waking up alive, finding her husband at her hospital bedside, and then finally, a chance to talk with her father in a way she never believed possible.
The moment had come after Frank Duckworth suffered his Christmas Eve heart attack. During her frequent visits to his hospital room at Walter Reed, Frank Duckworth seemed to open up like never before to his daughter. He told her he worried about her injuries, said he wanted to see her walk again and told her she'd had such pretty feet.
She told him not to worry, that she was fine, that she was alive and would move on. Still, she could tell he was mourning for her loss.
When she was fitted with her first artificial leg, she went down to visit him, thinking it might make him happy to see her with it.
He seemed relieved by her appearance, as if she was once again whole.
He looked into the eyes of his daughter, who had suffered and sacrificed so much.
"You know, I'm so proud of you," he said as his eyes moistened with tears.
"Well, thank you, Daddy. That means a lot to me," Tammy replied.
Today, Tammy Duckworth doesn't know whether she will fly again or be able to continue her military career. Even so, she knows her father would be proud.