Originally published Saturday, June 25, 2005
BY DAVID HUNN & TRISHA L. HOWARD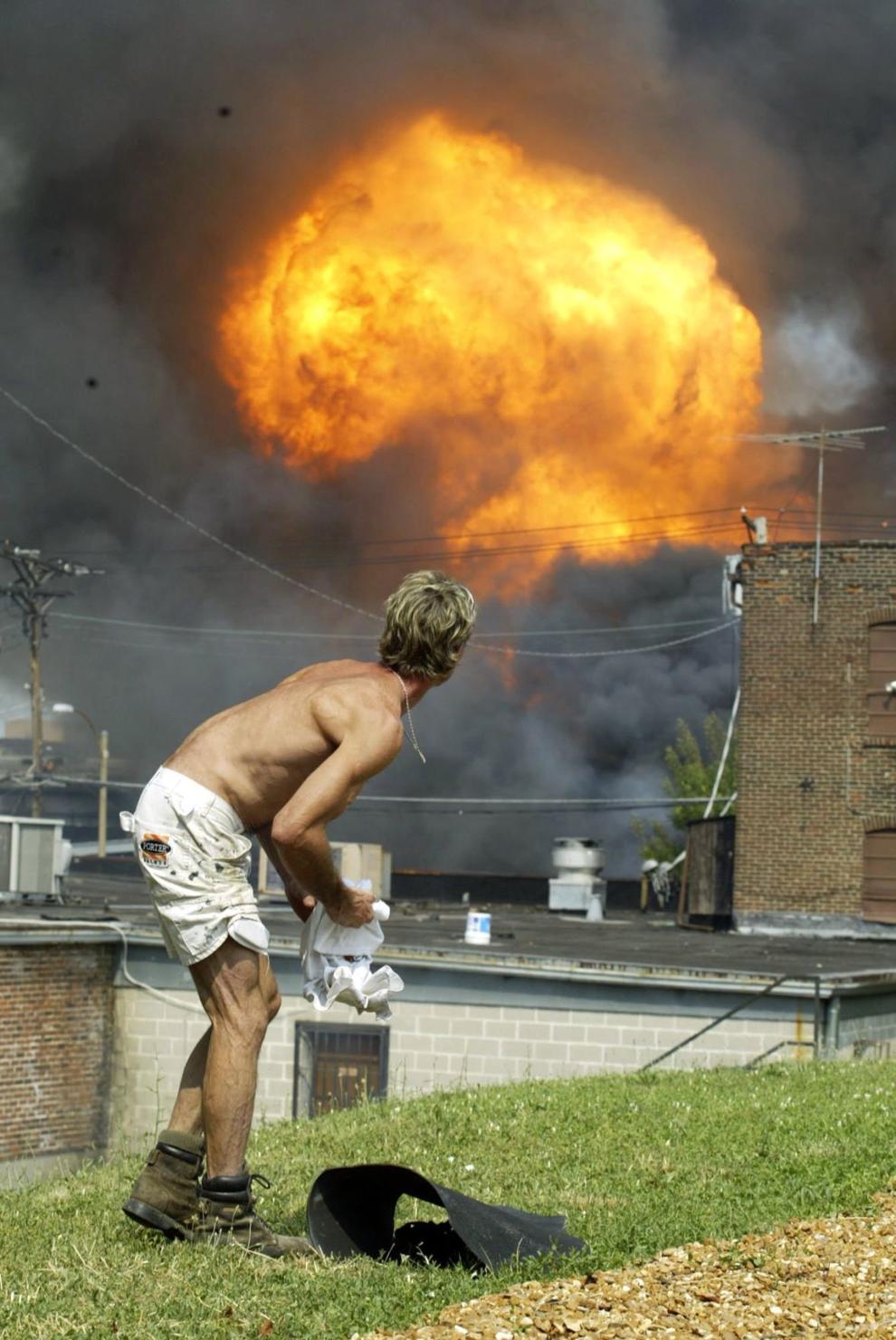 Officials think 9,000 pounds of propane burned or exploded at the industrial gas company. No injuries were reported.
Like a battery of roaring cannons, a storage yard jammed with tanks of industrial gases erupted Friday in a rapid-fire chain of spectacular explosions and fireballs.
The explosions at Praxair Inc., just southwest of downtown, shook the surrounding neighborhoods and sent residents and workers fleeing for cover.
"It was like a war, an atom bomb, " said Lavonia Edwards, who was leaving Praxair with a load of oxygen tanks when he heard alarms going off. "Gas, smoke, flying metal debris, tanks were blowing up."
Despite fireballs flashing high into the air, throwing exploding tanks and hurling debris into yards and streets, officials reported no injuries. Heat from fireballs could be felt two blocks away.
St. Louis Fire Chief Sherman George said officials assumed that about 9,000 pounds of propane went off during the blaze at 2210 Chouteau Avenue. Officials had been concerned that the fire might reach tanks of liquid oxygen and chlorine, but both apparently were spared.
"You'd have known about it, " Police Chief Joe Mokwa said, when asked if they had been ignited.
Praxair employees fled and were all accounted for. Workers also evacuated AmerenUE's office complex to the east and the United Parcel Service station to the north.
Responding firefighters focused on the evacuation then raised unmanned high ladders with snorkels behind the buffer of nearby buildings. More than 70 firefighters manning 12 pumpers and two hook-and-ladder trucks responded, along with crews of four Fire Department ambulances.
City units received assistance, including units from the Webster Groves Fire Department and ambulances from Ladue, a hazardous materials unit from St. Louis County and the Monarch Fire Protection District.
By 8:30 p.m. the Praxair blaze was extinguished, and most residents had returned to their homes.
Shortly after the explosions, debris was found several blocks away from the storage yard. The fire burned up vehicles parked nearby, and flaming debris damaged a home in the 2300 block of Rutger Street, just to the south.
A thick black column of smoke filled the air, as did the sharp smell of burning rubber.
Police officers and firefighters evacuated the area from Highway 40 (Interstate 64) on the north, 18th Street on the east, Park Avenue on the south and a block or two west of Jefferson Avenue on the west. Police shut down Highway 40 from the Poplar Street Bridge to Kingshighway for two hours out of concern for deadly gases or other eruptions. The explosions caused a half-hour delay of the Cardinals' game with the Pittsburgh Pirates.
Witnesses said they heard the pops of a few explosions, saw flames billow into the air -- and then heard the staccato of many more explosions.
Kelli Hamilton was awakened from a deep nap in her home just west of Praxair on Missouri Avenue. She looked out of her second-floor window and saw fireballs.
"Get the baby and get out of the house, " her husband, Kregg, shouted to her, she said.
Hamilton said she took Jess, 5 months old, headed outside and saw an elderly neighbor. Hamilton said they all drove to Lafayette Park.
"I knew exactly what had happened, " she said. "All I could think of were those piles of tanks."
Rob Woodie, who had been watching TV at his home on Rutger, said: "The explosions kept coming and they didn't stop. I got out of there because I thought the windows were going to break."
He, too, fled to Lafayette Park with his infant son, Ryan.
Alderman Lewis Reed, D-6th Ward, was in his office one-third of a mile from the yard when he heard the first explosions and saw tanks flying, and "debris just zooming across the sky."
Susan Szita Gore, a spokeswoman at Praxair's headquarters in Danbury, Conn., said the yard on Chouteau transfers industrial gases from large storage tanks into smaller canisters for sale. Gore said the products include propane, acetylene, liquid oxygen, nitrogen and argon. The company sells them for welding, general industrial operations and some medical use.
Gore said the company did not know what set off the explosions and quickly sent experts from its headquarters to investigate. She said the company employs 70 people at the site, but she didn't know how many were there Friday afternoon.
George, the fire chief, said early indications were a tank exploded and landed on the roof of Praxair's main building, starting a fire that quickly spread to the storage areas.
The first call was at 3:20 p.m. Explosions and fires began to slow down after 4 p.m., and firefighters didn't enter the grounds until after 5 p.m. George said shortly after 6 p.m. that they would let many of the small fires burn out, lest poisonous gas or other explosions imperil firefighters and others.
Gov. Matt Blunt plans to visit the site of the explosions this afternoon and speak with local officials about the cause.
City records show the company applied for an operating license in 1989, and during the past seven years, it had spent $114,000 on fire-sprinkler systems.
Greg Jonsson, Heather Ratcliffe, Tim O'Neil, Jake Wagman, Jo Mannies and Daphne Duret, all of the Post-Dispatch, contributed to this report.
---
In February 2006, the St. Louis City medical examiner ruled that Minnie Cooper, 32, died during an asthma attack "triggered by inhalation of noxious smoke/fumes from industrial explosion/fire." Cooper died 11 days after the explosion at Praxair; she lived in the 1100 block of South Ninth Street and could have been exposed to fumes while taking public transportation and walking home.
After the fire, Praxair permanently closed the plant site in the Lafayette Square neighborhood.
In June 2006, the U.S. Chemical Safety and Hazard Investigation Board concluded the relief valves on propylene gas cylinder tanks could have opened in high temperatures, and the explosions could have been sparked by static electricity. The company disputed the conclusion.