ST. LOUIS • Barry Goldwater, tenacious underdog for president, stood before a cheering capacity crowd in Kiel Opera House. The big curtain behind him opened to reveal more loud Republicans in the adjoining auditorium.
"Welcome to the crowd, folks," said the Republican presidential nominee as he turned to the happy supporters in the overflow seats.
The two wings of the Kiel convention hall downtown were built to share one stage as needed. It was warranted on Sept. 19, 1964, during Goldwater's only swing through Missouri as the candidate. He returned to the area for a quick speech in Belleville one week before election day.
Goldwater spoke in Springfield, Mo., on Sept. 17 after a warmly received series of rallies across the deep South, where he plugged a careful salute to states' rights — calling for local control of federal grants while avoiding race. But he had voted against the Civil Rights Act two months before. Many in his crowds cheered with rebel yells and battle flags.
Then he headed to the border state of Missouri. He needed conservative Democrats to change their yellow-dog habits.
Goldwater, a senator from Arizona, was running far behind Texas-born President Lyndon B. Johnson. Goldwater inspired fierce devotion from the GOP's conservative wing, but flip comments such as his joke about "lobbing" a nuke into the Kremlin men's room gave the Democrats plenty of powder.
Goldwater billed his stop at Kiel as a major foreign-policy speech to calm the electorate's jitters. He said there was "no greater political lie" than the drumbeat that he was too dangerous for the presidency.
"I have never suggested, nor would I as president, move recklessly with our great power," he said. "But I would take every step to make sure that the communists did not move recklessly with theirs."
Goldwater also covered the domestic essentials, accusing Johnson of lavishly wasting money on "politically motivated handouts" through the Great Society. Goldwater called for lower taxes, fewer regulations and smaller government.
After the speech, a few police officers escorted Goldwater to a waiting Cadillac. Even after the assassination of President John F. Kennedy 11 months before, campaign security was evolving.
That was obvious on Oct. 21, when Johnson spoke from a car outside Orr Weathers Homes, a public-housing complex in East St. Louis, and to an audience outside the Old Post Office, at Eighth and Locust streets downtown. There, he called the nuclear age "no time for bluster, bluff and belligerence." Secret Service agents stood nearby, but the events were open to any pedestrian.
One week later, Goldwater spoke outside the St. Clair County Courthouse in Belleville, where he called local education "the responsibility of parents, not the federal government."
He lost in a landslide on Nov. 3 to Johnson, who took 61 percent of the popular vote and all but six states. Missouri and Illinois were strong for Johnson. Goldwater won his own Arizona and five Deep Dixie states, foreshadowing his party's future Southern strategy.
Look back: Goldwater and Johnson campaigned in St. Louis
Barry Goldwater in St. Louis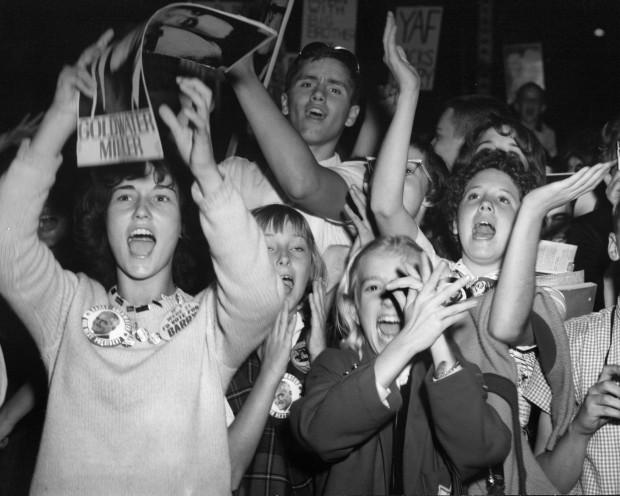 Barry Goldwater in St. Louis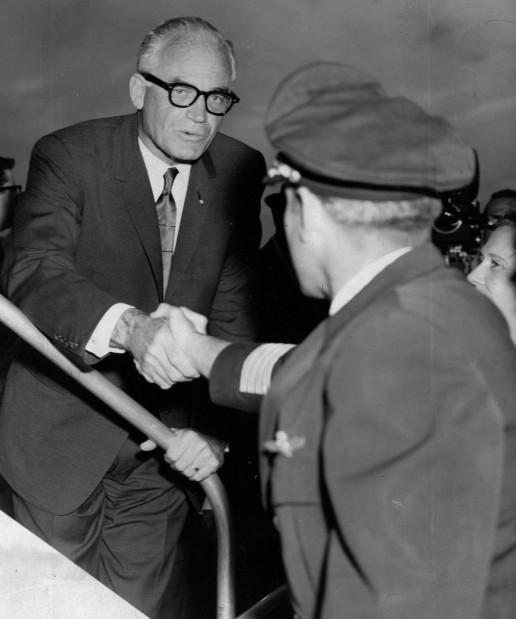 Lyndon Johnson in St. Louis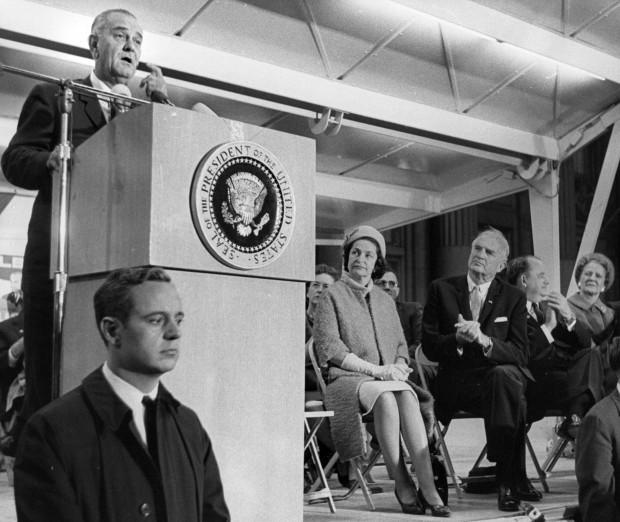 Barry Goldwater in St. Louis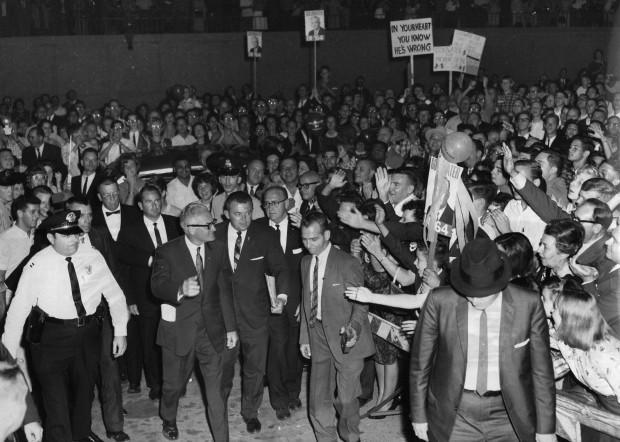 Lyndon Johnson supporters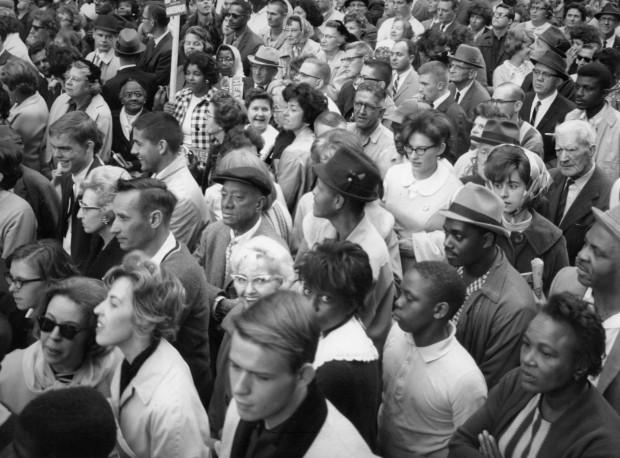 Barry Goldwater in the Metro East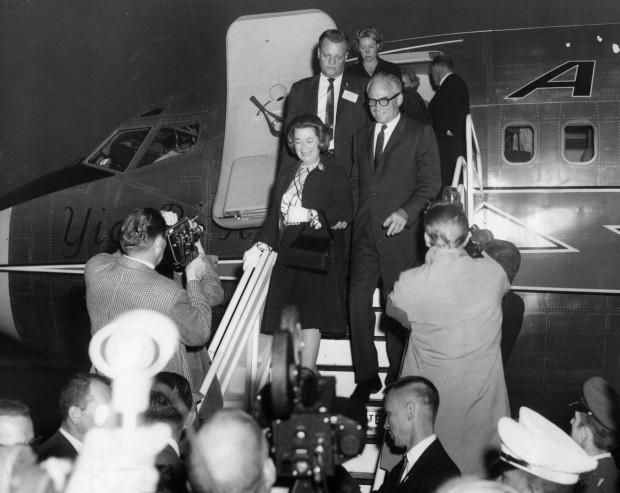 Lyndon Johnson supporters - and a few opponents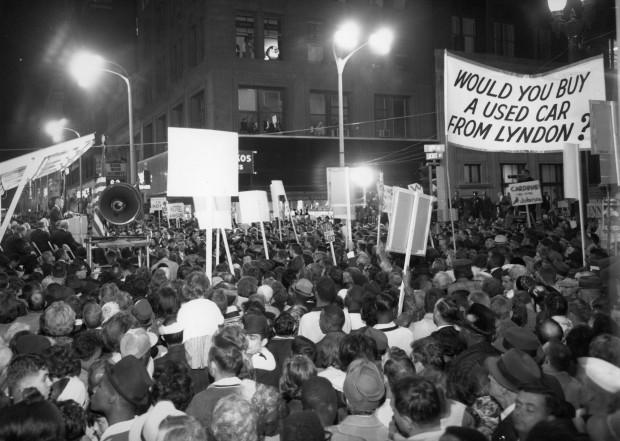 Lyndon Johnson in St. Louis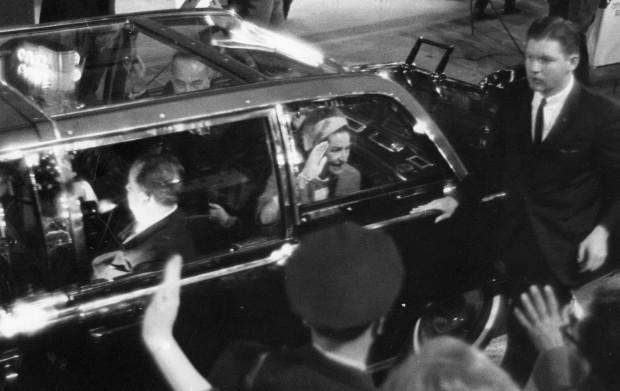 Barry Goldwater in St. Louis