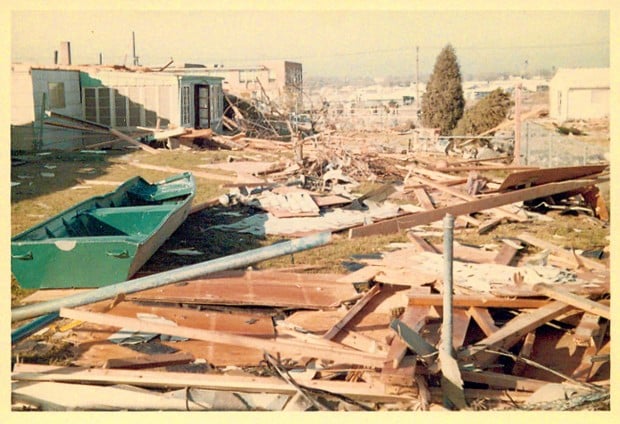 Editor's note: This story was originally published in April of 2011.
Robert and Delphia West sat at their kitchen table on Thursday, April 28, 2011, looking at a small scrapbook. The photographs show broken tree limbs, debris in the streets, demolished houses, survivors picking out valuables from the carnage.
All are familiar sights after the April 22 tornado that roared through North County. However, for the Wests, it was the scene of their Edmundson neighborhood after it was hit by the Jan. 24, 1967, tornado. This twister was considered at the time to be the fourth worst tornado to hit St. Louis, according to the National Weather Service.
The colors on the Wests' photographs are faded; the haircuts and clothes out of date. Houses were rebuilt. Many of the survivors have moved on or have died.
The memories, though, are just as fresh as if it happened yesterday.
"I remember all of it," Delphia, 84, said. "It's something none of us will forget."
Edmundson and Woodson Terrace suffered minor damage on April 22, a piece of good luck compared to the heavy damage suffered by Bridgeton, Maryland Heights, St. Ann, Dellwood, Ferguson and Berkeley. The tornado also seriously damaged Lambert-St. Louis International Airport, right across Interstate 70.
Luck was not with the two cities in 1967. First, nobody expected a tornado in January — spring and summer are the usual twister seasons. The weather had been warm, though, Delphia said.
Touching down at 6:55 p.m., the twister followed a 21-mile path that started near Chesterfield and took a northeast direction through North County, finally dissipating in Spanish Lake. Along the way, it caused three fatalities and 216 injuries. Damage was estimated at $15 million.
There were no warning sirens for the residents. Delphia and Robert and their three children were in the car, having just left to do some shopping. It was starting to rain when darkness fell across the area.
"It was just like a sheet," Robert, 83, said. "Everything became dark immediately. We didn't know about the tornado, but the storm made a lot of noise. It was gone quickly. We circled around and went back home. Then, we saw the neighborhood."
Their house, in the 9600 block of St. Jerome Lane, was damaged while some neighbors' residences were demolished. Fortunately there were no fatalities.
"All I could say was, 'Look at our house,'" Delphia said.
Diana F. Makuta, 81, lives in the 9600 block of St. Girard Lane, just a short distance from the Wests. She and her late husband John had moved into their house in November 1966. John was not home when the storm hit.
"It was 75 degrees," Makuta said. "I was walking down the street, taking some dirty clothes to the laundromat. John wasn't home. It looked like a storm was coming, but I really didn't think about it. There were no sirens going off. Then, our next-door neighbor Smitty came out and told me to get into the house and stand in the hallway.
"I didn't know what was happening. The storm passed and I still thought I'd go do my laundry. When I came out, ours were the only two houses still standing."
Woodson Terrace Mayor Lawrence Besmer was 15 years old. He was in the living room of his house in the 9400 block of Margo Ann Lane when a gust of wind blew out the front windows.
"It happened so quickly," Besmer said. "Fortunately, our street was lucky. The houses on Beauty Lane were wiped out. The backstops on the ball field in Woodson Park were bent down. There was all kinds of debris in the park, like a wedding dress, shoes, personal items."
Police Chief Robert Dowling was 10 years old. He and some buddies had gone to Edmundson Park to play some football, but decided to head home as the sun set and the sky looked menacing. An hour later, the tornado hit.
"It went right through the park where we were," he said.
Then, the weather took another turn. Within 36 hours, January returned with freezing temperatures, snow and sleet.
Besmer had one cautionary note about the experience. As bad as the 1967 tornado was, it's easy to be lulled by the passage of time, Besmer said.
"Over the years, we've heard so many warning sirens that on (April 22), I wasn't concerned," Besmer said. "Then the television news broke in and told us about the tornado. You have to be ready."
Facts about the 1967 tornado
• Started at 6:55 p.m. Jan. 24 in western St. Louis County
• Ran 21 miles over 35 minutes
• Three fatalities and 216 injuries
• Damage path was 50 to 200 yards wide
• 168 homes destroyed, 258 with major damage, 1,485 with minor damage
• More than 600 businesses damaged or destroyed
Source: National Weather Service