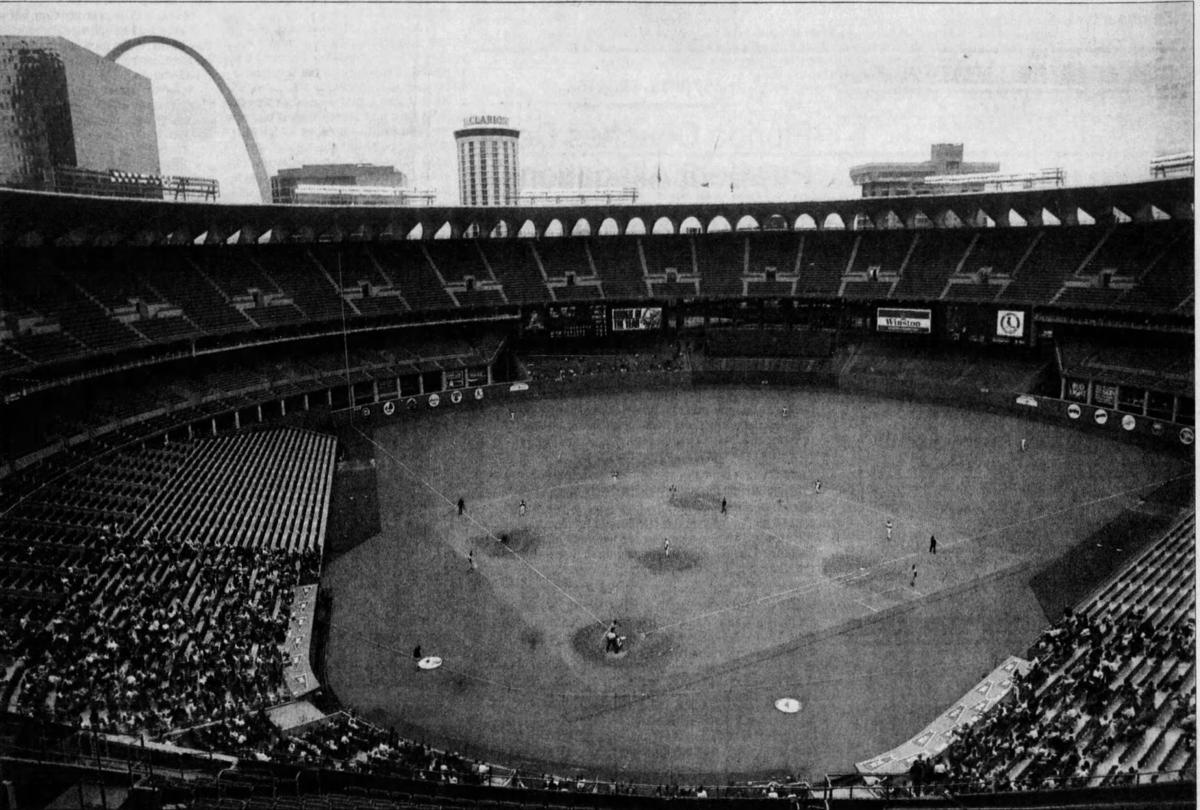 On Sept. 14, 1989, the Cardinals drew the smallest crowd in their history of Busch Stadium II. Here's a reprint of our coverage of that game.
In a game announced only late Wednesday in the aftermath of the five-inning, 0-0 tie with the Pittsburgh Pirates, the Cardinals drew the smallest crowd in the 24 seasons they have inhabited Busch Stadium. Paid attendance was 1,519.
At the start of the game, lost by the Cardinals 4-3, the taste of smoke from a burning Cupples Station warehouse lingered over the fans, who were confined to the lower deck and barred from the right-field bleachers.
''It was like a graveyard with lights,'' Cardinals manager Whitey Herzog said.
Pirates manager Jim Leyland said, ''To be honest with you, it was weird. It was about like a 10 a.m. game in spring training.''
It reminded Pirates center fielder Andy Van Slyke, a former Cardinal, of his roots.
''I felt like I was back in Gastonia,'' said Van Slyke, who played in that North Carolina city when he was in the Cardinals' organization.
Van Slyke said the empty seats were more distracting than the traditionally full ones.
''Every voice stands out,'' he said. ''I heard some dad disciplining his 8-year-old son.''
Cardinals infielder Tim Jones, who had two hits in place of the resting Ozzie Smith, did Van Slyke's observation one better.
''I heard some dad whack his kid,'' Jones said.
In fact, many of the most enthralling moments of the 2-hour 58-minute game took place in the stands. Because stadium security had corralled fans into sections immediately behind the dugouts, fans aligned themselves in the end seats of each row as a way of gaining the ''pole positions.'' That made it easier to run down foul balls into the empty sections down the first- and third-base lines.
To a large degree, the chasers stayed in their aisles as they sprinted after the balls. Brad Beck, 24, of Alton, said he had trouble wedging into an accessible position.
''All of them were out of my lane,'' he said.
Van Slyke, Jones and others couldn't help but notice the competition.
''The first time they ran about a mile and a quarter,'' Van Slyke said. ''The second time it was about three-eighths.''
Herzog, who recalled scrambling for baseballs in similar situations at Browns' games, said, ''I got a chuckle out of that.''
The Redbirds' previous lowest attendance at Busch Stadium, which opened on May 12, 1966, was 3,380 for a game on Sept. 27, 1972. The smallest crowd this season was 22,198 on April 18 agains t the Pirates.
Counting those holding rainchecks from Wednesday night's game and others with complimentary tickets, the total in the house was 3,534 Thursday.
''I would have bet one of my paychecks if you told me there would be a St. Louis crowd of less than 2,000,'' Van Slyke said. ''I don't care if it was 20 degrees and snowing.
Busch Stadium's smallest crowds
Sept. 14, 1989
1,519
Pirates 4 Cards 3
The Cards lose their fifth in a row and fall 5 1/2 games behind the Cubs.
Sept. 27, 1972
3,380
Cards 4 Expos 0
Al Santorini strikes out 12 in getting the shutout. Cards (72-79) are 23 games behind Pirates.
Sept. 21, 1978
3,912
Cardinals 6 Mets 2
John Urrea goes seven innings for the win. Cards (66-88) are 18 1/2 games behind Phillies.
Sept. 26, 1977
4,397
Expos 9 Cardinals 5
Rawly Eastwick allows four ninth-inning runs. Cards (80-75) drop to 16 1/2 games behind Phillies.
Sept. 30, 1978
4,505
Cardinals 6 , Expos 1
Ted Simmons homers and singles and John Denny gets the win. Cards (69-92) are 21 games behind Phillies.
A look back at today in history as seen through our archives.