ST. LOUIS • On Sunday, Oct. 20, 1929, the Post-Dispatch classified section included five pages of homes for sale. In the Fairlight Downs subdivision in Olivette, new homes with "every improvement completed" were offered for $8,750. New bungalows in the city went for $5,000.
The stock market crashed five days later, and construction almost ceased. Through the Depression, the signature image of "new" housing was a hobo shack along the Mississippi River.
The St. Louis Housing Authority was created in 1939 to ease the shortage. Three years later, it opened 1,300 units at two developments — Clinton-Peabody on Chouteau Avenue for whites and Carr Square Village northwest of downtown for blacks. During World War II, construction was diverted to defense industries. Thousands of transplants moved into already crowded neighborhoods to work in the factories. Much of the city's housing was old and worn out, and there wasn't enough of it.
At war's end in 1945, the vacancy rate was 1 percent. More than 20,000 married veterans and families were doubled up, usually with in-laws. Leaders promised more new housing, but it took time for factories to convert from bazookas to door hinges.
Returning soldiers had an advantage — they knew how to get organized. They pressed government to get a move on.
"One day is a lot of time for a man who has no roof over his head," George Londa, a former sailor, testified at City Hall.
Private developers began building new homes, but demand was intense.
As stopgaps, public agencies opened 16 buildings at Jefferson Barracks for temporary lodging. They offered Quonset huts, half-round metal military buildings, for conversions. People hauled away the small wooden homes used by workers at the high-explosives plant at Weldon Spring.
For more permanent solutions, government planners adopted the strategy that won the war — think big, employ resources massively.
They soon were posing with maps of slums to be obliterated and models of new high-rise apartment complexes. Regarded today as examples of government overreach, the projects were embraced back then as progress on a suitably grand scale.
"St. Louisans can point to their city as a model of modern development," said Mayor Joseph Darst.
In 1952, the city opened Cochran Gardens for whites at 1200 North Ninth Street and broke ground for a sprawling 20-building complex for blacks near Jefferson and Cass avenues, to be known as Pruitt homes.
An adjacent project, the first to be integrated, was called Igoe. Soon joined as Pruitt-Igoe, the 33 buildings spread across 20 city blocks provided 2,868 units with rent starting at $20 per month.
The city quickly added the Darst project (later Darst-Webbe) at Chouteau and 12th Street and Vaughn at Carr and 19th streets. With thousands of new apartments available, the city demolished 5,600 slum units, some without running water, in the Mill Creek Valley west of Union Station. For a time, Mill Creek was the nation's largest urban-renewal project.
Despite high-minded intentions, the system of large-scale public housing eventually was overwhelmed by crime, poverty and operating deficits. Whites fled shortly after integration, followed by blacks who could afford to move. Many remaining tenants were impoverished newcomers from the rural South.
"They don't know how to live on an eighth floor," said tenant leader Helen Floyd.
---
The names Pruitt and Igoe stood for honorable achievement
Today, the name "Pruitt-Igoe" is national shorthand for failed public-housing policy. News film of its buildings falling to dynamite is standard fare in college civics class.
In 1955, the words stood for the promise of better housing for families who wanted out of dreary 19th Century tenements. In naming the vast projects, the city sought to honor two of its noble sons.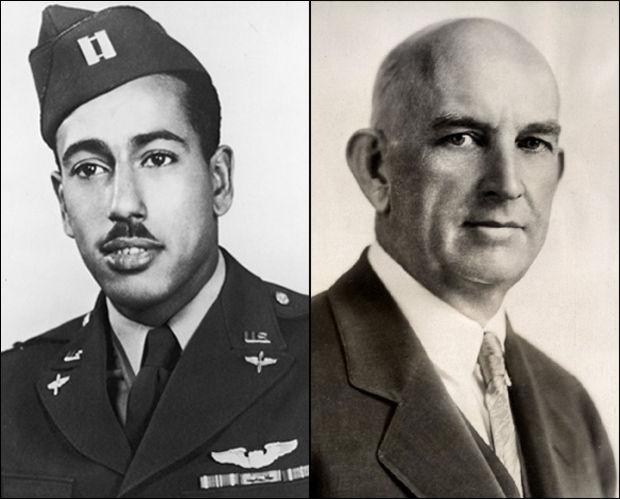 Wendell O. Pruitt grew up in the Ville neighborhood and graduated from Sumner High School. He enlisted in the nation's segregated armed forces as one of the "Tuskegee Airmen," who learned to be pilots at Tuskegee Institute in Alabama. Pruitt flew fighter planes in Italy during World War II, shooting down three German planes over 70 combat missions. Back in the states as a flight instructor, he was killed in a training crash in April 1945 at age 24.
William L. Igoe, whose parents were from Ireland, grew up in north St. Louis near the future site of Pruitt-Igoe. He earned a law degree from Washington University and entered Democratic politics. He was elected to Congress in 1912 and re-elected three times. He was president of the St. Louis Police Board from 1933 to 1937 and a longtime leader of the local St. Vincent de Paul Society, a Catholic charitable organization.
Igoe died in 1953 at age 73, leaving nearly a third of his estate to St. Vincent de Paul and a religious order.
Demolition of their 57-acre namesake began March 17, 1972. The land remains vacant.