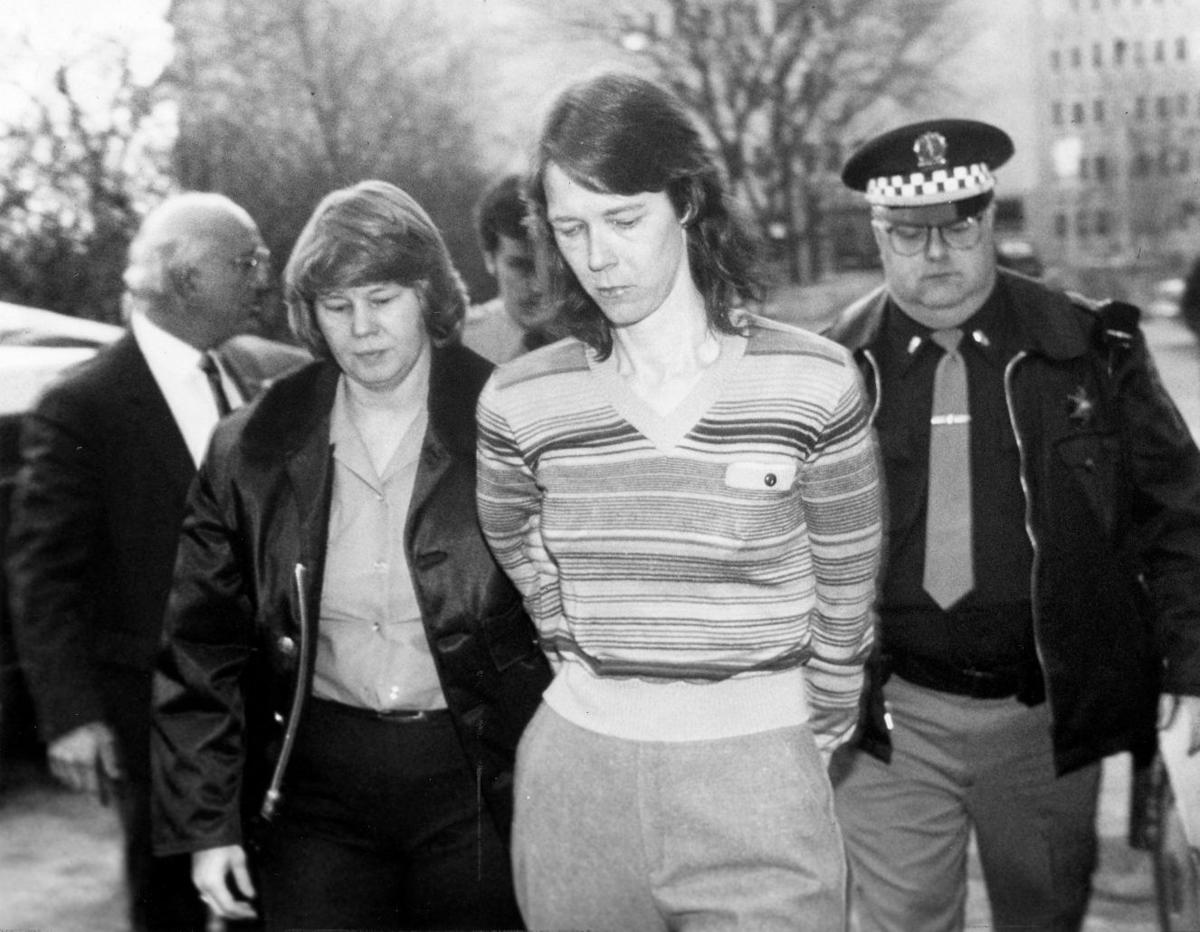 Editor's note: An Alton couple reported in 1986 that their infant daughter had been abducted from their home in Brighton. Her body was found a week later, and the case was never solved. Three years later, they said it happened again to their 6-week-old daughter. Eventually, Paula Sims would be convicted of murdering one daughter and hiding the death of the other. This is our original report
The body of a white infant girl was discovered about 7:30 p.m. Wednesday in a trash can near the Mississippi River in West Alton, and authorities immediately began trying to determine whether it was Heather Lee Sims of Alton.
Heather, 6 weeks old, has been missing since Saturday. Her parents, Robert Sims, 37, and Paula Sims, 30, said the child had been kidnapped by a masked, armed intruder. In 1986, the couple reported that their 13-day-old daughter, Loralei Marie Sims, had been abducted in a similar fashion in Brighton, about 10 miles north of Alton. Loralei's body was found in a woods behind their house a week later. The case has never been solved.
The body of the baby found Wednesday was discovered by a man who was fishing along the Missouri bank of the Mississippi River, said St. Charles County Sheriff Ed Uebinger. The man told authorities that he had noticed a person acting suspiciously near a trash can along the Lock 26 Access Road in West Alton, Uebinger said.
The fisherman said that when he started toward the trash can, the person left, Uebing er said. The man said he then looked into the can and saw a large-sized black trash bag with the nude body of a baby girl inside, Uebinger said.
Uebinger declined to say whether the person acting suspiciously at the trash can was a man or a woman. Uebinger said the body was a 6- to 8-week-old baby and was ''fairly well-preserved.''
Dr. Mary Case, St. Charles County medical examiner, said from her home Wednesday night that she planned to perform an autopsy on the baby's body this morning. She said it might be up to a week before she completed an autopsy report.
FBI officials, as well as local and Illinois authorities, went to the site where the baby's body was found.
Deputies in St. Charles County asked for a copy of Heather's footprint shortly after the baby's body was discovered in West Alton; the town is in far northeastern St. Charles County, across the river from Alton.
On Wednesday afternoon, Alton police used a search warrant to seize medical records of the child, her mother and father.
Police refused to say whether they considered the parents suspects.
Alton police said they had notified the parents of the discovery of the baby's body. Uebinger said they would not be asked to identify the body until after the autopsy.
Sgt. Rick McCain, chief of detectives for the Alton police, refused to say whether records taken from the offices of the Alton Medical Group, 3550 College Avenue, belonged to the Simses.
But the Post-Dispatch confirmed that records for all three were involved.
McCain acknowledged earlier that the infant's pediatrician was one of the doctors in that office. A reporter learned that the Simses had been treated by a doctor in that office.
Two small boxes of records were seized by Alton police Detectives David Hayes and Mick Dooley about 1:30 p.m. Wednesday. They were accompanied by Madison County Assistant State's Attorney Randy G. Massey after they obtained a search warrant at the direction of State's Attorney William R. Haine.
Haine said the doctors were not being uncooperative or obstructing the investigation by refusing to release the records voluntarily. The prosecutor said the doctors were bound by doctor-patient confidentiality to protect the records.
McCain said the search warrant was issued after the doctors indicated that they would not honor subpoenas.
Curtis R. Doyle, administrator for the Alton Medical Group, said only, ''We followed legal advice we had received and asked the Alton city officials to continue accordingly.''
The group's attorney was unavailable for comment.
A spokesman for the American Medical Association in Chicago said that under its ethical guidelines, records should never be released without a patient's consent unless required by law.
A subpoena or search warrant would meet the requirement, said the spokesman, who asked to remain unidentified.
McCain refused to explain what information was sought from the records.
At a news conference Wednesday before the search warrant was executed, McCain said that new information had been received from the public and that police remained optimistic that the case would be solved.
He said police believed that some people had more useful information, and he urged them to call Alton police in confidence at (618) 463-3505.
Paula Sims told officers that Heather was abducted at 10:30 p.m. Saturday, while Robert Sims was at work.
According to police, she said she had been knocked unconscious by an armed, masked man who then took Heather from her bassinet in their home in the 1000 block of Washington Avenue in Alton.
That account is nearly identical to the one she gave police on June 17, 1986, when Loralei Marie, 13 days old, disappeared from their home near Brighton, in Jersey County.
Police said then that the Simses were suspects and that the couple had failed lie-detector tests.
It was on June 17 that she told police a masked and armed man had abducted her 13-day old daughter - a case that eventually led to Sims being …
McCain has said that no bruises or other injuries were found when Paula Sims was examined at a hospital Saturday night.
The Simses also have a 15-month-old son, who remains in their custody.
Police who participated in the investigation in 1986 have said they found nothing unusual in the Simses' backgrounds. Robert Sims works at Jefferson Smurfit Corp. in Alton, and Paula Sims worked at a supermarket before her children were born.
McCain said he was unable to gauge the Simses' demeanors when they were questioned Saturday night. ''The were calm and collected most of the time,'' he said. ''But there were outbursts of crying.''
Several undisclosed areas have been searched for clues, as has the Simses' former home near Brighton.
The Simses have made no comment to reporters.