ST. LOUIS  • The soldiers of Battery A fired a smart salute — the cue for Jane Wells, daughter of Mayor Rolla Wells, to pull the lanyard to a heavy canvas shroud. Across the expanse now called Art Hill, a breathless crowd of 25,000 suddenly roared with joy.
Thus was the statue of King Louis IX of France, the saint for whom the city is named, unveiled in Forest Park on Oct. 4, 1906. The Louisiana Purchase Exposition Committee, which had managed the 1904 World's Fair, offered the statue of the 13th century king as a gift to the city.
A reinforced plaster casting of the same design had adorned the fair's main gate, at Lindell Boulevard and DeBaliviere Avenue. It was popular among newspaper cartoonists and fairgoers meeting friends, the Stan Musial statue of its era. The permanent work in bronze, set upon a high stone pedestal in front of the Art Museum, would become an unofficial symbol of the St. Louis area, eclipsed only by the Gateway Arch in 1965.
The statue's formal name is "Apotheosis of St. Louis," meaning perfect example.
Mayor Wells accepted the committee's gift with suitably grandiose words, calling it "a monument of remembrance to generations to come of the able and disinterested part that you and your co-workers have taken in production of an exposition never before equaled."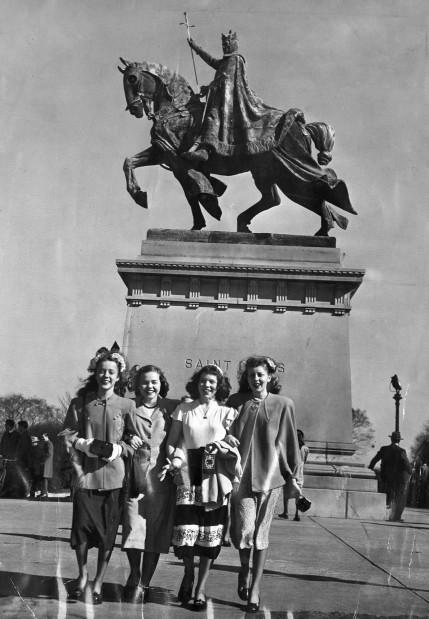 Then came the parade of mounted police officers, elected officials in coaches and nearly 5,000 city employees. Newspaper accounts contrasted the sharp formations of police with civilian employees "in working clothes, careless of formation and continually out of step."
It also was an outpouring of workers' pride. Many among the 1,200 street workers shouldered brooms. Refuse workers drove cleaned and decorated wagons.
Harbor department workers pulled a likeness of their work riverboat, the Mark Twain. Health workers rode in horse-drawn ambulances. Bands added to the happy commotion.
The parade lasted more than two hours.
During the speechmaking, fair director David R. Francis (and former mayor and governor) pitched for public support of the Palace of Fine Arts behind him. It was the only building from the fair designed to be permanent, and it had opened two months before as an art museum.
He was persuasive. The next April, city voters adopted a property tax to support a free Art Museum, the first step toward today's city-county Zoo-Museum District.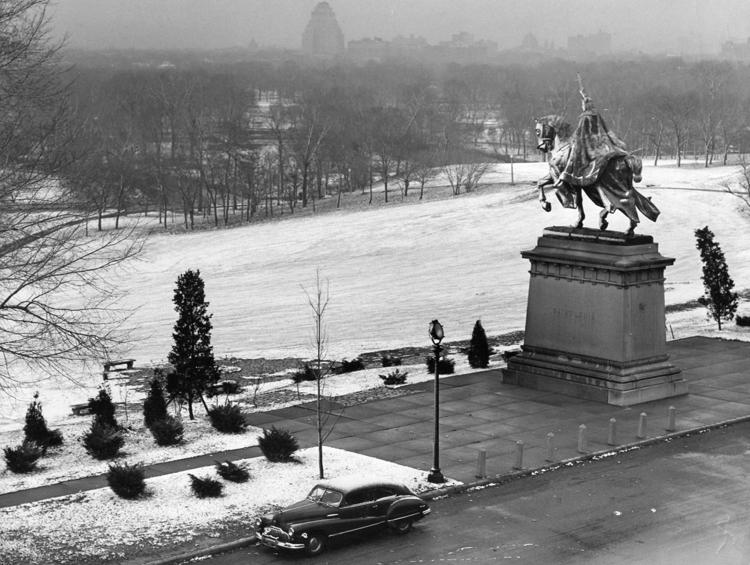 Over the years, the statue of Louis IX has towered over sledders and public gatherings. Maintenance has been little more than an occasional scrubbing and a few new swords.
Once a tempting trophy for vandals, the king's raised sword was replaced several times until the city applied a welder's heavy touch.
Burnin' Love Festival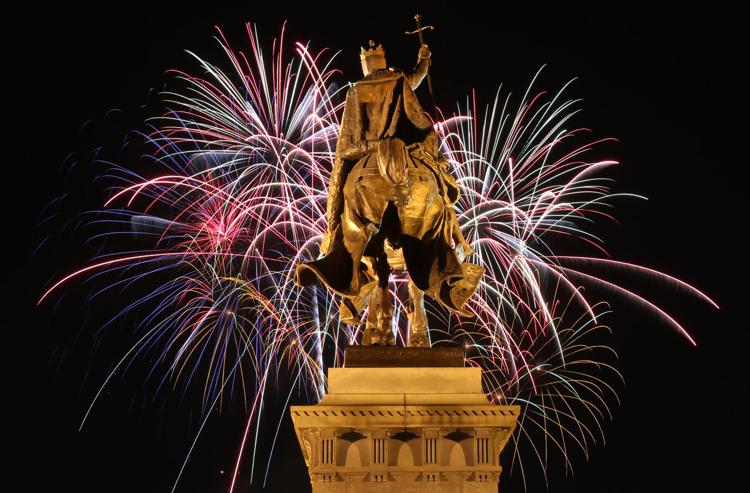 Statue Cleaning Time on Art Hill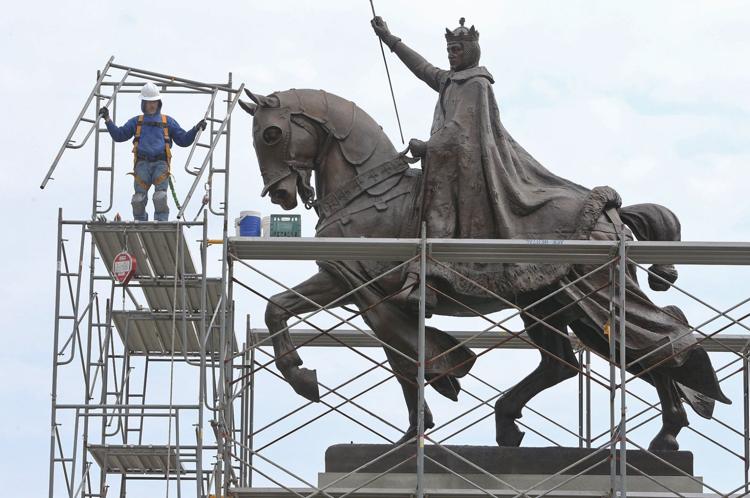 Brief moonrise view from Art Hill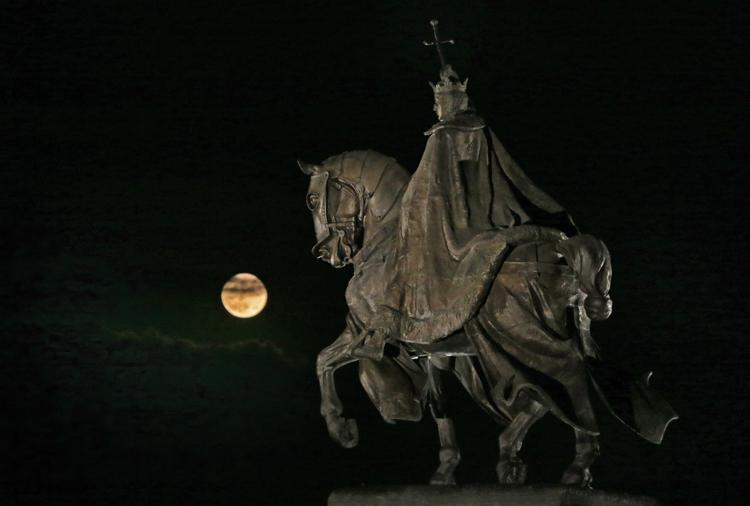 Spring storms move through the St. Louis area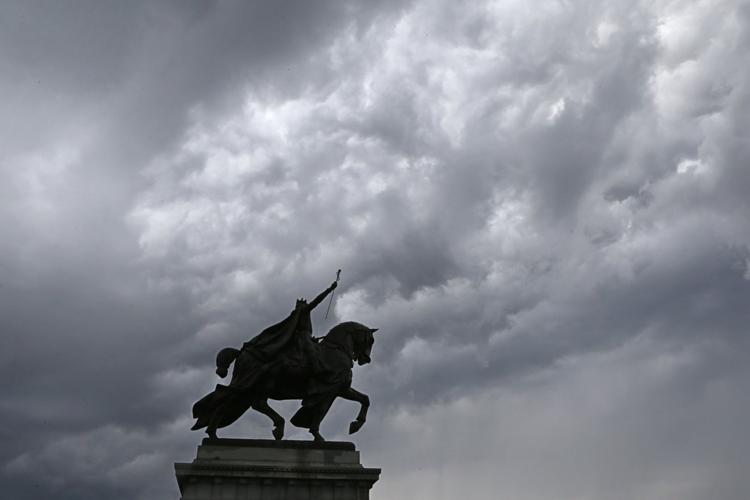 Fireworks close out second day of Fair Saint Louis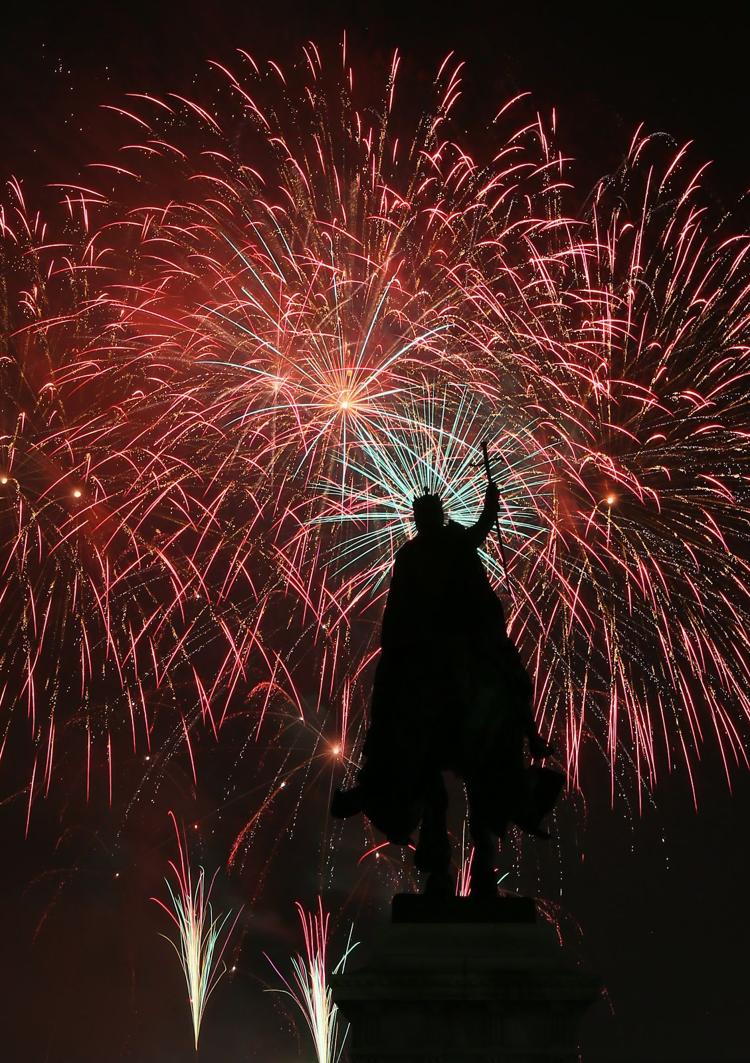 Burnin' Love Festival kicks off 250 years of St. Louis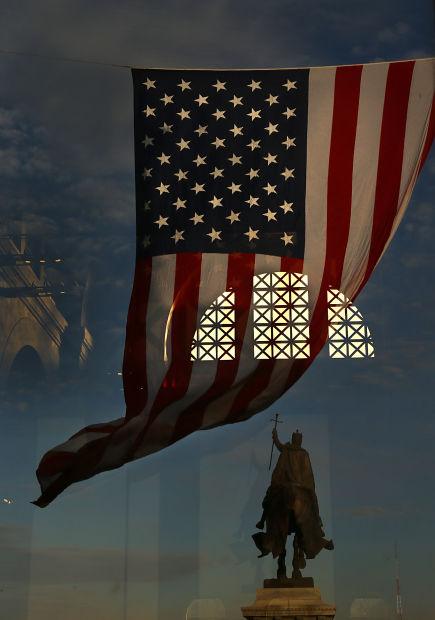 2016: Flags frame King Louis IX statue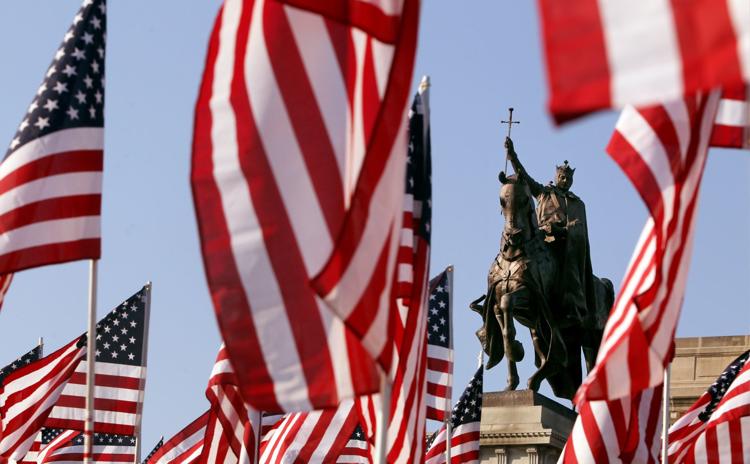 Louie, we hardly know ye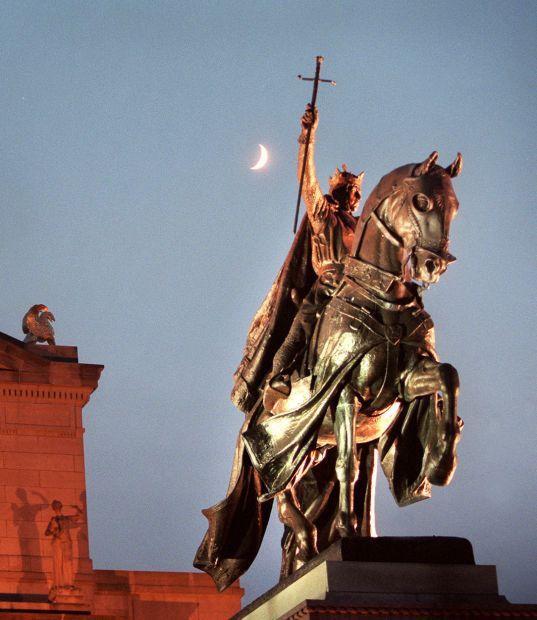 Snow around King Louis IX statue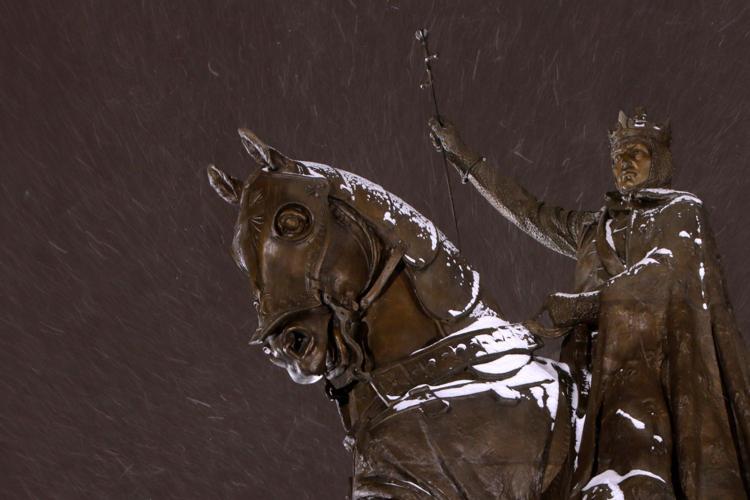 Ghostly art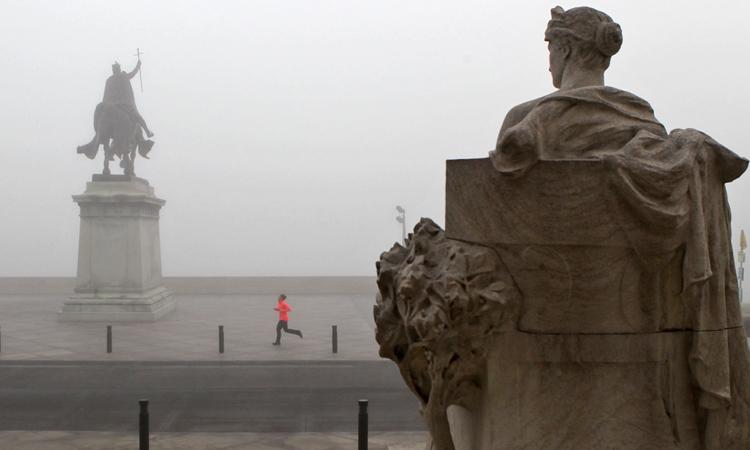 2013 St. Louis Art Museum East Building expansion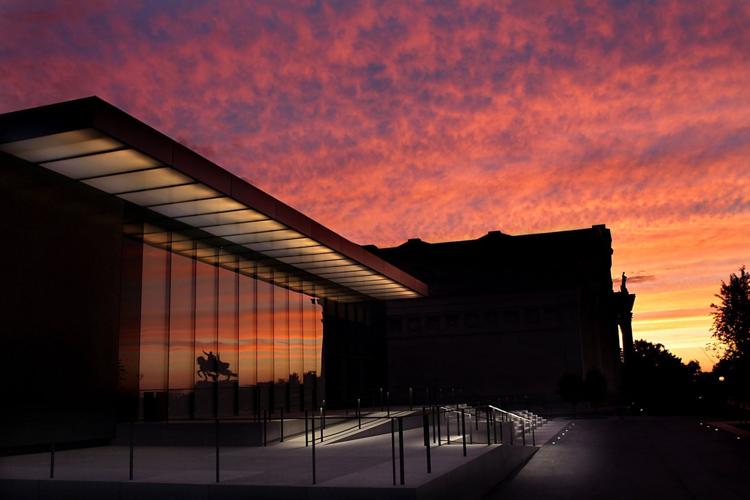 SLU's College Church approaches 175th anniversary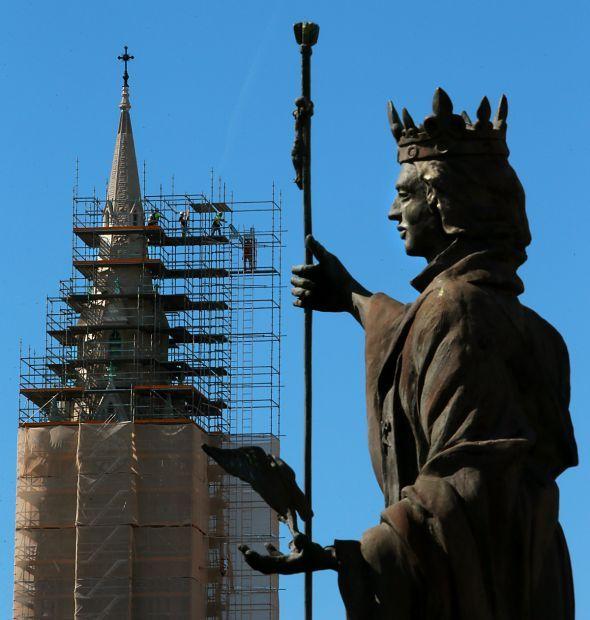 Sledding on Art Hill, 1951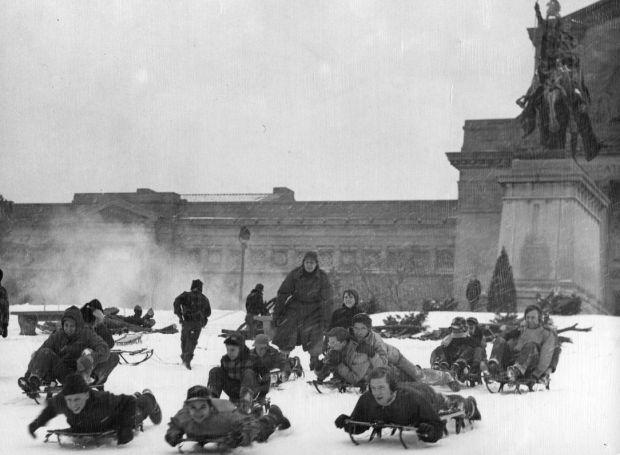 St. Louis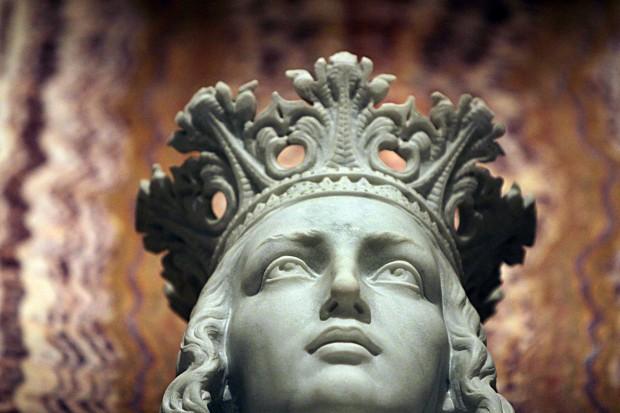 HIDE VERTICAL GALLERY ASSET TITLES