This article was originally published on June 19, 2005
Helicopter pilot Ladda Tammy Duckworth never saw the rocket-propelled grenade that soared out of the Iraqi desert toward her low-flying Black Hawk.
At that moment, 4:30 p.m. Nov. 12, Duckworth, 36, was feeling lucky as she piloted the Black Hawk above the muddy brown Tigris River back toward her base at Balad.
Not many women get to fly combat missions these days. Duckworth was among a small sisterhood of about 350 women who fly the Army's versatile and sturdy workhorse. And an even smaller number have flown the $6 million aircraft in Iraq.
And, of course, only Tammy had Franklin Duckworth for a dad. She was hell-bent on making him proud. And on this day, she's sure he was.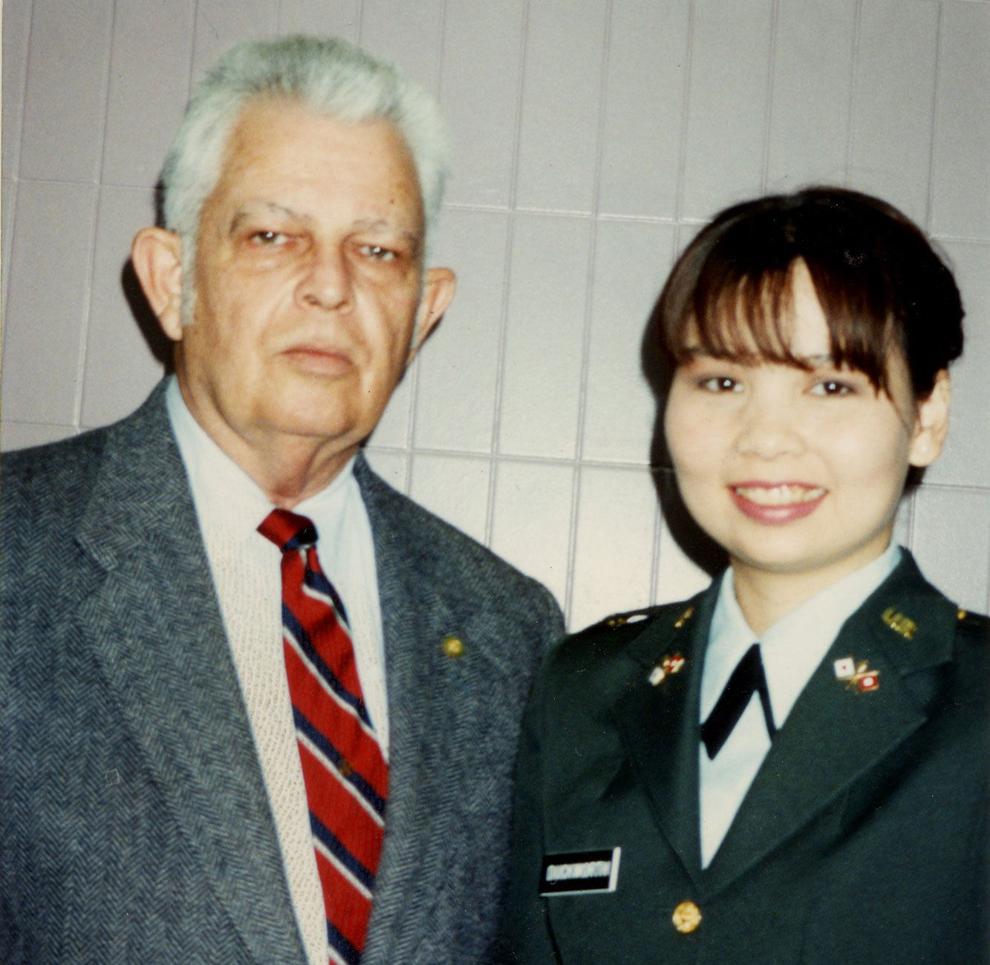 Franklin Duckworth was a veteran of two wars and had earned a Purple Heart at Okinawa. Franklin had long encouraged Tammy, and her younger brother, Tommy, to serve their country. Tommy would go into the armed forces, Franklin figured, and Tammy would land a government job. "That's going to give you a good life and good retirement," he told them.
As it turned out, Tommy had no stomach for the military. He didn't want to kill people, he said. He dropped out of an Army ROTC program, served eight years in the Coast Guard and now works for a pest control company. It was Tammy who took to the military.
When she learned that the Army might give her a chance to fly, she chose the aviation branch.
But it had taken a long time to get into the action. Less than year before this November day, Duckworth worried that she would never get a chance to test herself in combat. Now she had less than four months to go in a one-year tour of duty. As she soared above the Iraqi desert, Duckworth knew her father must be proud of her even if he never said so during the brief calls she made home.
During her time in Iraq, she had shed 37 pounds from her 5-foot-6-inch frame and dropped her dress size to an 8 from a 14. Always athletic, she felt she hadn't been in such good shape for more than a decade. She felt invincible.
On Nov. 12, Marines were battling insurgents for control of Fallujah, a hotbed of militant resistance, about 40 miles west of Baghdad. It would end up being the deadliest month for coalition forces. Reports listed 141 killed during the 30 days.
For Duckworth's crew, the day had been long but uneventful. They left early from their base at Camp Anaconda and squeezed in a stir fry and chocolate milk shake lunch and Christmas shopping during a stop near the Baghdad airport. Next to her in the cockpit that day sat Chief Warrant Officer Dan Milberg, 39, a veteran of the Persian Gulf War, who had been pulled from his civilian life as a Des Peres public safety officer and placed on active duty.
The two hadn't flown together in a while. His wry sense of humor made him one of Duckworth's favorites to fly with.
As the more experienced aviator, Milberg served as the pilot in command. As such, he ran the mission, monitored the aircraft's systems, talked to air traffic control and other aircraft, read the maps, checked the course and called out obstacles. Meanwhile, Duckworth took on the less intensive duty of flying the aircraft. But one of the reasons she liked Milberg was that he was an excellent trainer who was more than willing to teach others. On this day, he turned command over to Duckworth and took the controls himself.
Black Hawks typically fly in pairs and trade off on who flies lead. As the two helicopters lifted off that afternoon, Duckworth's aircraft, Chalk One, maneuvered into the lead or "missile bait" position for the 25-minute flight to Balad.
A bright sun shone in the western sky and cast long shadows across the unending tans of the desert. The searing heat of the Iraqi summer had passed. It was about 4:30 p.m., the temperature reached only into the 90s, and the cooler afternoon air made for smooth flying weather. The helicopter skimmed along at 130 mph, just 10 feet above the tops of palm groves that sprinkled the countryside. They were 10 minutes from home. Duckworth busied herself trying to make one final call to flight controllers at Taji before she switched radio frequencies to her base at Balad.
Just then a distinctive metallic tap, tap, tap could be heard, bullets against metal.
She turned to tell Milberg they'd been hit by enemy fire.
He never heard the words.
Just then, the rocket-propelled grenade pierced the Plexiglas window beneath Duckworth's feet and erupted in an enormous yellow-orange fireball in the cockpit.
Seeking commendation
Tammy had always been a daddy's girl. As a baby, she would nap while balanced on her sleeping father's belly. Franklin Duckworth nicknamed his young daughter "Pumpkin," and cut and sewed fabric pumpkins onto her tiny shirts. Tammy loved to climb into his lap.
Like many men of his generation, Frank Duckworth seldom talked, let alone boasted, about himself.
At 15, he had run away from the poverty of the Shenandoah Mountain town of Winchester, Va., and joined the Marine Corps.
He almost never discussed his military service with his children. Nor did he talk about the ugly 8-inch scar and chunks of missing flesh on his right arm. He had landed on the beach of Okinawa with a reel of communication wire and a radio strapped to his back and left with a Purple Heart pinned on his chest.
Later, he went to college, earned a commission as an Army officer and served in Vietnam.
While in Thailand, he met and married Lamai Sompornpairin, a native Thai with whom he would have Tammy and, two years later, her brother, Tommy.
For reasons his daughter can't explain, Frank Duckworth proved to be a stoic man who held his emotions in check, especially when it came to his children.
At 6 feet tall and a husky 200 pounds with broad shoulders, he was a stern, quiet and demanding father whose children routinely tacked the word "sir" on to the end of their sentences. She craved his approval. But as hard as she tried, he seemed difficult to please and always challenged her to do to better. In Asia, she made the high school varsity volleyball, basketball and track teams, but seemed to lose the attention of her dad.
To her, it seemed he was far more interested in her younger brother's athletic pursuits. He served as commissioner of Tommy's baseball league, recruited his wife to run the ballpark concessions and rarely missed a game.
Meanwhile, Tammy rode with friends to her own games.
She tried to ignore her dad's absence in the stands but felt slighted. She just wanted to once look up and see him cheering, to be there after the game, to tell her he was proud.
She studied during her lunch break and spent four or five hours a night on homework. In school, she skipped a grade, consistently made the honor roll and finished near the top of her class. It wasn't that she was so much smarter. She simply outworked classmates, a lesson impressed on her by her father.
Duckworth graduated from the University of Hawaii and, thinking she might want to work in the Foreign Service, moved to Washington to attend George Washington University and study international affairs. She soon noticed that all of her closest friends were active-duty or retired military. She felt attracted by their values of duty and honor and country, the same values her father had instilled in her.
Several encouraged her to try ROTC.
There, she met her future husband.
Like her, Bryan Bowlsbey, then 23, was older than most of the ROTC cadets. He had spent five years as an enlisted soldier before going back to school at the University of Maryland and seeking to become a commissioned officer.
Bowlsbey fell hard for the bright girl with the apple cheeks, radiant smile, long athletic legs, sense of humor and a little attitude.
She was the most interesting woman he'd ever met.
Duckworth grew to love how Bowlsbey got sentimental and emotional when he talked about history, his country and his military service.
When a year and a half later she moved west to pursue her doctorate at Northern Illinois University, he soon followed.
Request for combat
After she was commissioned as an officer, Duckworth requested assignment to a combat arms branch, even though the Army didn't require women to do so. She felt it unfair not to be held to the same standard as the men, who were required to include a combat arms branch among their preferred choices.
She wanted to be considered a soldier, not a female soldier.
Determined to win one of the few coveted seats to train on the Black Hawk, she relied on her father's teachings about hard work. She spent extra hours at night on flight simulators to hone her skills. She finished near the top of her 1993 flight school class at Fort Rucker in Alabama. She was the only woman. Certainly, her father would be proud. Instead, he told her it still wasn't the Marines.
Duckworth and Bowlsbey married in June 1994.
Before long, they settled in DeKalb, Ill., about 65 miles west of Chicago. They worked civilian jobs during the week and their Army jobs on nights and weekends. As a regional manager for Rotary International, Duckworth often traveled to Asia. Bryan, meanwhile, worked as an ROTC instructor at Northern Illinois and a computer consultant.
In time, Duckworth served three years as commander of Bravo Company, 106th Aviation of the Illinois Army National Guard, a demanding job made even more so by the war in Iraq.
She knew the unit, known as the Mad Dogs, stood a good chance to be deployed to Iraq. She wanted to make sure her 15 aircraft and 42 soldiers were ready for combat.
In October 2003, Duckworth was in the process of turning over command to one of her lieutenants when she learned that the unit was being called up. Duckworth, meanwhile, was to be transferred to another company that wasn't being activated.
She was crestfallen and pleaded with her battalion commander not to be left behind.
I don't want to be one of the only aviation officers in the state of Illinois to stand here and wave goodbye to the companies. I want to go with you, she told him.
Eventually, state Guard leaders determined that soldiers were needed to fill other vacant jobs in the battalion. So she would get to go to Iraq after all. She went to Fort Knox for training.
Almost every chance he got, Bowlsbey would grab their Boston terrier puppy, Stitch, and drive the seven hours from De Kalb to visit. Sometimes it was just a lunch together or maybe a free night.
Just days before her unit's departure for Iraq, Bryan and Tammy walked into the Main Post Chapel, the oldest building at Fort Knox. A chaplain had offered to renew wedding vows for anyone interested.
Bryan had barely begun to recite his lines when he began to sob. She meant so much to him and soon she would be gone, maybe forever. Tears soon streamed down Tammy's face as well.
---
For this story, reporter Phillip O'Connor conducted dozens of hours of interviews with participants and reviewed personal correspondence, military reports and news accounts. He and photographer David Carson visited Walter Reed Army Medical Center and Arlington National Cemetery. Carson also traveled to Duckworth's home near Chicago. Some scenes in this story, including the crash of Tammy Duckworth's helicopter, were reconstructed based on the memories of the crew and others.