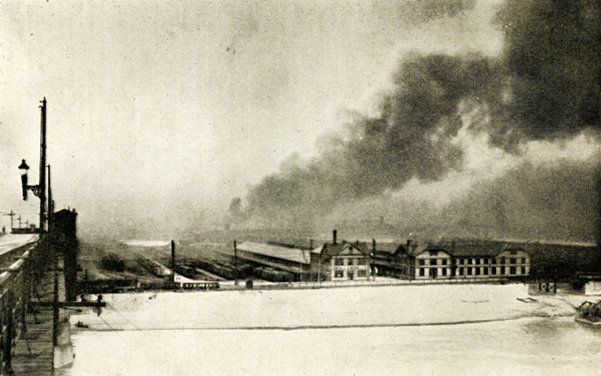 Photo: Smoke rises from the fires set in East St. Louis on July 2, 1917. (Southern Illinois University Edwardsville, Bowen Archives)
---
For an hour and a half last evening I saw the massacre of helpless negroes at Broadway and Fourth Street, in downtown East St. Louis, where a black skin was a death warrant.
I saw man after man, with hands raised, pleading for his life, surrounded by groups of men -- men who had never seen him before and knew nothing about him except that he was black -- and saw them administer the historic sentence of intolerance, death by stoning. I saw one of these men, almost dead from a savage shower of stones, hanged with a clothesline. Within a few paces of the pole from which he was suspended, four other negroes lay dead or dying, another having been removed, dead, a short time before. I saw the pockets of two of these negroes searched, without the finding of any weapon.
I saw one of these men, covered with blood and half conscious, raise himself on his elbow and look feebly about, when a young man, standing directly behind him, lifted a flat stone in both hands and hurled it upon his neck. I saw negro women begging for mercy and pleading that they had harmed no one, set upon by white women of the baser sort, who laughed and answered the coarse sallies of men as they beat the negresses' faces and breasts with fists, stones and sticks. I saw one of these furies fling herself at a militiaman who was trying to protect a negress, and wrestle with him for his bayonetted gun, while other women attacked the refugee.
Crowd mostly working men
A mob is passionate; a mob follows one man or a few men blindly; a mob sometimes takes chances. The East St. Louis affair, as I saw it, was a manhunt, conducted on a sporting basis, though with anything but the fair play which is the principle of sport. They went in small groups, there was little leadership, and there was a horribly cool deliberateness and a spirit of fun about it.
It was no crowd of hot-headed youths. Young men were in the greater number, but there were the middle-aged, no less active in the task of destroying the life of every discoverable black man. It was a shirt-sleeve gathering, and the men were mostly workingmen, except for some who had the aspect of mere loafers.
I would be more pessimistic about my fellow Americans than I am today, if I could not say that there were other workingmen who protested against the senseless slaughter. Only a volley of lead would have stopped those murders. "Get a nigger, " was the slogan, and it was varied by the recurrent cry, "Get another!" It was like nothing so much as the holiday crowd, with thumbs turned down in the Roman Coliseum, except that here the shouters were their own gladiators, and their own wild beasts.
Fire drives out negroes 
The sheds in the rear of negroes' houses on Fourth Street had been ignited to drive out the negro occupants of the houses. And the slayers were waiting for them to come out.
It was stay in and be roasted, or come out and be slaughtered. A moment before I arrived, one negro had taken the desperate chance of coming out, and the rattle of revolver shots, which I heard as I approached the corner, was followed by the cry, "They've got him! ..."
The firemen were at work on Broadway some distance east, but the flames immediately in the rear of the negro houses burned without hindrance.
A half-block to the south, there was a hue and cry at a railroad crossing, and a fusillade of shots was heard. More militiamen than I had seen elsewhere, up to that time, were standing on a platform and near a string of freight cars, and trying to keep back men who had started to pursue negroes along the track.
As I turned back toward Broadway, there was a shout at the alley and a negro ran out, apparently hoping to find protection. He paid no attention to missiles thrown from behind, none of which had hurt him much, but he was stopped in the middle of the street by a smashing blow in the jaw, struck by a man he had not seen.
"Don't do that, " he appealed. "I haven't hurt nobody." The answer was a blow from one side, a piece of curbstone from the other side, and a push which sent him on the brick pavement. He did not rise again, and the battering and kicking of his skull continued until he lay still, his blood flowing half way across the street. Before he had been booted to the opposite curb, another negro appeared and the same deeds were repeated. ...
The butchering of the fire-trapped negroes went on so rapidly that, when I walked back to the alley a few minutes later, one was lying dead in the alley on the west side of Fourth Street and another on the east side.
And now women began to appear. One frightened black girl, probably 20 years old, got as far as Broadway with no worse treatment than jeers and thrusts. At Broadway, in view of militiamen, the white women, several of whom had been watching the massacre of the negro men, pounced on the negroes. I do not wish to be understood as saying that those women were representative of the womanhood of East St. Louis. Their faces showed all too plainly exactly who and what they were. But they were the heroines of the moment with that gathering of men, and when one man, sick of the brutality he had seen, seized one of the women by the arm to stop an impending blow, he was hustled away with fists under his nose, and with more show of actual anger than had been bestowed on the negroes. ...
From negress-baiting, the well-pleased procession turned to see a lynching. A negro, his head laid open by a great stone-cut, had been dragged to the mouth of the alley on Fourth Street and a small rope was being put about his neck. There was joking comment on the weakness of the rope. It broke, letting the negro tumble back to his knees.
An old man came out of his house to protest. "Don't you hang that man on this street, " he shouted. "I dare you to." He was pushed angrily away, and a rope, obviously strong enough for its purpose, was brought.
Right here I saw the most sickening incident of the evening. To put the rope around the negro's neck, one of the lynchers stuck his fingers inside the gaping scalp and lifted the negro's head by it, literally bathing his hand in the man's blood. "Get hold, and pull for East St. Louis, " called a man with a black coat and a new straw hat, as he seized the other end of the rope. The rope was long, but not too long for the number of hands that grasped it, and this time the negro was lifted to a height of about seven feet from the ground. The body was left hanging there.