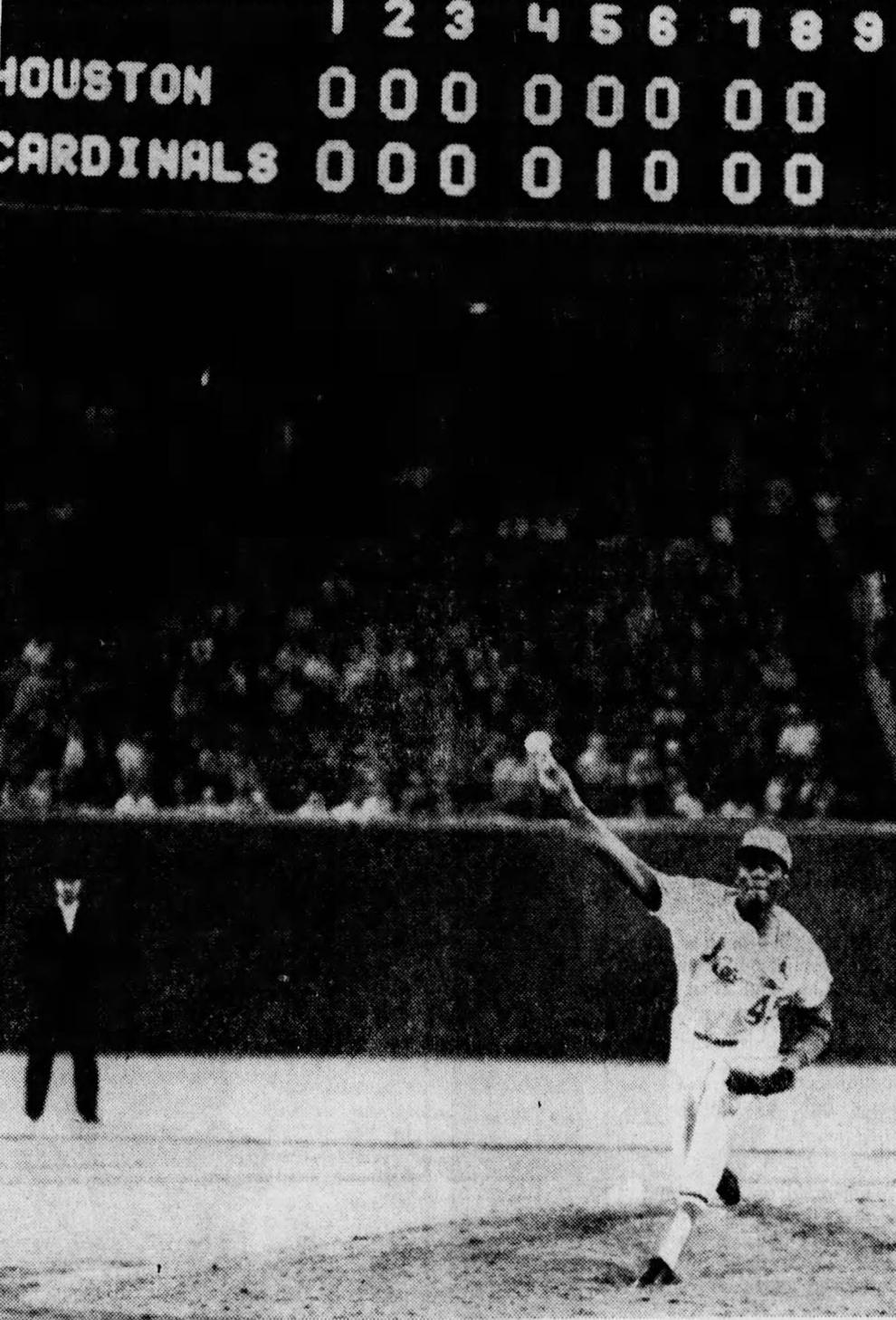 Editors note: On Sept. 27, 1968, Bob Gibson shut out the Houston Astros and lowered his earned run average to 1.12, a Major League record that has stood for 51 years. Here is our original account of that game.
Maybe it was symbolic . . . that stuffed tiger that was strung up on the locker next to Bob Gibson's as he talked about his latest assault on long-standing baseball records last night.
Gibson's 1-0 victory over the Houston Astros at Busch Stadium had been referred to as a tune-up for his opening-day assignment for the Cardinals in the World Series against the Detroit Tigers in the same park Wednesday.
However, Gibby didn't look at his thirteenth shutout in a 22-9 season as just a practice session or a workout.
"Practice is between 5 and 8 p.m.," Gibson said.
By running his career record against the Astros to 20-9 with his fourth victory over them in five tries this season, Gibson made another invasion of the record books.
He lowered his earned-run average to 1.12, generally accepted as the best ever in the National League. One Ferd Schupp of the 1916 Giants had a 0.90 ERA, but he worked only 140 innings.
"Sure, I'm elated," Gibson said. "But the biggest thing is that I finally won a game."
You'd expect that kind of comment from a great pitcher who had lost his last two games, 1-0 and 3-2.
The trouble with records like some of the earned-run marks, Gibson said, is "they have an asterisk after each one. One record is for 1720 and another for 1820, etc."
Besides lowering the ERA record for the National League from Pete Alexander's 1.22 to 1.12, Gibson added to his club records with 13 shutouts this season and 38 altogether.
We thought it would be interesting to look at Cardinals players past and present and see who ranks the highest on the all-time WAR list. 
He demolished Bill Doak's ERA mark of 1.72 that had held up 54 years. Walter Johnson's 1.14 for the Washington Senators in 1913 generally had been accepted as the major league ERA record. However, one record book lists his mark for that year as 1.09. Besides, Hub Leonard of the 1914 Boston Red Sox turned in a 1.01 mark for 222 innings.
One thing is sure. Gibson reached a season high in victories with his 22. Furthermore, you have to go back 32 years to find a Cardinal pitcher with more than 22 victories. Dizzy Dean won 23 in 1936. There were three other 22-victory seasons by Redbird hurlers since '36. Charley Barrett, won 23 in 1945, but his first two victories that year came when he was with the Boston Braves.
Gibson, who does everything at the ball park except replace the burned-out bulbs in the light towers, had a hand on offense last night as he won his fourth 1-0 game this season, another club mark.
On Sept. 15, 1986, a journeyman hitter did something no other player did at Busch Stadium II. We look at the top 20 moments from that stadium.
Gibby's one-out sacrifice moved up Julian Javier, who had led off the fifth inning with the only walk off starter Larry Dierker. Lou Brock followed with an infield hit and Curt Flood drove in the run with his second of three singles that lifted his season average from .299 to .302.
The Astros, still in tenth place, one game behind the New York Mets, had only one good chance against Gibson, who allowed six hits, all singles, walked none and struck out 11.
With nobody out in the fifth inning, Doug Rader was on third base and Denis Menke was on first. Each had singled. Gibson, whose 268 strikeouts left him two short of his club record, whiffed Bob Aspromonte. Then Dave Adlesh missed on a squeeze-bunt attempt and Rader was retired easily at third base.
"Tim and Mike (catcher Tim McCarver and third baseman Mike Shannon) said that Adlesh didn't look quite the same at bat that time," Gibson said.
McCarver said that if he had been 100 per cent sure of a bunt, he would have called for a pitchout. "But I had an inkling," he said.
Gibson noted that he hadn't given Adlesh a good pitch to bunt. "It was a high slider that broke away," Gibby said. "When a pitch like that is coming right at you, you have a tendency to flinch, at first."
As Gibson spoke, the clubhouse record blared forth with "Fistful of Dollars," as if to emphasize that just a few hours before the Redbirds had met to discuss the division of their World Series loot.
Remembering a great: Bob Gibson through the years
BOB GIBSON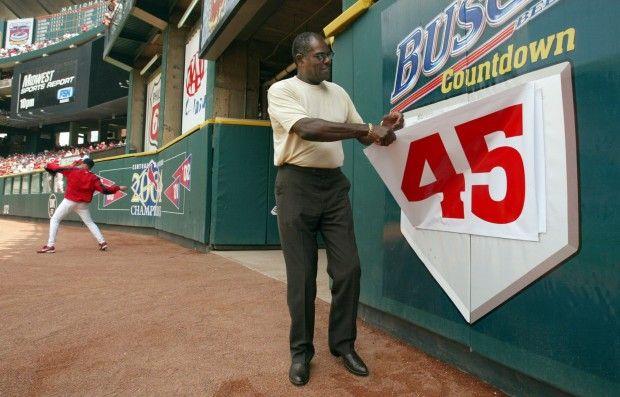 Bob Gibson celebrates the 1967 World Series victory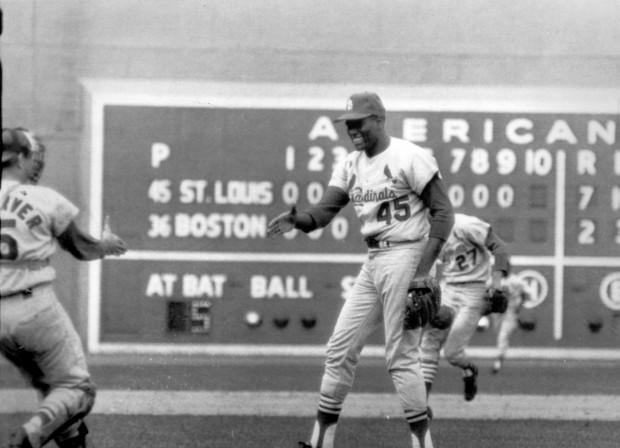 Bob Gibson pitches in 1967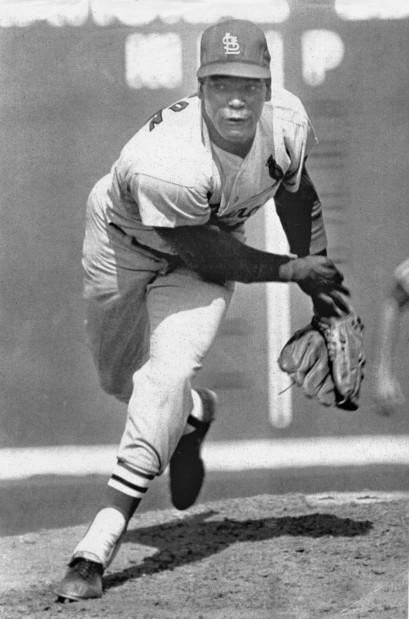 Bob Gibson and Tim McCarver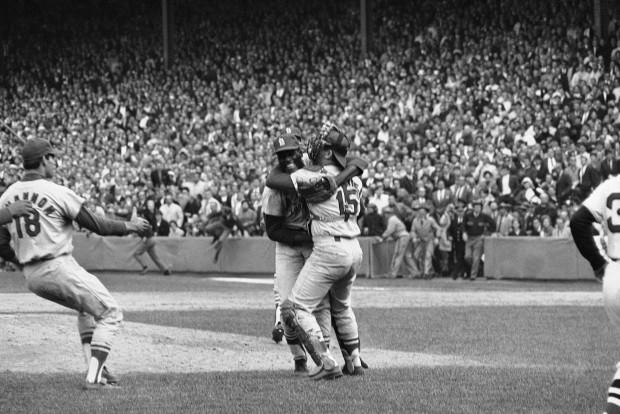 Gibson congrats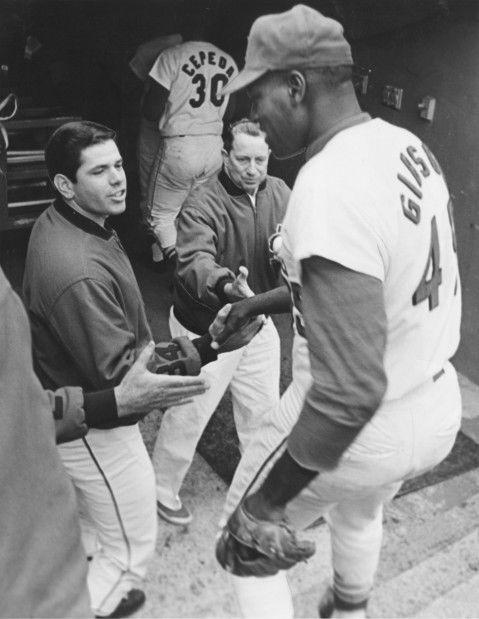 Cardinals opening day in St. Louis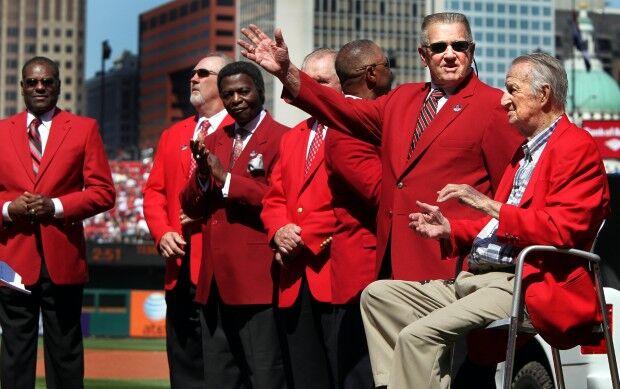 World Series Game 1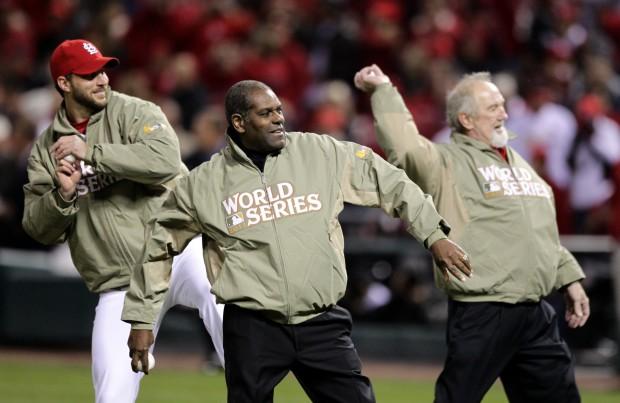 Round 1 goes to New York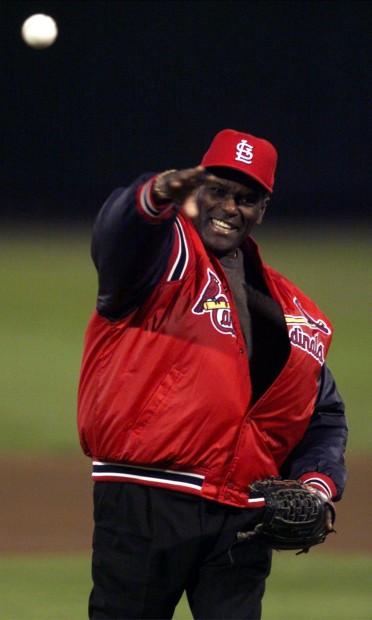 ONE FOR THE GIB-STER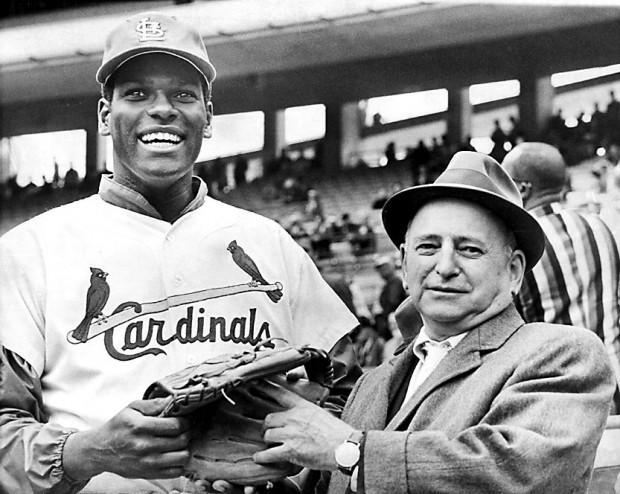 Down the stretch they come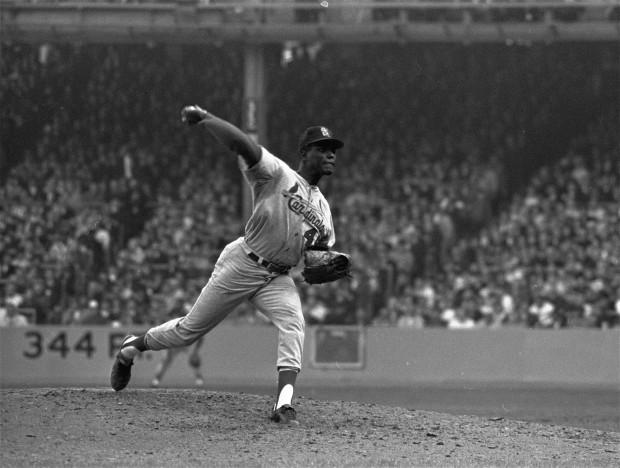 1960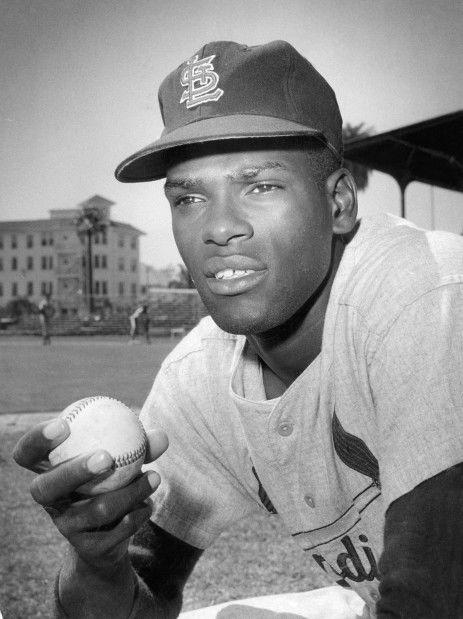 NLCS game three, Milwaukee Brewers vs St. Louis Cardinals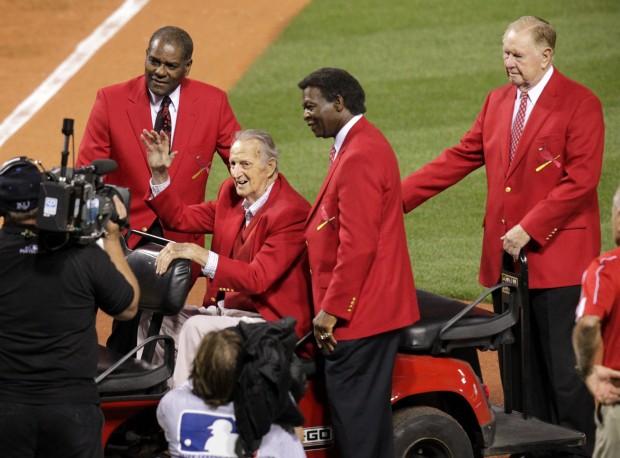 Lineup of Cardinal greats -- Brock, Schoendienst, Smith, Sutter, Gibson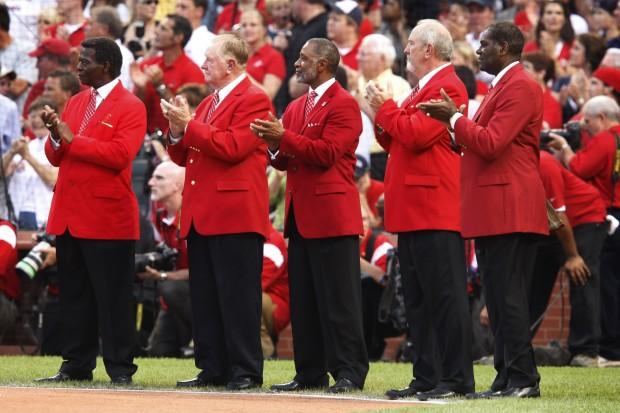 Bob Gibson pitching in 1968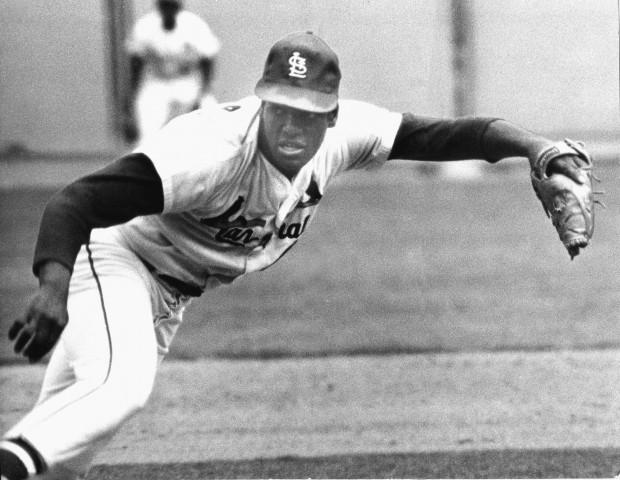 ~~ VERTICAL GALLERY: HIDE TITLES, ENLARGE TYPE ~~