ST. LOUIS • Gratz Brown and Thomas C. Reynolds were young, educated and ambitious transplants. Brown hailed from Kentucky, Reynolds from South Carolina by way of Virginia.
Brown arrived in 1849, Reynolds one year later. Both got involved in Democratic politics. Brown became editor of the Missouri Democrat, a local newspaper, and Reynolds was appointed U.S. attorney for eastern Missouri.
They took opposing sides in the conflict splitting their party and nation. Brown became a protege of U.S. Sen. Thomas Hart Benton, who believed the future was in factories and railroads, not plantations. Reynolds allied with fellow defenders of slavery.
Their disagreement turned bitter. At dawn on Aug. 26, 1856, they met on a Mississippi River sand bar south of Herculaneum with muzzle-loading pistols at 12 yards. Brown was wounded in his right leg and recovered. Their exchange of shots was St. Louis' last formal duel to draw blood.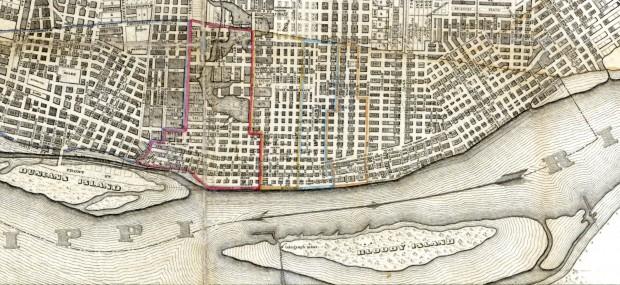 The trouble began over timber cutting in the Ozarks. In 1854, the Missouri Democrat accused Reynolds of harassing homesteaders, a key Benton constituency.
An exchange of notes soothed things, but the dispute was renewed one year later, when the newspaper attacked Reynolds for trying to cut into Benton's appeal among German immigrants.
Reynolds called Brown "a coward who conceals his lies under the garb of an anonymous libeler," and challenged him to a duel. Under the rules of gentlemanly honor, the challenged person picks the weapons. Knowing Reynolds was nearsighted, Brown chose rifles at 80 paces.
Friends prevented the exchange. But in August 1856, the Democrat claimed that Reynolds regarded Germans and Irish as the equals of blacks. An outraged Reynolds accused Brown of "notorious poltroonery."
This time, Brown made the challenge. Other newspapers reported that Brown and Reynolds had slipped out of town. Because Missouri outlawed dueling — a much younger Benton had killed a man in a duel in 1817 — the rumors had them avoiding Bloody Island, the notorious battleground in the Mississippi River across from St. Louis.
To evade watchful police officers at the downtown landing, they headed downriver into Jefferson County, where Ferdinand Kennett, brother of a former St. Louis mayor, had built a blufftop mansion called Selma Hall. On the morning of the duel, the rivals rowed out from Selma landing.
One St. Louis newspaper reported that Brown was killed. The next day, the conservative establishment's Missouri Republican said the two men had reconciled while returning on a steamboat named the Editor.
Four years later, Brown championed Abraham Lincoln and served in the Union army and U.S. Senate. Reynolds, elected lieutenant governor in 1860, joined Gov. Claiborne Jackson in trying to push Missouri into Dixie. Reynolds became a rebel officer and was Missouri's last Confederate governor in exile.
Brown was elected governor in 1870 and backed voting rights for blacks, women and former rebels. He died of illness in Kirkwood in 1885. Reynolds committed suicide downtown two years later.
Selma burned in 1939 and was rebuilt. The Union Pacific Railroad uses it as a private executive retreat.