The Flood of 1993: From routine crests to record-breaking heartache
The flood of 1993 resulted areas of nine states being declared Federal disaster areas. Rivers in the Midwest hit record flood stages at 95 points in North Dakota, South Dakota, Minnesota, Wisconsin, Nebraska, Iowa, Illinois, Kansas and Missouri, according to the National Weather Service.
Some areas were above flood stage for five months. In St. Louis, rivers were higher than any previous recorded flood for more than three weeks, according to the weather service.
— Compiled by Beth O'Malley
June 27, 1993: Mississippi tells casino who's boss
June 29, 1993
A family in the 500 block of South Dwyer Road, northern St. Charles County, kept playing in the backyard pool as the Mississippi River rose around it.
In late June, expectation was for flooding - but not too high
The Missouri River levels were still low at the time, and not forecast to be near flood stage, said a Corps of Engineers hydraulic engineer.
'Across Midwest, millions of acres are too waterlogged to plant'
Spring flooding wiped out some early crops, and rain kept farmers from planting on thousands of acres - even before flooding swamped farmland in flood plains.
St. Louis not underwater
We're working hard to get the word out that St. Louis is not underwater," said a spokesman for the convention and visitors commission. "We've had a lot of calls from people with that impression, people who say they heard it somewhere or saw shots on national television of flooding on the upper Mississippi River. It's confusing, I guess."
July 4, 1993: Levee bursts in Lincoln County
"It was gurgling, like the sound a bathtub makes when you pull the plug. It was like a vacuum sucking the water. I ran to my road crossing, and the levee blew," said Michael R. Frost, who walked along the levee at 2 a.m. and saw water coming over the top. At 9 a.m., he stood on th elevee and heard the sound he described in the quote.
Fairgoers dipped their toes in floodwater at Arch grounds
July 6, 1993: Levee fails in St. Charles County
An update to crest forecasts predicted flooding as bad as, if not equal to, a previous record flood in 1973. That year, the high crest at Grafton was 33.3. The river at Grafton, just past the confluence of the Illinois and Missouri rivers, reached a crest of 38.17 feet on Aug. 1, 1993.
'We need help, now'
"So far, eight people have died in flood-related accidents in Missouri." A graphic inside the paper noted the level of the 1973 flood in St. Louis, 43.23 feet. The flood peaked at 49.58 feet on Aug. 1, 1993. The city's floodwalls were 52 feet tall.
July 8, 1993: 'Everything I'm telling you now is changing because it's still raining.'
"All the records that were established 20 years ago are going to be broken," said the senior river engineer for the Army Corps of Engineers in St. Louis. The flood was set to crest in St. Louis at 43.5 feet.
The struggle to save a river town
Originally published July 8, 1993
By Bill Smith Of the Post-Dispatch
On a rainy, gray July afternoon, these are the enduring images of Kimmswick and Front Street and the flood of 1993:
• Three-year-old Joanna Frommann standing in the middle of some 60 volunteers, pouring yellow-white sand into a green plastic sack one tiny fistful at a time.
• Seventy-two year-old Harvey Reno, in his bib overalls and his neon-orange neon-orange neon-orange baseball cap ("We interrupt this marriage to bring you hunting season," it said), staring silently out across the rising mud-brown floodwater of the Mississippi River.
• Mayor Martha Patterson, in her shin-high blue rubber waders, directing directing flood efforts with a hand-held walkie talkie and gutsy determination.
• Ray Henn and Bobby Menefe and Mike Godwin and all of the other men in handkerchief head coverings and water-logged tennis shoes passing the 40-pound sacks one by one to the sandbag levee growing along the water's edge.
And a single voice from the sandbag line.
"Just think, men, we saved the town of Kimmswick," the voice said. "We saved a town older than all of us put together."
Saved? Maybe.
Kimmswick, a picturesque tourist town of quaint antique shops, gift stores and pre-Civil War homes, sits just between Interstate 55 and the river river in eastern Jefferson County.
They saved it once, Reno said, way back in 1973 when the Mississippi crested here at 43-feet plus, the place marked in white paint mark on the concrete support of the old railroad bridge.
Reno was here then, too, bagging and waiting, and bagging and watching, and bagging and hoping. The sand held that time, he said. It can hold again.
The volunteers have been arriving here since Friday morning, the morning after the big town hall meeting where the people of Kimmswick heard that the floodwater would be bad this summer. Very bad.
Now they came from St. Louis and St. Louis County and from the nearby communities of Arnold and Imperial.
Georgia Druen and Barbara Braasch came from just down the street. They own Hearthstone Knits, a knitting goods shop, at 314 Market Street. The sandbags, Braasch said, are too heavy for them to throw. But they still can help.
"We can't fling 'em," she said, "but we can fill 'em."
Mike Leach came from Tampa, Fla. He was on vacation, he said, visiting family in Imperial when he heard about the flooding. He has been here every day. He probably will work through Friday when he has to return home.
"Sure I'm tired," he said, and the perspiration was falling one drop at a time from the tip of his nose. "But it's worth it if it works."
It is hard, back-tiring labor — the kind of work that makes the legs weak and turns the arms to limp rubber.
Bend, scoop, lift, fill ...
Bend, scoop, lift, fill ...
Bend, tie ...
Bend, grab, lift, pass ...
Pass, pass, pass ...
Most of the work has been concentrated concentrated on the east edge of town just behind the Blue Owl Restaurant and Bakery, where people from the city come on warm summer weekends, just beyond the Pattington Station antique and gift shop, just outside Georgia Crow's kitchen window.
Georgia Crow, who lives with her son, Brian, in the same house that her mother and father once owned, said that once they had a nice yard where workers were piling sandbags this week.
"I was 5 years old the last time the water was up this high," said Brian Crow. "I remember playing in the sand when the floodwaters finally receded."
"I thought the floods were over in April," said Georgia Crow. "A few days ago, there was no water out here at all."
The kitchen floor was tracked with mud.
Cartons from Domino's pizzas, food for the workers, were stacked near the sink.
"There are a couple of my sons out there," she said. "And Ray Cagle's boys. And boys I don't even know."
It was evening and the Cardinals baseball game was just coming on the kitchen radio.
"Rick Barnes is coming over from Montibello Road tomorrow," she said. "He said he was going to fry some chicken wings for the workers."
It is hard, this work, but it is not without its lighter side. Up near the old river bridge, where the bridge deck was just beginning to cover with river water, there were the voices of the young men:
"Slave labor," complained Ron Birkla, who described himself as a bartender for the yet-to-be-opened Globe bar in St. Louis. "We should form a sandbaggers union."
"You know if we win that Powerball jackpot, we're just going to fly around in our Lear jet and sandbag wherever they need us.
"Chicks really dig sandbaggers, man."
"Sandbagging," said Bobby Menefe, a self-described independent contractor, "the newest Olympic sport."
"Make sure you tell my probation officer I was here," said Birkla. And the young men laughed.
Frank Micklack, in Big Smith overalls overalls and a blue and white-striped white-striped white-striped cap, works for the U.S. Post Office. He lives in an area of Kimmswick that could be threatened by the rising floodwater. He said he has been spending every free hour down along the river, preparing preparing for the worst.
It has been a tough year for Micklack and his wife, Jane. Their 7-year-old daughter, B.J., who is battling cancer, underwent a bone marrow transplant in May.
Her hair gone, her arms and legs as thin as batons, she nevertheless was at the river this week tying sandbags in a Little Mermaid T-shirt.
The donated Rally's hamburgers were fresh, the 6-ounce cans of Kraft orange juice were cold and the chili that the volunteers sent from from the Edmundson Road Baptist Church was still warm.
And Harold and Marjorie Manning, who had driven a Red Cross Emergency Response Unit here all the way from Pine Bluff, Ark., were still passing passing out bags of corn chips, sandwiches and encouragement.
Images:
• A thousand sandbags, waiting just off Second Street like just-wrapped Christmas presents.
• A 12-pack of beer, ripped open at the top and sitting in Brian Crow's muddy back yard.
• Two boys, the river water  halfway up the wheels of their bicycles, pedaling out near the old bridge.
• And Ron Carron, a carpet cleaner from Festus, who said he had come here to do what he could to help.
"We were here on. Sunday night and we walked across the bridge without any problems," he said. "Now, you can't even see where the road is.
"They keep changing the forecast; I don't think anybody really has any idea how high it will get."
"We just have to wait," said Hank Goehring, who owns Elly's gift shop on Second Street. "We have to wait until ...
"Until. That's about all you can say."
'It feels good on your feet, and it's fun," said an 11-year-old volunteer
July 10, 1993: The flood in perspective
''This is our entertainment, picking up crawfish.'
When you live in the country along a river, you expect to get wet once in a while.
When you live between the two mightiest rivers on the continent, you expect to get really wet.
And maybe hold a crawfish boil.
July 12, 1993
About 200 families were told to evacuate when the River Des Peres rose above its banks onto Germania Street and Carondelet Boulevard near I-55.
Underwater 'plugger, unplugger' saves many a cleanup
Originally published July 12, 1993
By Tom Wheatley Of the Post-Dispatch
Until area rivers decide to crest, the cleanup is on hold at homes sacked by floodwaters.
But Mary Fann of Spanish Lake is already at work in her basement. She is trying to clean the work clothes of her husband, Larry Fann, who dives for Okie Moore Diving & River Contracting.
"The washer's got to be in good shape," Mary Fann said.
So does she, and so does her husband.
With just a few brief breaks since Thursday, Larry Fann has been in his leaky wet suit, plunging into storm sewers underneath Germania Street, along the River Des Peres levee.
He is not working in sewage. No rats care to surf on his underground breakers. The only threat from creatures, he said, is in his company van.
"Watch out," he said, pointing to the clutter inside. "Something might jump out and bite you."
Fann's dive tank under the Germania Street manhole covers is unsavory unsavory enough. The bloated river is near the top of the 45-foot levee, ramming itself back through drainpipes and flooding Germania near the Interstate 55-North on-ramp.
Fann — age 55 and a ringer for actor Jack Warden — is no scuba man. Like a deep-sea diver, he works in a helmet with air piped in from the street above. He wears an inflatable dry suit for his usual forays into the rivers to work on barges and boats, but it is too bulky to fit inside a 30-inch-wide manhole.
The wetsuit accents a physique that is wiry, except for his inflatable tummy.
"My head's the only thing that keeps dry," he said.
So it's a fetching pile of wet undergarments undergarments that he presents each night to his wife of 35 years.
"He dumps it on the ground outside his van," Mary Fann said, "and I drag it in."
Some wives might object. Not Mary Fann. "That's my bread and butter," she said.
Larry Fann, whose services are retained by the Metropolitan Sewer District, apparently can afford to put plenty of bread on the table. From Thursday through noon Sunday, he estimated, he had worked well over 40 hours and made more than 25 dives.
At the city's emergency command command center in the Goodwill Store at Carondelet and Morganford, the scuttlebutt was that Fann earns $1,000 per dive for his company.
"No, no, no, no, no," he protested. protested. "We just make a living." 
Jim Keating, director of maintenance maintenance for the MSD, would not divulge divulge the exact terms of Fann's work.
"He ain't cheap," Keating said, "but he's invaluable. He saved me the other night. Up in the north city, by Miller Street on the flood wall, a 4-inch piece of plastic hose about 60 feet long got caught in the intake of our pump and shut it down. Larry went in there and got that fixed."
Without Fann, the River Des Peres might have blown the levee Saturday on the Germania side. Folks nearby, such as those in the Parque Carondelet Apartments at Germania and 1-55, might not have had time to pack and move out, as many did Sunday.
A drainpipe had cracked inside the levee. The rushing backwater might have torn away the wall from underneath. Fann could not plug it from a Germania manhole, his usual approach. "The water was bubbling out waist-deep," he said.
So, he went over the levee into the river to plug it. "Over here," he said, preparing to drop into another manhole on Germania, "this is the safe side. The river's pushing you away from the pipe. Over there, on the suction side of the levee, you've got to be careful. You could be the plug over there."
That job took eight hours. His diving Sunday, which plunged him 12 to 15 feet under the street, was taking about 15 to 30 minutes per hole.
"There's no visibility at all down there," Fann said. "It's zero-minus, total darkness, like walking into a dark room. Everything's by feel."
He was stopping the pipes with a flat slab of rubber, 2 feet by about 6 feet. The rubber becomes a torpedo-shaped balloon when inflated by nitrogen from above.
For smaller pipes, 12 to 15 inches in diameter, he uses plugs that look like oversized bathtub stoppers. These are filled with water and air. They are quicker to fit but can be muscled out by the force of the river.
One plug that Fann inserted Saturday on Germania popped out at 6 a.m. Sunday. He was rousted out to replace it after just three hours' sleep.
"In the '86 flood," Fann said,. "I put in a plug or two, but nothing like this. The worst was '73, and I'd say this is worse than '73 right now."
Fann has been diving for 30 years. "I don't like being inside four walls," he said. "I'd rather be outside."
So, Fann's the man on the River Des Peres levee.
"He's a crusty old dog," Keating said, "and God knows, buddy, we're glad he's around.
"We're gonna build a bronze statue statue of this guy right in the heart of Lemay. He'll have the Mississippi in one hand and the River Des Peres n the other hand. "And we'll put a can of beer right on that tummy of his."
The River Despair
July 14, 1993: No Fear
Friendly twin rivers become 'The Enemy'
Originally published July 15, 1993
By Tom Uhlenbrock Of the Post-Dispatch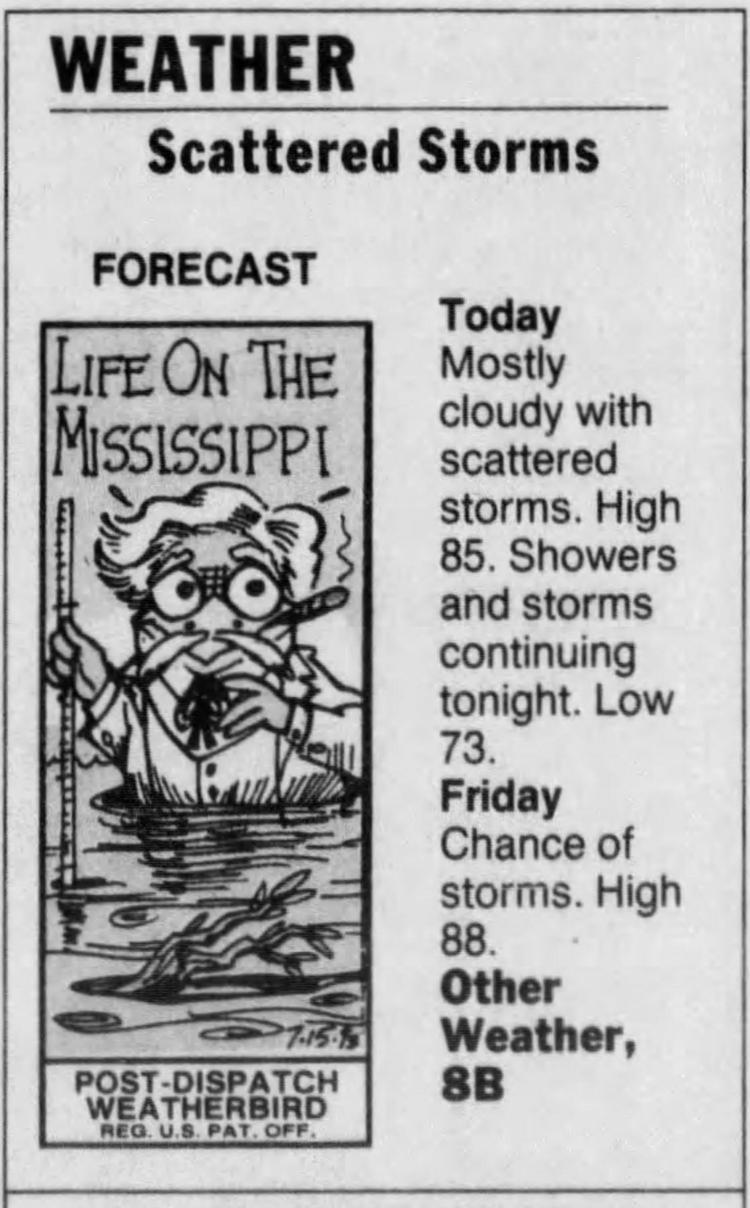 With a shock of white hair falling over intense eyes and a gaunt face ending in a neatly trimmed goatee, Gary Schuchardt resembles the embattled Gen. George Armstrong Custer. And the enemy is closing in.
"The enemy is the river," said Schuchardt, who should be speaking in the plural because there are two of them, the Mississippi and the Missouri.
As director of the St. Charles County Emergency Management Agency, Schuchardt handles the territory in perhaps the most precarious geographical position in the flood-weary Midwest.
The entire eastern end of the county is a peninsula with Mississippi backwaters seeping in from the north, and the swollen Missouri in a menacing position on the south. It's the last wedge of land between the country's two great rivers, and they're both in an angry mood.
Schuchardt meets his Little Big Horn today, when the Missouri is expected to crest and put to the test a levee that holds it in check. If that levee fails, the Missouri will pour through and mix with the Mississippi backwaters.
"More people will get wet," said Schuchardt. "Hopefully, "Hopefully, they're not in their homes when it happens. In terms of safety, yes, I am watching that very closely. So far, it's holding."
Although towns like West Alton and Portage des Sioux have been surrendered, Schuchardt said the battle actually actually is going well. "We are winning by preventing loss of life, preventing injuries," he said.
Most of the residents of the county's low-lying areas are veterans of previous river wars, Schuchardt said, and are accustomed to fending for themselves.
Still, the county was busy fighting skirmishes Wednesday. Wednesday. "We've got a medical emergency in Portage des Sioux," yelled a volunteer working the phones in the county's emergency operations center.
A 71-year-old cancer patient needed to be evacuated and was unable to make the 45-minute ride by boat They found a helicopter to get the man out.
Schuchardt pointed to a handwritten sign "These are our friends" taped to the center's wall. "That's exactly how we feel," he said.
Capt. Chris Phillips of the Missouri National Guard went on another mission: The well-to-do owner of a hunting club on the Mississippi River was renting two private helicopters to fly in slings filled with sandbags in a last-minute effort to save his property. The Guard provided 2,000 sandbags, and Phillips offered offered the expertise for handling the operation.
"I've got the moral obligation to see it's done safely," he said.
"Helicopters build up static electricity, so the load has to touch ground before you can handle it," he said. "I've seen 3-foot arcs of electricity that can really knock you on your butt."
If the Missouri River levee fails, Schuchardt estimates the total of residents displaced from their homes will reach 7,000 in the county. But people were not the only creatures on the move.
A line of cars was parked on the shoulder of Missouri Highway 79 Wednesday. Ken Clinton of Troy, Mo., sat on his hood, peering through binoculars at dark forms browsing browsing in a roadside soybean field.
"Deer — I counted 40," he said. "Right in the middle — he's got his head up now — is a 10-point buck. The rain has brought them out of their bedding area."
'Levee anarchy,' loss of wetlands blamed for flooding
Saturday, July 17, 1993
A levee bursting in West Quincy, Mo., closed the last bridge that crossed the Mississippi River from St. Louis to Burlington, Iowa.
Near St. Charles, the Missouri River breached a levee about 6:45 p.m. the day before. About 700 people fled the area late Thursday and early Friday, but 15 to 20 families remained.
'The peak of the flood is hitting St. Louis now.'
A levee break in Maryland Heights reunited the river with Creve Coeur Lake. Tanks at a chemical plant were lifted by floodwaters and forced the evacuation of a response coordination center. In Bellefontaine Neighbors, Moline Creek flooded about three dozen homes. The levee in Defiance broke at 9 a.m. Saturday; 40 percent of the county was under water, and that number was expected to increase.
'Then I looked up and saw a bunch of sandbags get blown off the levee, and the water came rushing through.'
The Mississippi River, flowing up the River Des Peres, pushed sandbags off a levee, shutting bridges over the river and flooding south city and county streets. Water was waist high on Marceau and Alabama an hour after a 15-foot sandbag wall on top of the levee collapsed. More breaks were expected.
'The worst isn't over — not until that water gets below the sandbags.'
Originally published July 20, 1993
By Tom Uhlenbrock and Linda Eardley Of the Post-Dispatch
The scene was the same at the water's edge on Marceau, on Davis, on Hurck and other streets in sodden St. Louis along the River Des Peres — people stood staring in disbelief at their submerged homes.
"I'm numb," said David Hiatt, who used his lunch break Monday to inspect inspect the damage to his home in the 500 block of Marceau Street.
Hiatt said his house was dry until 11 a.m. Sunday, when a break a block south on the River Des Peres levee sent residents scrambling. By 3:15 p.m., his basement was filled. The water rose to 3 inches from the main floor.
City officials said more than 1,000 families had been asked to evacuate, but they had no accurate count on the number of inundated homes.
"It's more than dozens," said Marie Jeffries, the city's director of operations.
The streets at the city's southern tip climb as they lead from the water, meaning some houses were wet while those at the other end of the same block were high and dry.
Hiatt was more fortunate than his neighbors across the street, where water reached to mid-window on the first floor. "You can look inside and see their couch and stuff floating," he said.
The floodwater climbed halfway up the block, ending in a line of floating logs, beer cans, oil jugs, tires and other scum-covered debris. A row of sandbags disappeared into the water.
A cardboard sign on a barricade at the end of the street said: "God bless you sandbaggers." Taped below was a second sign: "Oh, well — we tried."
Hiatt used a beer can marker to predict that the worst was over.
"We were all sitting in total amazement waiting for it to level off; I set the can where it stopped on the street last night," he said. "You can see the water's gone back down several inches."
Officially, the Mississippi River, which had backed up into the River Des Peres, crested at 46.9 feet at 9 p.m. Sunday. It dropped one-tenth of a foot by Monday evening.
Progress also was being measured by the inch over on Hurck Street, where Betty McLaughlin and her father, Jesse Goodman, tried to take a photograph of her house a block away in the water on Alabama Avenue. Goodman pointed to the white concrete porch on a nearby house. The receding water had left a mark an inch up like an oily bathtub ring.
"See that car roof sticking out of the water down there?" he said. "That's a Blazer full of stuff. They had it loaded, but the water came up so fast they couldn't get out. "
Last night, you couldn't see the roof."
As Goodman spoke, a breeze dislodged dislodged a large Dumpster from against a house and it floated like a boat down the street. "It's gonna be a heckuva mess to clean up after it's all over with," he said.
While the River Des Peres appeared to be making a slow crawl back toward it banks, residents said the danger of eroding streets and backed-up sewers remained. A portion of Carondelet Boulevard east of Interstate 55 buckled early Monday. No one was reported injured.
"It came up like a big cone. Water and stuff was gushing out," said an emergency worker in the area. Another worker said a long crack opened up.
The city and the Metropolitan St. Louis Sewer District hauled in tons of rock to weigh down the street and to support the back of the levee.
John and Betty Davis watched some of the work from their back yard in the 3600 block of Primm Street. "The worst isn't over — not until that river gets below the sandbags," John Davis said.
Farther north at Carondelet and Leona Street, residents nervously watched a sandbag levee that had allowed water to seep onto the street. Volunteers, residents and workers had slowed the leak with more sandbags on Sunday.
"I think it looks a lot better," said Charles Pietz, 72.
Just across the city-county line in Affton, about nine homes in a low-lying area in the 4600 block of Hanover Avenue are being swamped on two sides — by the River Des Peres backing up a ditch and by sewer water gushing up in basements and in the street. 
"The smell is nasty; you can hardly get in your house," said Warden Meador of the 4600 block of Hanover.
Over the weekend, residents and volunteers built a sandbag wall, which meanders around their homes and in the street. But week-old sewer problems in basements remain.
"My basement floor has split and is humping up," said Pat Johnson, who lives in the 4600 block of Hanover. "Water is bubbling up. It's causing my house to shift. My doors are sticking. My walls are moving and cracking.
"I called my insurance agent and got a definite no. They re not going to do anything to help us. We're not in a flood area, but yet we've got it."
10-year-old sells models of the Arch, with a bottle of floodwater underneath the curve
July 22, 1993: 'Ed Macarthy's home is his sand castle'
July 23, 1993
In St. Charles County, workers filled more sandbags, but realized that whatever could be flooded probably already was. In West Quincy, Mo., levee officials asked the sheriff to investigate if someone sabotaged the levee. In Chester, Ill., prisoners couldn't flush toilets because the prison lost its water supply due to the flood. And the crest on the Mississippi was expected to rise.
July 23, 1993: Disaster at Cliff Cave, the most deadly day in the Flood of '93
Editor's note: On July 23, 1993, a flash flood roared through Cliff Cave, drowning six people. This was the first Post-Dispatch story published on July 24 when only four were confirmed drowned.
A caving expedition for 16 children from a St. Louis boys' home ended disastrously Friday when a flash flood swept through a cave in south St. Louis County, killing three children and a male counselor.
Gary Mahr, 13, was the lone survivor of the five boys and two counselors from St. Joseph's Home for Boys who were trapped in 1993 after Cliff Cave flooded.
Two other boys and a 21-year-old female counselor still were missing at 10 p.m. Friday, when the search was called off for the night. It was set to resume at 9 a.m. today.
The children were from St. Joseph's Home for Boys, at 4753 South Grand Boulevard, a residential treatment center for abused or troubled youths.
• One boy was later found alive in the cave
Police withheld the names of the victims pending notification of relatives. Two of the dead boys were 10 and 12; the missing boys are 9 and 10.
The boys were exploring Cliff Cave, the centerpiece attraction in Cliff Cave Park, a county facility that has been closed for at least two weeks because of flooding from the nearby Mississippi River.
Twenty-five acres of the 221-acre park are under water because of flooding from the Mississippi River, which is adjacent to the park. But the water that killed the cavers came from within the cave. The cave has a small, spring-fed stream within it that normally poses no peril to explorers.
But it swelled to river size after a torrential afternoon rain sent water cascading into the cave through numerous sinkholes.
The four cavers who died had split off from the rest of the St. Joseph's group to explore a narrow tunnel.
"One group wanted to go farther," said St. Louis County Police Chief Ron Battelle. "The other didn't."
One of the children who survived said, "We were in the cave, walking around, playing. Suddenly the water started to come in. I didn't like the way it looked, so I got out."
Cliff Cave is a popular park for residents of South County, but it has been closed because both its picnic area and low-lying areas near the river are under water. The St. Joseph group had to drive around barricades saying "road closed" to get to the mouth of the cave. Battelle said his department would investigate whether someone should be held criminally responsible for the deaths, because the park was marked  "closed."
"It's unfortunate they chose to disregard disregard the warning," Battelle said. "It's a tragedy."
He said the message from the deaths was: "Read the signs and obey them. It's a treacherous time."
Karen Wallensak, a spokeswoman for Catholic Charities, which supports supports the home financially, said, "I cannot personally believe that the trained professional staff that we have would have led them past those signs into a dangerous situation."
She said the counselors accompanying the boys were told before they left the home that if there was "any water, even around the cave, they were supposed to stay out."
"All week long, boys had been going spelunking and hiking at the cave," with no problems, Wallensak said. "Every recreational activity is well-planned," she added. "Safety is the No. 1 concern."
Wallensak said that four adults had accompanied the 16 boys, aged from 7 to 14. One of the staff members was an experienced spelunker, Wallensak said.
Wallensak said Friday night that the home's staff would be questioned. "We want to find out what happened and then take appropriate measures," she said. "I can't say what that is at this point."
Gary Stangler, director of the Missouri Department of Social Services, ordered an immediate investigation into the deaths by child abuse investigators. All five of the children who are missing or dead were in the custody of the Missouri Division of Family Services or the St. Louis Juvenile Juvenile Court because of abuse or neglect.
"My first thought was, 'My God, what were they doing in a cave along the Mississippi River?'" Stangler said. "We will look into the appropriateness of the outing, given the weather."
According to police and fire officials, the St. Joseph's group arrived at Cliff Cave Park around noon Friday. Skies were sunny, but weather forecasters were predicting rain later in the day and were warning of the possibility of flash floods.
A flash flood swept through the cave sometime after 2 p.m., just after rain had pounded the area. Water was still rushing out of the cave and across Cliff Cave Road when rescuers arrived around 2:30 p.m.
Rain and runoff enters the cave through numerous sinkholes in the cave's roof, and it created a raging river that apparently knocked the victims down. The bodies that were recovered were tangled in debris; one was wrapped around a log, said Mehlville's assistant fire chief, Bob Palmer.
Throughout Friday afternoon and evening, rescue crews moved deeper and deeper into the cave, trying to find the missing three explorers. Three bodies were found early on; the fourth was found at 6:10 p.m., 1,000 feet into the cave.
Matt Marciano, a spelunker who helped with the rescue efforts, said he had to wade through waist-high water and past numerous waterfalls to reach the fourth victim.
"Nobody should ever attempt to go into a cave that has water coming out of it on a day where it looks like it's going to rain," he said.
Five other expert spelunkers also helped in the efforts. Palmer, of the Mehlville Fire Department, said the search was tricky because the cave still contained water. He described the cave as a maze of tunnels branching off into ever smaller tunnels, some of which stretch the length of a football field.
"We'll have to search every one of these branches," Palmer said.
By evening, the survivors of the outing still were at the scene. For the most part, they sat quietly in the two Variety Club "Sunshine Coaches" that had brought them to the park.
Ben Knox, associate administrator of the county parks department, said that Cliff Cave was a favorite haunt of casual spelunkers. The county imposes no special requirements on those who want to enter it. Park rangers and police check closed parks periodically, he said.
Knox said he didn't know how often or whether Cliff Cave had been checked on Friday. Rangers had to monitor several other closed parks this week, he said, and some were assigned to help police with security in the Lemay area, where several dozen homes were evacuated two weeks ago.
"The thing that's got us sick is we weren't there patrolling as much as normal because we were at Lemay," Knox said.
Phyllis Brasch Librach, Mark Schlinkmann and Kevin Manning, all of the Post-Dispatch Post-Dispatch Post-Dispatch staff, contributed information for this story.
The flood of 1993 resulted areas of nine states being declared Federal disaster areas. Rivers in the Midwest hit record flood stages at 95 poi…
'This has been probably the greatest stress time for many of our farmers in their whole careers'
North and south of St. Louis, levees protecting 70,000 acres yielded to floodwater on Sunday
North of East Hannibal, Ill., in Pike County, the Mississippi River broke through the Sny Island levee, stranding six people and flooding 44,000 acres.
July 27, 2993: Workers sandbag areas in St. Charles County that never expected to flood
Workers were repairing a breach under part of the 11-mile flood wall that protected parts of St. Louis City. Pressure from the Mississippi dredged a 40-foot-hold beneath the wall near Riverview and Chain of Rocks drives. Some 6,000 tons of rock partly plugged the hole, but a 20-foot section of the wall shifted a few inches as workers dumped the rock.
The Admiral rides at eye level north of the Gateway Arch
The Missouri River in Ray County pulled as many as 75 vaults from the ground in a cemetery
"I don't think the flood's ever going to be over," lamented Candy Green, a spokeswoman for St. Louis' emergency response crews.
A levee break floods Highway 40 at Chesterfield
The McKinley and Lewis and Clark bridges closed, and propane tanks floated in floodwaters in south city, forcing the evacuation of residents in a half-mile radius.
500 businesses in Chesterfield were flooded
To add insult to injury, three tornadoes hit St. Charles County late Saturday, but caused little damage to parts of St. Peters and Portage des Sioux.
Aug. 2, 1993
The river roared through a levee and demolished a farm near Columbia, Ill. The Mississippi River in St. Louis reached its highest crest, 49.58 feet, on Aug. 1, 1993, the day the image was taken.
Breakaway barges gave city close call
Originally published Aug. 3, 1993
By Phil Linsalata of the Post-Dispatch
Only with the Burger King barge and the minesweeper Inaugural corralled after their wild tear down the Mississippi did the danger of the previous previous night's chase begin to dawn.
Ralph Break, a spokesman for the St. Louis Fire Department, said Monday that the episode could have been much worse.
"Think about the mass of the barges and boats that broke loose," said Break. "If they had hit a more vulnerable area a flood wall, a flood gate, there could have been significant and widespread damage."
Floyd Warmann, owner of the vessels that broke loose from near the Gateway Arch, also was relieved.
"What if that minesweeper had gone down and hit those tanks at Phillips [referring to 51 propane tanks that were floating in floodwaters in south City.]?" wondered Warmann. "That ship is like a bullet. The Lord was with me."
The crisis ended quietly by 2 a.m. Monday, before most St. Louisans woke. It began with an electrical explosion that flashed when the power lines to the unattended vessels ripped loose as the moorings failed.
It was 10:47 p.m. Sunday when a ranger at the Gateway Arch called in what he first thought was a fire. Within minutes, the Coast Guard knew that it was faced with the worst.
"Breakaways." The Coast Guard call went out on marine radio at exactly exactly 10:50.
Every boat pilot on the river knows what that word means. Maritime tradition dictates their response, and four nearby tugs made way for the Arch immediately.
As they steamed, St. Louis fire trucks sped along the banks, running a parallel course to the breakaways.
The group of vessels — still lashed together — smashed into the Poplar Street Bridge before any tugs could approach. The impact was so powerful that it bent lower portions of the bridge's thick steel superstructure. But damage to the bridge was deemed minor by engineers who reopened it to traffic traffic after a brief inspection.
The vessels did not fare so well. The impact with the bridge splintered the top deck of the Burger King barge. It tore into the minesweeper like a can opener, leaving a five-inch gash above the water line.
And it broke the complex apart. That presented more moving quarry for the searching tugs, and more risks for a collision with the flood wall.
Here's what the tugs were after:
The minesweeper Inaugural, a steel-hulled steel-hulled steel-hulled warship marketed as a riverfront attraction.
The Spirit of the River, two connected connected barges that hold the Burger King restaurant.
A heliport barge.
A smaller barge with a children's children's railroad ride.
A second small barge that held a Taco Bell.
The river carried the vessels one mile, then another. Coast Guard  radio transmissions showed no hope of gaining control for 20 minutes. Then at 11:10 p.m., the first tugboat began to work one of the breakaways, gently approaching it in the river's roaring currents, estimated at between 15 and 20 miles an hour.
Meanwhile, a second potential disaster began to unfold.
When the complex ripped loose from its moorings, it also severed all but one of the lines that anchored three connected dock barges and the excursion boat Tom Sawyer, moored immediately downriver. Those vessels, owned by John Connelly's Gateway Riverboat Cruises, lurched out into the current as the smell of natural gas poured from lines that had connected to them.
Hanging by a single line, Connelly's boats pivoted 180 degrees and held. Emergency crews worked to shut off electrical and power connections, but for endless moments, the barges dangled by a thread.
Four miles downriver, two tugs met the Burger King barges. But the river wouldn't give up, and the tugs had only enough muscle to hold position, not enough to bring the barges ashore.
They held on until the powerful Harriet Ann arrived. With three diesels churning out 7,200 horsepower, the boat eased the barges ashore, then held them there against the current through the night.
By 1:20 a.m., the Mary Burke had the Inaugural under control.
Six minutes later, the Tom McConnell pulled up behind the Tom Sawyer relieving the stress on the one line that held it and the barges it joined.
As for the barges, the one with the railroad ride sank; the rest were brought to shore.
Connelly praised his crew for mooring his vessels so that they held, even when several lines were cut by Warmann's breakaways.
Connelly's marine manager in St. Louis, Tom Dunn, said "we took extra extra precautions with the floodwaters, and we hoped that everyone else did, too."
Warmann said he has no idea what caused his moorings to fail. "We had heavy, thick, wire rope, and heavy chains," he said. "But you never know what the water does underneath."
11,800 people evacuated due to fear of propane explosion
'It's getting really scary'
'We've got dead fish on the streets and a lot of debris. And its's starting to smell really, really bad.'
Aug. 8, 1993
About 6,000 more people were allowed to return to homes in south City after threat from leaking propane tanks had passed. And in Alton, the Clark Bridge reopened.
The biggest rivers in the area were expected to be above flood levels for weeks