Editor's note: Six Flags Over Mid-America opened its doors to the public for the first time on June 5, 1971. This is how the Post-Dispatch covered opening day.
The afternoon sun beat down on the crowd Saturday at the official opening of Six Flags Over Mid-America, but everyone seemed to be having too good a time to complain about the heat.
About 5,000 persons attended the grand opening of Six Flags 25 miles southwest of St. Louis on Interstate 44 between Eureka and Pacific.
The temperature reached about 90 degrees as the casually dressed crowd wandered from one ride to another, some persons stopping along the way to eat a quick lunch or to browse through one of the numerous curio shops in the 200-acre park.
The 18 rides range from a slow-and-easy mule-drawn cart to a neck-popping Mine Train, where the entrance gate bears a sign worth remembering: "This ride is not recommended for small children, expectant mothers, elderly persons and persons with heart conditions."
After being whipped along the elevated, hill and gully ride on the Mine Train, one could only say, "Amen!"
Another popular ride is the Hoo Hoo, which is a hollow log that is swept through a twisting, falling chute of water to a 15-foot drop down a watery sluice, soaking everyone aboard. All rides are paid for with the entrance price of $6.50 for adults and $5.50 for children 3 to 11 years old.
Food prices range from a 40-cent hot dog to a shrimp dinner, which costs a little over $2. Parking costs $1, and a pet can be left near the parking lot for 25 cents. The fee pays for an air-conditioned cage and one meal.
For those who do not want to spend more than the price of entry, it is advisable to pack a picnic lunch, which can be eaten at a shaded picnic area.
The Saturday opening attracted only a modest crowd. Park officers predicted that on good days the number should reach 25,000.
The development of the park is expected to create a boom in southwest St. Louis County. Throughout the park one notices the many young persons hired for summer jobs there. Their youthful, clean-cut appearance complements the clean, well-groomed layout of the park.
Two women riding on the Six Flags Railroad were heard to comment: "You know, besides the rides, what I like best about this place are the kids."
A young man and his girl companion commented, "I like the park and everything, but it looks to me as if they hired only kids in their teens and no one in their twenties."
Even as she spoke, however, the singers and dancers at Miss Kitty's, a copy of an Old West saloon, ran on stage to entertain standing-room-only crowd with such songs as "Applause, Applause," and "On the Street Where You Live."
The seven-member cast, picked from nearly 6,000 young persons who auditioned, included three performers over 20. No one seemed to bother much about their ages, especially the family man whose cheek was stroked by Miss Kitty (Meme Wolff, a drama student at St. Louis University) as she sang ""My Heart Belongs to Daddy."
Several persons interviewed at Six Flags said they felt that the experience entrance price. A man, his  wife and their four children drove from Kaxisas City, Kan., Friday night in order to be at the grand opening Saturday morning. "We've been at the Six Flags Over Texas," said the man, "and I think this one is a lot nicer."
The entertainment in Miss Kitty's and at The Palace is positive and patriotic in nature. At The Palace, for instance, the stage was filled with young persons singing to a capacity audience of 1,300. The theme, of the stage show was "The Music of Our Land."
The entertainers were dressed in red, white and blue and the stage's dark blue backdrop had an enormous golden eagle on it.
Highland Fling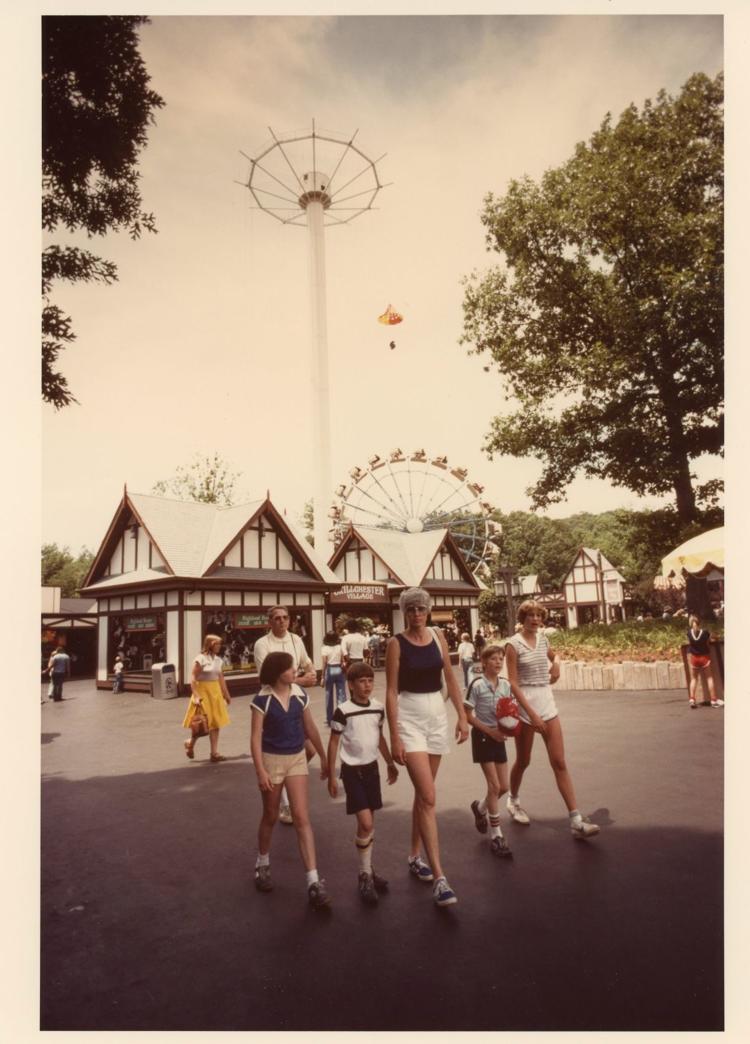 MoMo the Monster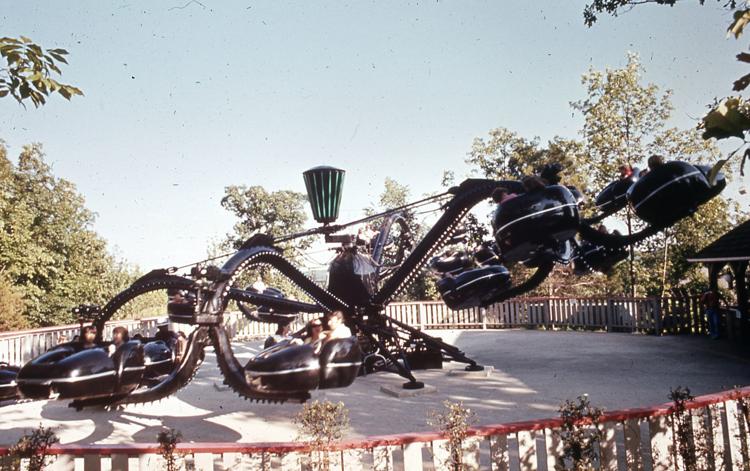 Dolphin Show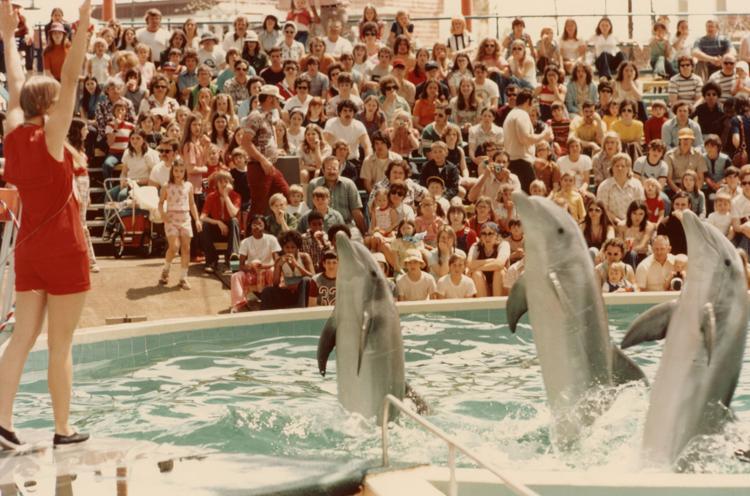 Tom's Twister
Sky Chuter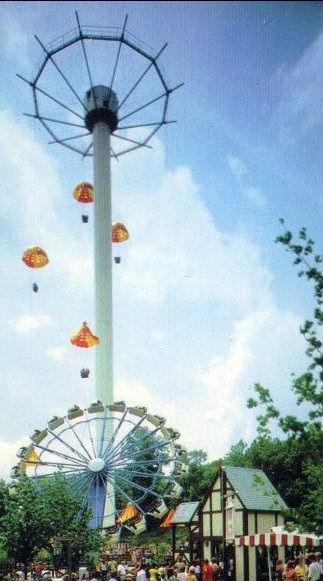 Pet-A-Pet
Super Sports Cars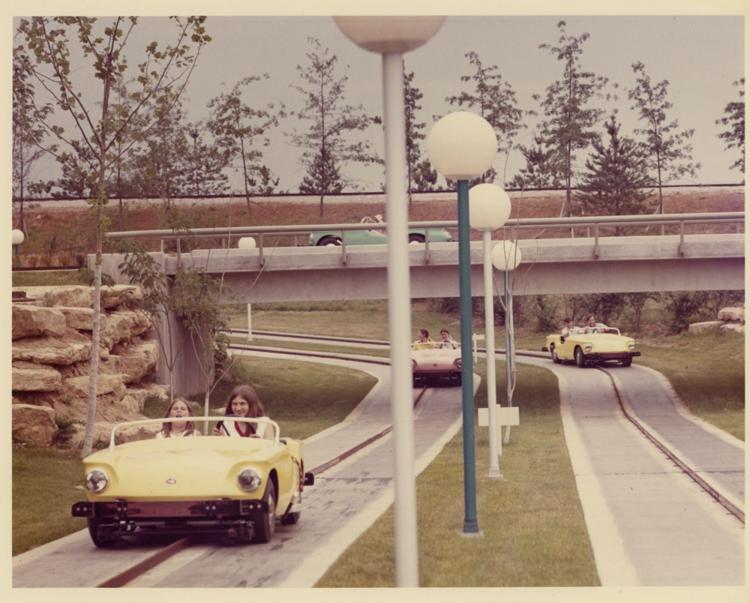 Jet Scream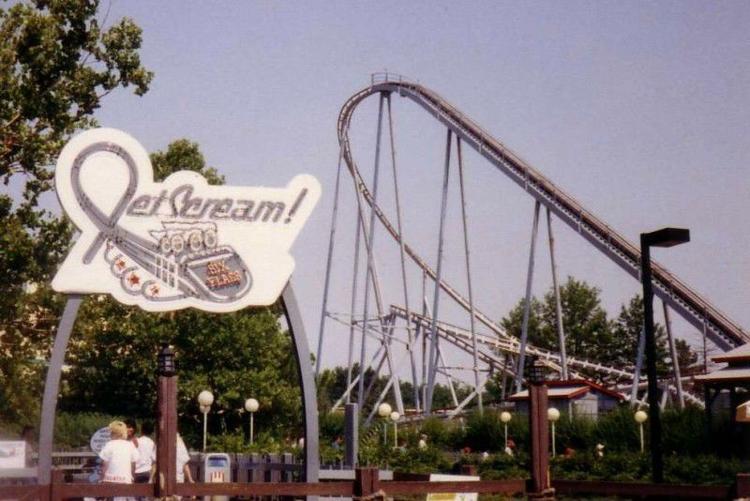 Mississippi Adventure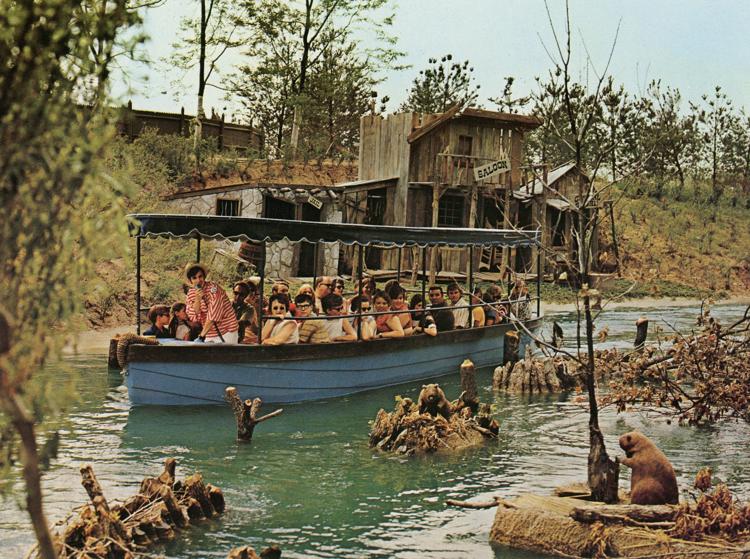 Injun Joes Cave, the Time Tunnel, and more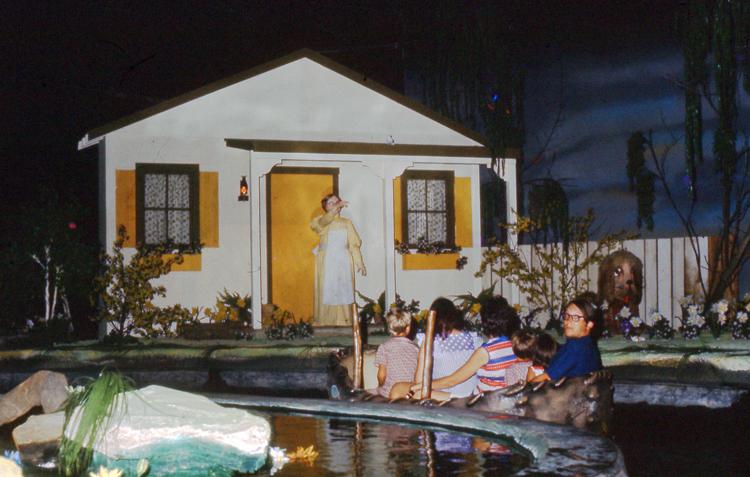 Injun Joes Cave, the Time Tunnel, and more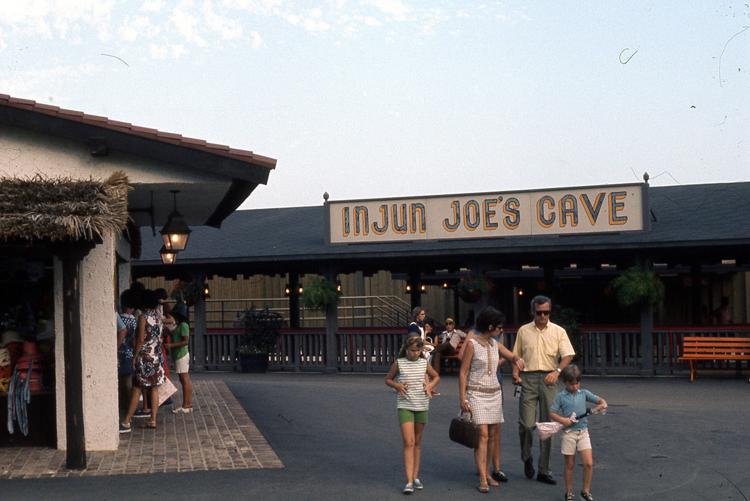 Time Tunnel
Castaway Kids Jungle Adventure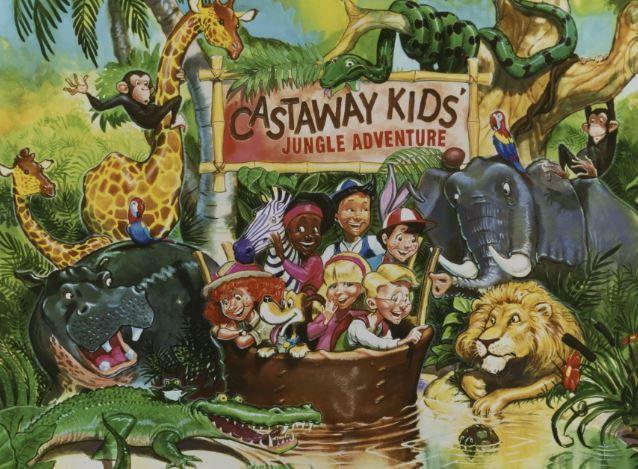 Scooby-Doo Ghost Blasters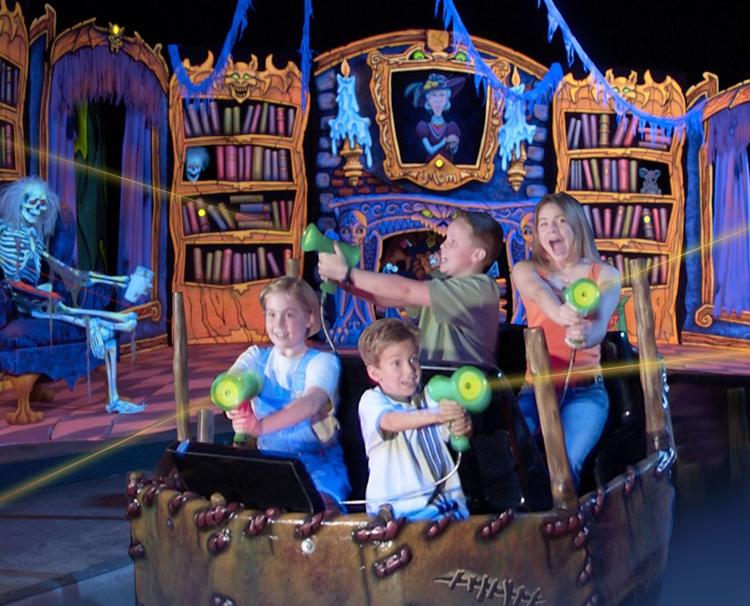 Hannibarrels
Hannibarrels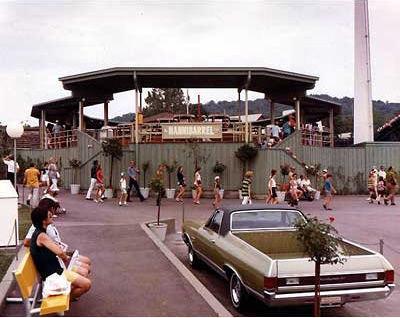 Chevy Show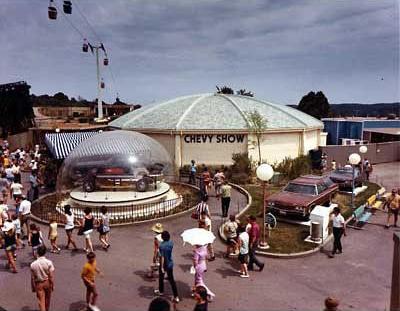 Skyway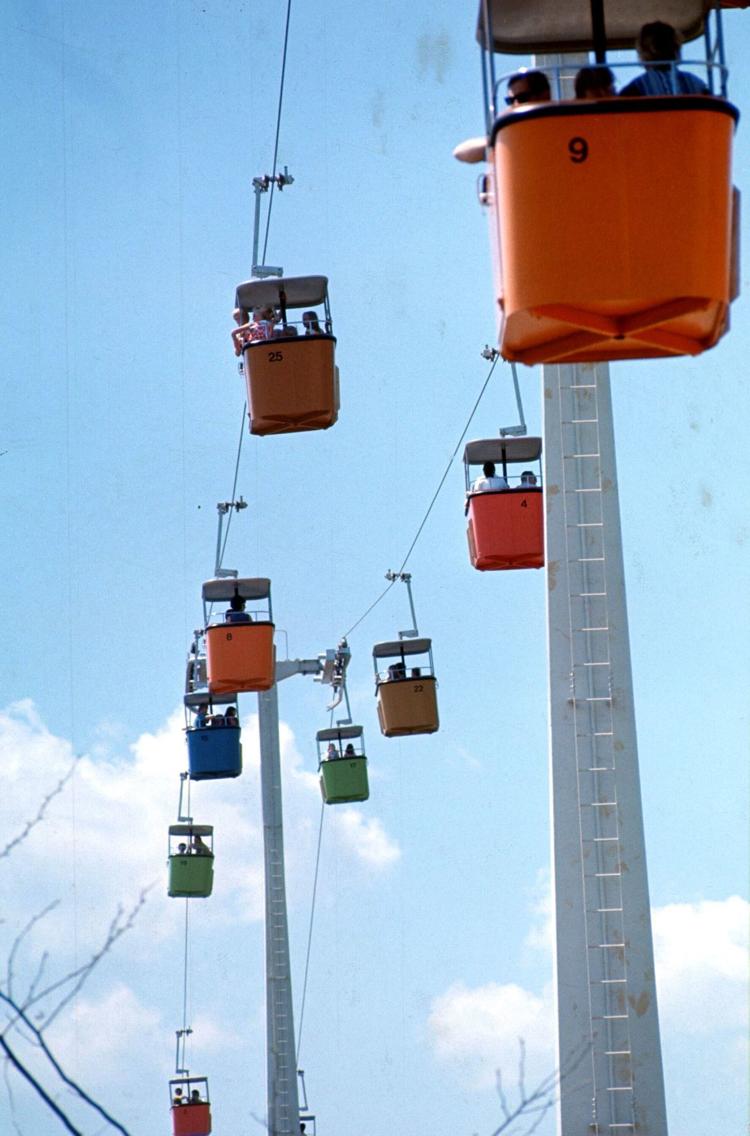 Rush Street Flyer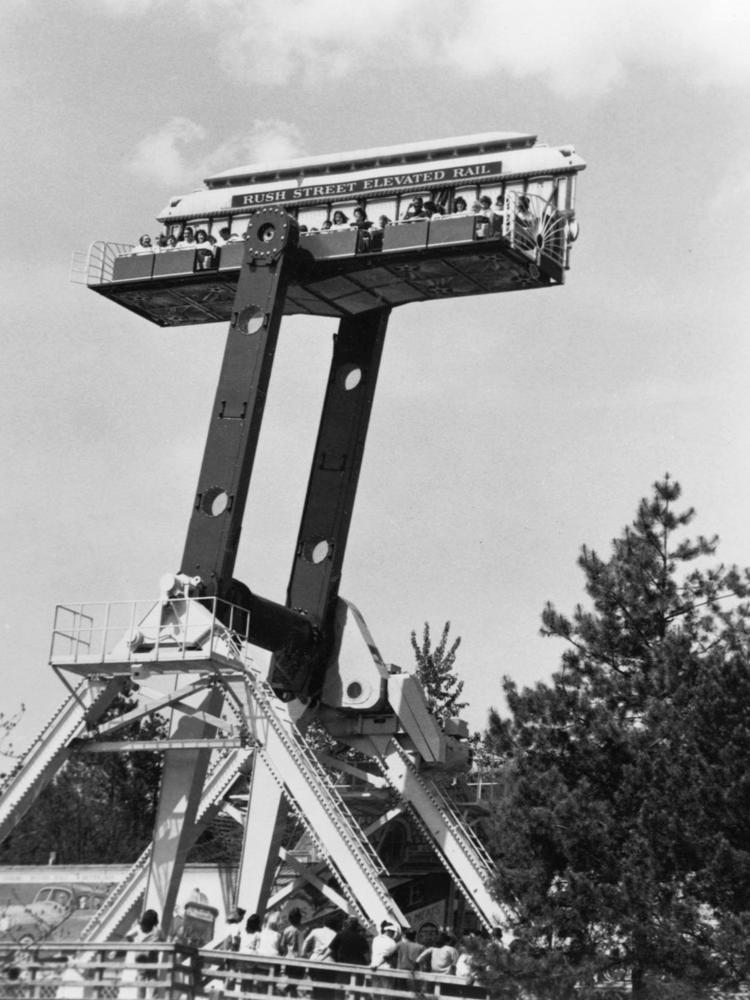 Mule-Go-Round
Rail Blazer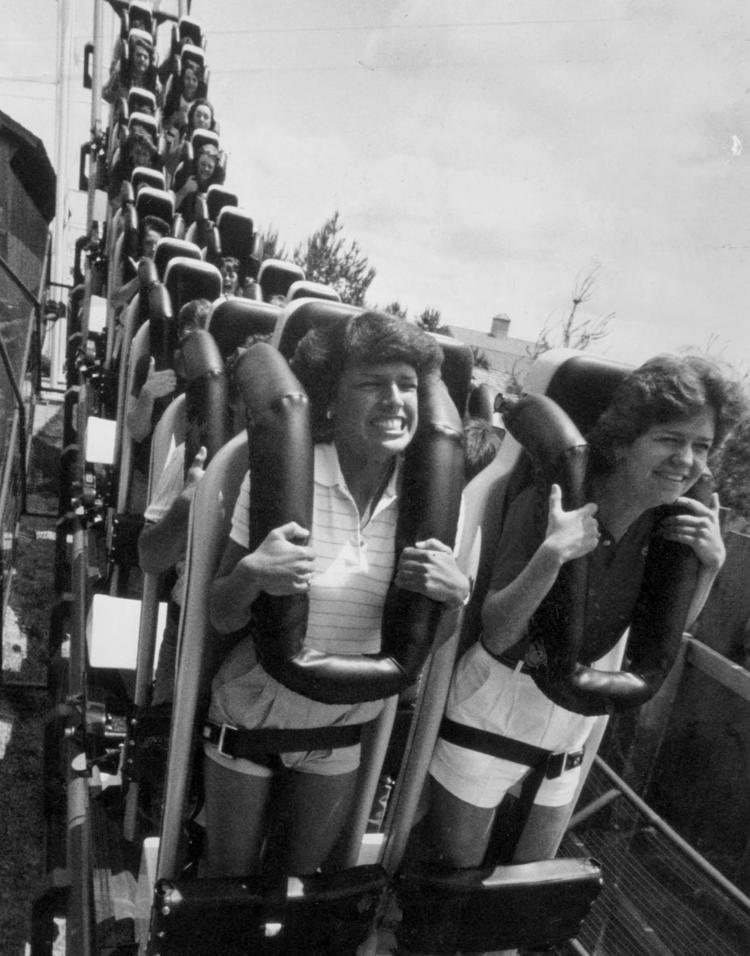 Six Flags Over Mid-America in 1988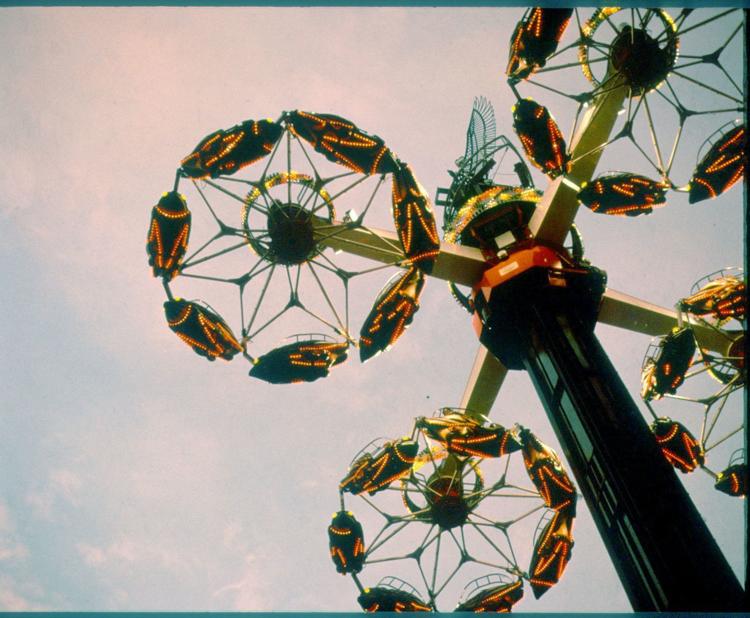 Six Flags Over Mid-America in 1995.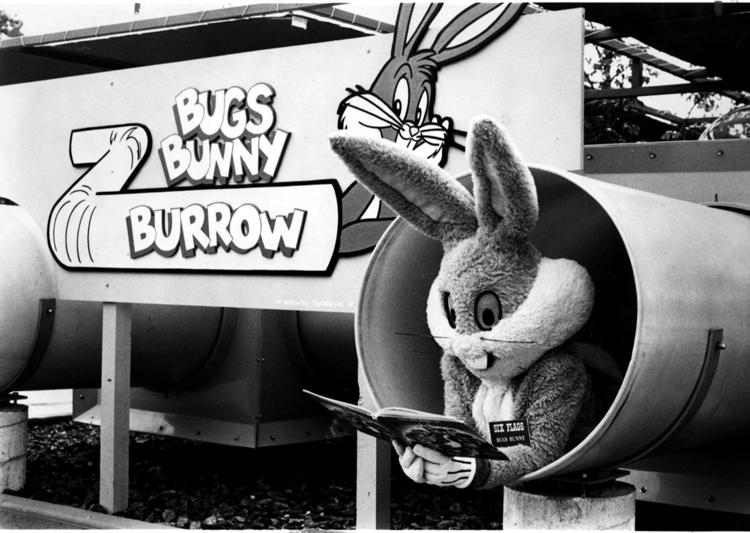 Six Flags Over Mid-America parking trolley in 1971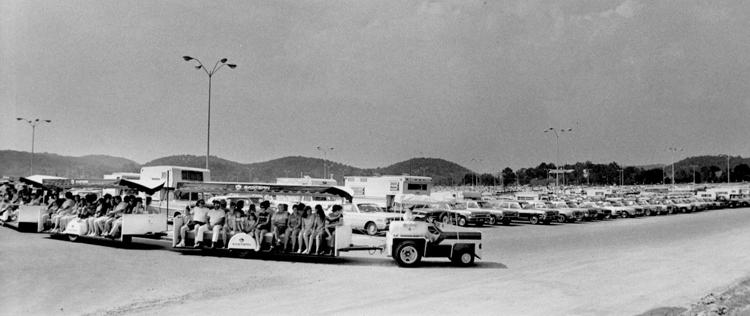 Six Flags Over Mid-America entrance and park overview in 1971