At Home: See how a St. Louis couple transformed a 19th-century home on the brink
Take a look inside Anne and Nate Peterson's fully renovated West End home that was transformed into a bright and modern space after being abandoned for a decade.
As featured on
Built in 1890 and first owned by Silas B. Wright, a dry goods salesman, the balloon-framed house just north of the Delmar Loop has survived both an electric fire and demolition.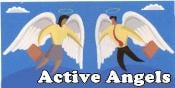 Active Angels In Home Health Care

Midwest Marine Fiberglass Inc.