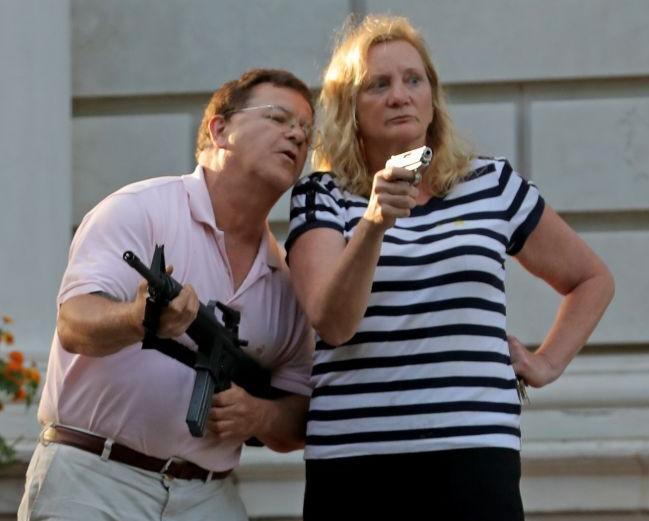 Personal-injury attorneys Mark and Patricia McCloskey became instant national figures when they intercepted protesters marching past their marble-faced palazzo at One Portland Place, aimed guns at them and demanded they get out.
Public records and interviews reveal a fuller picture than emerged two weeks ago. They show the McCloskeys are almost always in conflict with others, typically over control of private property, what people can do on that property, and whose job it is to make sure they do it.
They filed a lawsuit in 1988 to obtain their house, a castle built for Adolphus Busch's daughter and her husband during St. Louis' brief run as a world-class city in the early 20th century. At the McCloskeys' property in Franklin County, they have sued neighbors for making changes to a gravel road and twice in just over two years evicted tenants from a modular home on their property.
Mark McCloskey sued a former employer for wrongful termination and his sister, father and his father's caretaker for defamation.
In 2013, he destroyed bee hives placed just outside of the mansion's northern wall by the neighboring Jewish Central Reform Congregation and left a note saying he did it, and if the mess wasn't cleaned up quickly he would seek a restraining order and attorneys fees. The congregation had planned to harvest the honey and pick apples from trees on its property for Rosh Hashanah.
"The children were crying in school," Rabbi Susan Talve said. "It was part of our curriculum."
By filing so many lawsuits, the McCloskeys opened a large window onto their values and ambitions.