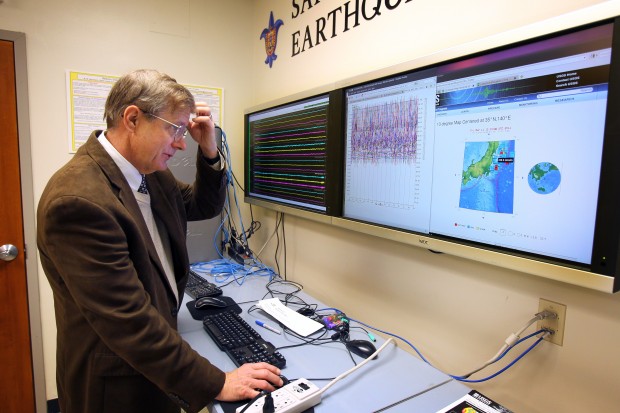 ST. LOUIS • Friday's massive earthquake near the coast of Honshu, Japan, one of the strongest ever worldwide, actually moved St. Louis up and down but nothing that people here would notice, an earthquake expert at St. Louis University says.
"It has no direct affect on our earthquake problem," says Robert B. Herrmann, with St. Louis University's Department of Earth and Atmospheric Sciences.  "It's just too far away."
Herrmann added: "St. Louis moved up and down but it just moved up a fraction of an inch because of this earthquake. But it moved up and down so slowly no one would have felt it. It's too far away to affect us, and it's too far away to do anything in the earth related to earthquakes in the St. Louis region."
"It's just a reminder that earthquakes happen without warning, and it's important to be prepared and trained to respond," Herrmann said.
Herrmann, a professor of geophysics at St. Louis University, said the university operates a seismic network that sends signals to the U.S. Geological Survey so it can quickly locate and assess the damage of earthquakes.
On the research level, the university here helps the U.S. Geological Survey improve their capabilities of quickly locating and defining the size of the earthquakes to make damage estimates. The National Earthquake Information Center in Golden, Colo., has several thousand instruments worldwide that send signals about quakes.
The massive quake Friday measured an 8.9 magnitude. It was preceded by a series of large foreshocks over the last two days. The U.S. Geological Survey says the 8.9 magnitude would make it the fifth-largest recorded worldwide since 1900.
Herrmann said, "This is the biggest earthquake in over a hundred years for Japan." That's as far back as the U.S. Geological Survey records go. As for worldwide quakes, Herrmann said, there only very few quakes on record that measured a magnitude in the 9s. "This is one of the major earthquakes in the last 100 years, and it's so close to a populated area."
The quake's epicenter in northern Japan was 231 miles northeast of Tokyo, with a population of 12 million. Herrmann said Tokyo was "strongly shaken" by the quake. "This thing is huge," he said. "It looks like what lit up, the fault, is 300 miles long."
"Japan is aware that they have earthquake problems, and Japan certainly has earthquake drills once or twice a year," Herrmann said. "This could be on the order of hundreds of fatalities and billions of dollars in damage."
By comparison, other devastating earthquakes to hit Japan include the Great Kanto Earthquake in 1923, which was centered south of Tokyo and killed nearly 130,000 people. In the Great Hanshin Earthquake in 1995, known as the Kobe earthquake, more than 5,500 were killed.
The Geological Survey says the quake hit Friday at 5:46 coordinated universal time. The times in North America would have been 12:46 a.m. Friday eastern standard time; 11:46 p.m. Thursday, central standard time; and 9:46 p.m. Thursday pacific standard time.
The USGS gives damage estimates within minutes of a quake, Herrmann said, so emergency response can spring into action quickly. The estimate is based on where the earthquake is, the size of the quake, the population density, information on the types of buildings, experience of past earthquakes and other factors.
"The purpose of this is to quickly estimate the nature of the disaster so that emergency response teams can be sent," he said. "We saw this about two weeks ago with the earthquake in New Zealand. Immediately after that one, international rescue teams were sent to New Zealand. You've got to be able to get in there quickly to save lives."
At 4 a.m. Friday in Washington, President Obama was told of the earthquake by his chief of staff, Bill Daley. "The United States stands ready to help the Japanese people in this time of great trial," the President said, adding that the Federal Emergency Management Agency has been told to be ready to help Hawaii and other U.S. states or territories that might be affected by tsunamis.
At the U.S. Transportation Command stationed at Scott Air Force Base in Belleville, spokeswoman Cynthia Bauer said officials there have been monitoring the situation closely and setting up planning teams in case they are asked to respond. Bauer said the Transportation Command would support the Pacific Command, which would be the lead agency.