"I am not a spa guy," the young man said firmly, but in a friendly tone, as if he were politely rebuffing a romantic advance. I was taken aback. We were sharing an elevator at the Arlington Hotel in Hot Springs, Arkansas. I had asked if he knew what floor the spa was on. Does that sound like a romantic advance to you?
Maybe it's a generational thing. Young people today don't know who Joe DiMaggio was. Or Bugs Moran. They don't know the meaning of "taking the waters."
The Arlington was built on top of some of the springs that gave the city its name. Those hot waters are pumped up and into the hotel's spa. Tubs have replaced the oversized buckets that the early "spa guys" sat in, but the theory has not changed —the water has healing properties. After soaking in it for a while, you get a massage. This process is called "taking the waters," and it was a very in-thing 100 years ago. Baseball players and mobsters were regular visitors to the Arlington.
The grand old hotel is still hopping, but the spa is a shadow of what it must have been. Maybe that's because of the antebellum vibe that the younger crowd finds offensive. An elderly Black gentleman —possibly older than me — gave me a key to my locker and then turned me over to a young Black aide who led me to my tub. The young man was courteous in an old-school way that made me wonder, "What does he really think of this?"
He complimented me when I climbed out of the tub on my own.
"You're a strong gentleman," he said.
My masseuse was a young woman of Eastern European descent. That is a guess. She was a no-nonsense person. She spoke very briefly to me. She asked if there were any particular parts of my body that needed work. That is a guess, too. I wasn't wearing hearing aids. I asked her to repeat her question, and she did so, but without raising her voice, and I was still unsure.
"Neck and shoulders," I said. Truth is, I felt fine. The waters had already worked their magic.
My two road trip buddies didn't take the waters. My wife, Mary, was a dentist and her sister Peggy was a doctor so they generally side with the pro-science crowd. As regular readers know, I am usually with the mystics. Why wouldn't hot springs water have mysterious healing powers?
I already mentioned that the hotel was hopping. So was the city. The horses were running at the downtown track and the bars and restaurants were busy. Sidewalks were crowded.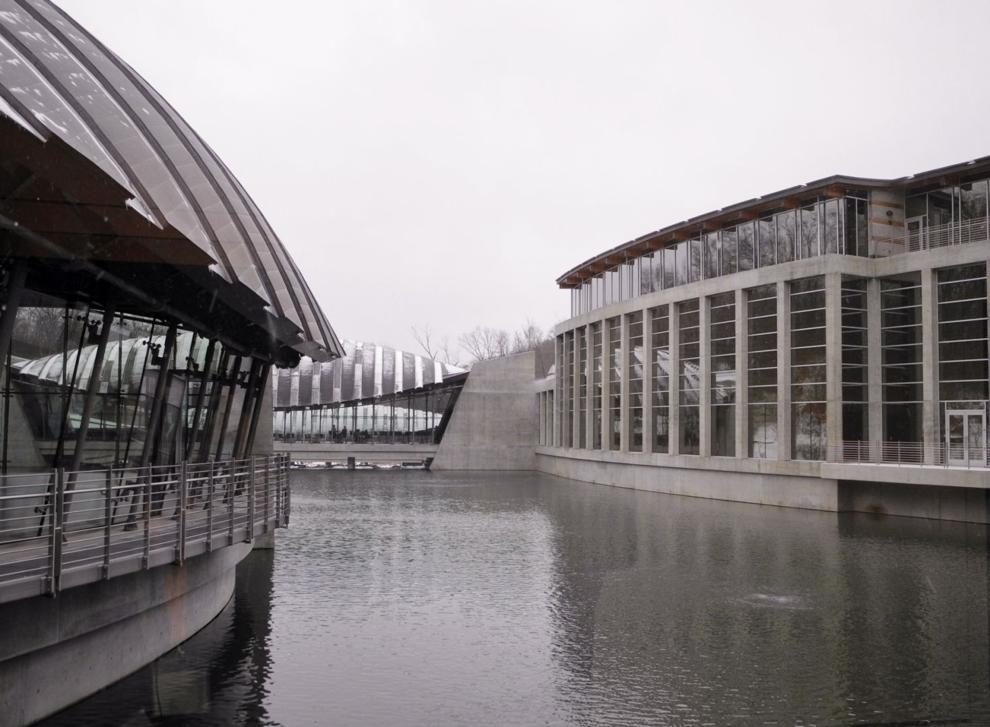 From Hot Springs, we headed three and a half hours north and west to Bentonville, home ground of the Waltons and the site of their Crystal Bridges Art Museum, an institution that gives proof to the adage that if you have unlimited money you can buy really good art. Bentonville is close to Fayetteville and the University of Arkansas, so it is not exactly in the middle of nowhere, but it still seems a strange place to find a world-class art museum.
Of course, that is the point. Make great art accessible. I resent people with vast fortunes, but this is a nice thing the Waltons have done. When next you are in the area, you should visit.
And why might you be in the area? Because it is only two hours from Branson. We took Highway 62 out of Bentonville and for the first 20 winding, magical miles, my wife's Prius was transformed into a 1962 TR3 and I was just out of the service and headed from Chicago to Arizona to start a new life. Then the road more or less straightened out and I was back in real time. By the way, serious road-trippers should note that Route 62 runs from El Paso to Niagara Falls.
And then Branson. What is left to say about that city? It is Las Vegas without gambling, which at first sounds like an ornamental orange tree. Who came up with that idea? Why would you want an orange tree that produces inedible oranges?
We stayed at the Lodge of the Ozarks, right in the center of town. I recommend it. The rooms were clean and the woman at the front desk was friendly. Everybody is friendly. That is what Branson is selling. Niceness. When I realized I had purchased tickets to a show for the wrong night, the ticket agent acted like it must have been her mistake, not mine. Of course, she could straighten it out.
There is, of course, a ghostly quality to Branson. Most of the performers you see are dead. The hosts of the theaters are dead. Should we go to the Andy Williams Playhouse or the Dick Clark American Bandstand? I opted for the latter, and asked the ticket agent for the best available seats for an all-star show of Waylon Jennings, the Temptations, the Blues Brothers and a young Elvis Presley. He comes in ages. I generally prefer the old Elvis because he has been doing it for years. A young Elvis is an untested talent.
The best seats available happened to be in the front row. I revel in the big-shot feeling that comes with a front-row seat, but the disadvantage was I had to tilt my head to look up at the stage — and my neck and shoulders were killing me.
The interesting part of watching performers play performers who are no longer with us is the living performer not only has to sound like the dead performer, he or she has to act — and look — like the dead performer. So the Waylon Jennings who started our show had to assume the persona of the outlaw musician. He did. He acted like he was in a Texas honkytonk on a Saturday night. "Are you ready to get rowdy?" he yelled at us.
It was not Saturday night in a Texas honkytonk. It was a Tuesday afternoon matinee in Branson, and most of the audience had not been rowdy since some time in the last century. Still, we are a polite generation and somebody yelled "Yes" back at Waylon Jennings.
"Well, all right!" he shouted.
The Temptations were the stars of the show. They were absolutely great. The thought struck me that if it weren't for Branson and places like Branson, these fellows — they were middle-aged and up — would not be performing. It made my glad I was there.
The young Elvis was good, too. At the end of his show, he took a handkerchief from his pocket and theatrically opened his shirt and used the hankie to mop up some sweat. Then he tossed it to a woman in the front row, who shrieked in delight. My two road trip buddies looked at each other and winced. COVID wasn't even a thing when Elvis was young, I wanted to say.
That night, we went to dinner at the Osage Restaurant at Big Cedar Lodge, a deluxe resort on Table Rock Lake. It is owned by Johnny Morris, the tycoon who owns the Bass Pro franchise. At sunset, a bagpiper played on the patio. We went out to listen. The darkening lake was a spectacular backdrop. The bagpiper played "America the Beautiful." It was a stirring, emotional moment and a perfect way to cap the final night of our road trip.