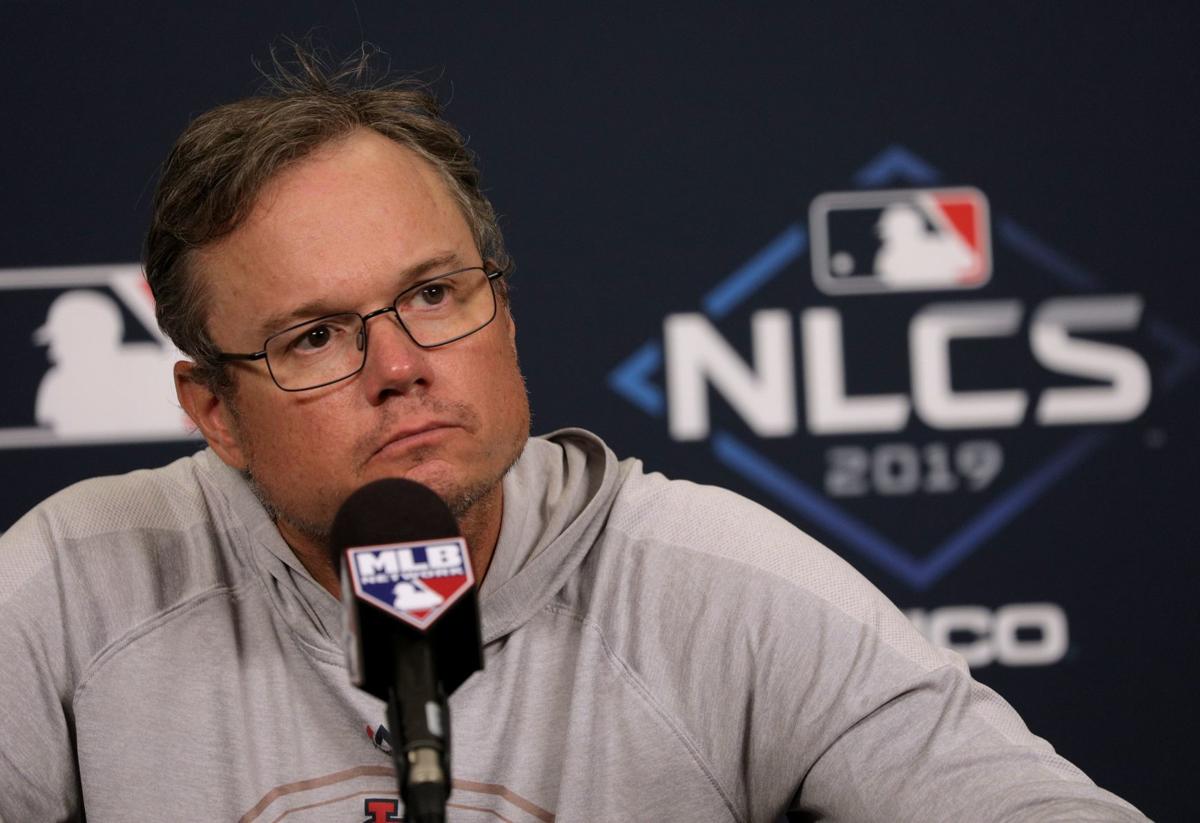 "We will not be (tinkered) with — ever."
— Derrick Goold, paraphrasing Cardinals Manager Mike Shildt
Cardinal Nation, I am not here to (tinker) with you. Even though I am a Cub fan, I hope the Cardinals beat the Nats and then win the World Series. That will sell newspapers. It will give the city a boost.
I was not offended by Shildt's rousing postgame speech. I was puzzled. Do baseball players really need a speech like that? Do they need to be so emotionally charged? I am asking these questions in all sincerity.
I would need that kind of speech if I were a hockey player and knew that large, well-conditioned men were soon going to skate into me at high speed and knock me against the boards. I would need that speech if I were a football player and knew that abnormally large and yet still well-conditioned men were about to run into me as hard as they could and throw me to the ground. I would need that kind of speech if I were with William Wallace at the Battle of Stirling Bridge, and we were about to hoist our spears and charge the British Army.
But baseball players? Really?
I thought baseball was more cerebral, especially in these enlightened times.
Violence used to be a part of baseball. It was by no means the distinguishing feature of the game, but the threat of mayhem was always present. A guy who hit a home run against Bob Gibson or Don Drysdale did not flip his bat and watch admiringly as the ball sailed toward the seats. A terrible retribution would have followed.
An even more ominous character was Sal "The Barber" Maglie, who earned his nickname for the "close shaves" he doled out to hitters. One time, he was so eager to take revenge upon a batter that he hit the poor guy when the guy was in the on-deck circle.
"He wasn't expecting it," Maglie said. "I knew he wouldn't be able to duck."
I cannot swear that story is true, but I heard it when I was a child and because vengeance is biblical and baseball seemed holy, I accepted that story as gospel and still do.
Happily, pitchers don't take things so personally anymore. Pretty much gone also are hard slides into second base. And best of all, collisions at home plate are no more. Pete Rose slams into Ray Fosse only in our memories.
What's more, fraternization with opponents is now accepted. There was a time when it was frowned upon. That was before union brotherhood, before free agency. In the old days, if you were a Cardinal, you probably stayed a Cardinal. Now, today's opponent is tomorrow's teammate. Good will abounds. Jupiter aligns with Mars, and the moon is in the seventh stage.
Every now and then, of course, someone will take offense at something, and players will leave the dugout and run on to the field. The bullpens will empty. Players will mill around for a few minutes. But the echoes of the past are faint, and rarely does a punch get thrown.
Of course, there was Don Zimmer in 2003. As the Yankees and Red Sox milled around after Pedro Martinez hit a batter, Zimmer, 72 years old and 5 feet 9 inches tall, charged Martinez as fast as a 72-year-old can charge. It was like time travel. Back to the future. Zimmer had been hit in the head by a pitch in 1953. He was in the hospital for two weeks. His weight went from 174 to 124. Martinez, who later said Zimmer was actually falling as he reached the mound, gave him a push. Down went Zimmer and all of a sudden it was 1953 again.
Zimmer, by the way, played third base for the Cubs when I was a child.
In Zimmer's youth, Shildt's speech would have made sense.
"Now, I don't give a (tinker) who we play! We're going to (tinker) them up!"
Admittedly, I come at this with no first-hand knowledge. I have never played any kind of high-level athletics. I was a swimmer in high school, and not a very good one. Because the faster guys did the sprints, I was a distance swimmer. The 400-yard freestyle was the longest race we had, so I was stuck with that. Sixteen lengths of the pool. I used to get lapped. To this day, the smell of chlorine evokes in me a sense of humiliation. I cannot explain why I stuck with it for four years. I suspect it damaged me.
Our coach never gave us any rousing speeches.
You might think that was why I was so slow, that perhaps a rousing speech would have motivated me to swim harder and faster. But I don't think so. In fact, a rousing speech might have hurt me. The one thing I could do was pace myself, and maybe if I were all jazzed up, I would have gone all out early and then run out of gas. At least the way I did it, I always finished.
Besides, some of the other guys were good. They didn't seem to need a rousing speech to swim fast.
But while I do not think I suffered from lack of motivation in my own low-level endeavors, this little peek behind the curtain makes me question my preconceptions about all high-level athletic competitions.
Would chess players respond to Shildt's speech?
Bobby Fischer and Boris Spassky, the great rivals from either side of the Iron Curtain, were said to be close friends. In fact, Spassky, who is now 82, has said he still speaks to Fischer in his dreams. A few years ago, Spassky visited Fischer's grave in Iceland and asked, "Do you think the spot next to him is available?"
I like to think that before their matches, they were quiet, contemplative, clearing their heads. But maybe Spassky was contemplative, and Fischer was firing himself up. "Nobody (tinkers) with me!!" Maybe that was why Fischer won.
For that matter, maybe this extends beyond athletics. Maybe successful people are more aggressive than the rest of us. They understand that the world is a competitive place, and there are losers and winners. Their self-talk is harsh, profane.
Meanwhile, the majority of us are shooting for laid-back. Our self-talk is meant to be calming. "Don't get worked up. Go take a walk in the park."
How are we supposed to compete?
Maybe that's the lesson from Shildt's speech.