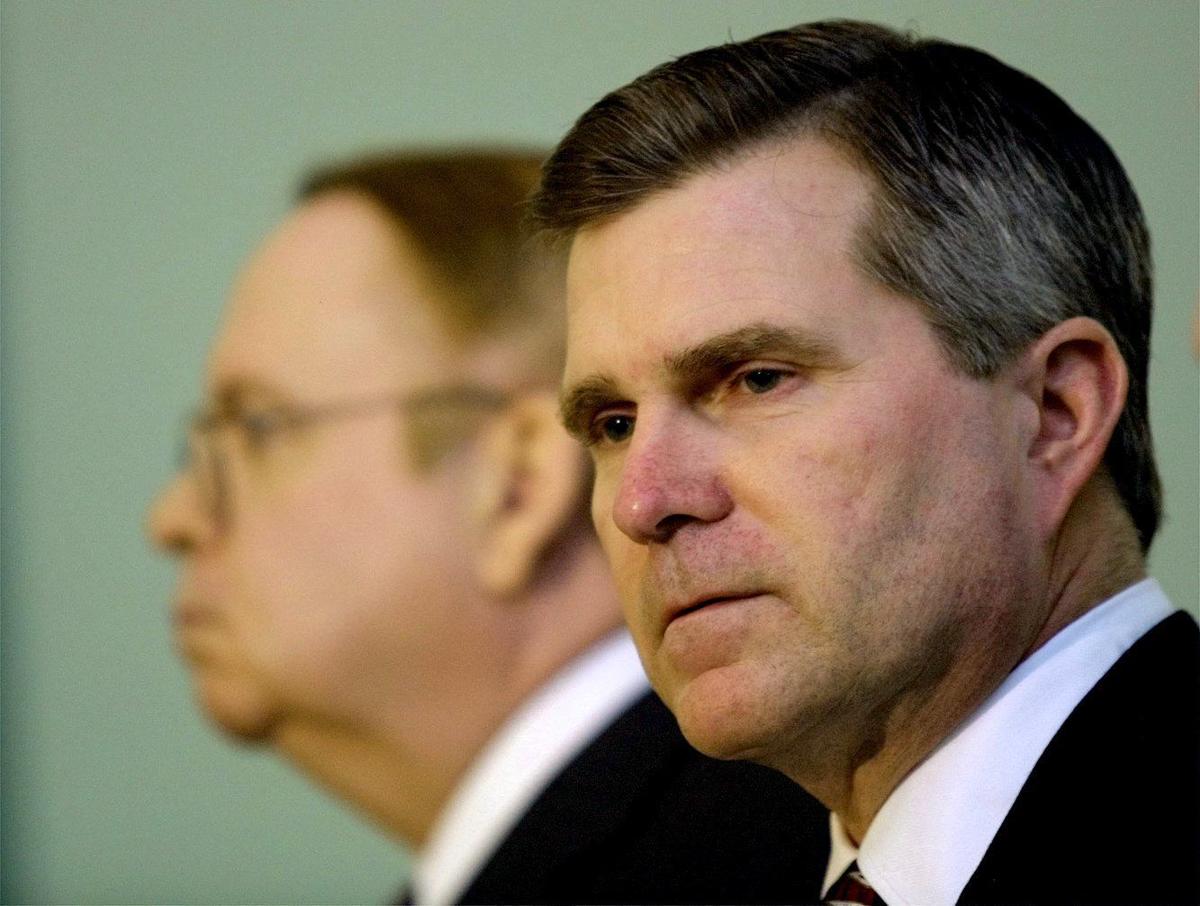 In a more sexist time, people used to say that police officers were the only men who grew up to be what they wanted to be as boys.
That would describe Stephen Kruse. His dad was an insurance adjuster, but Kruse knew, from his earliest days in south St. Louis to his high school days in Webster Groves, that he was going to be a police officer. He watched all the right television shows, "Dragnet" to "Hawaii Five-O."
After graduating from high school in 1970, Kruse went to Western Illinois University on a soccer scholarship. He majored in law enforcement administration.
His first job after graduation was in Ballwin. He was then hired in Florissant in 1977. There were a lot of ex-city cops working at Florissant in those days, which means it was an old-school kind of place.
Kruse is currently the chief of police in Maplewood. He is getting ready to retire next month. Among the photos on the wall next to his desk is one of Barney Fife. I visited Kruse this week and asked him to reflect on the old days and make sense of the new ones.
He said he remembered when there was resistance to women officers. The old-school guys were skeptical. Kruse was a young man and he shared the skepticism.
"I was wrong about that," he told me.
Another dramatic change in police work is technology. Not just DNA, but even simpler things. Like caller ID. I asked about the most interesting case in his career. He didn't ponder the question.
Broyles was a serial obscene-caller in the '80s. He made hundreds of calls, mostly in the north St. Louis County area. If a mother answered, he might pretend that he had kidnapped her child. He would be very obscene. He sometimes used sound effects. Sometimes he would call for a teenage girl and would pretend to be a doctor. Dr. Mark, he called himself. He would say that her parents had asked him to call and talk about the facts of life.
Perhaps the most disturbing thing was this — he knew details about all the people he called.
Then victims started reporting he had called a second time.
Detective Rick Staples was working the case for Florissant. "Best detective I have ever worked with," said Kruse. Staples had dozens of reports scattered on a table. He was puzzling over them when he suddenly looked up at Kruse. "The calls are in alphabetical order. He's got a list."
Because the reports had been compiled in different jurisdictions, and some complaints had been immediate while others were made a day or so later, no one had noticed the pattern.
Staples found the latest report. He went through the old reports and figured out who would be next in line. He had the phone company put a trap on their lines.
Sure enough. The calls came. They were traced to Broyles. He was arrested on a bank parking lot.
"We're Florissant detectives. Do you know why we're here?"
Broyles had worked previously at a medical center in North County. He had somehow obtained a patient list.
After 18 years in Florissant, Kruse was named chief in Shrewsbury. Six years later, he was named chief in Florissant. After more than 25 years in law enforcement, Kruse took a job in the private sector. He made more money, but he was bored. It is not easy to get back into police work once you've been a chief. Who wants to hire an ex-chief for anything but a chief's job?
A chief's job came open in Bowling Green, a city of about 3,300 people about 85 miles northwest of St. Louis.
It was a place where everybody knew everybody, and Kruse was an outsider from the big city. Furthermore, he rented an apartment. His family stayed in St. Louis. He came home on weekends.
But he made it work. "A dispatcher told me people like me because I stopped and talked with everybody."
He came back to the St. Louis region to take the chief's job at Maplewood.
He changed his mind about women officers long ago. What else was he wrong about?
Body cameras, he said. Maplewood has used body cameras since January 2020. "I was skeptical, but now I am a believer," he said. A person, or a juror, can see exactly what the police officer saw and hear who said what. That is a gift to honest cops.
What about reformers who want to defund the police, or, more accurately, reallocate resources?
"Social workers are important," he said. "We work closely with the behavioral health workers at BJC, but this can be dangerous work and you don't know if it's dangerous until you get there. The people who think we can send social workers out alone on a lot of calls don't understand."
He said contemporary police work can be more sophisticated than reformers think. For instance, Maplewood has its own Crisis Intervention Team. It was called out two Thanksgivings ago when a man was threatening to kill his mother. It wasn't a big story because the man was talked into surrendering.
Kruse said he plans to spend his retirement fishing and working in the yard. Also, being a grandfather. He and his wife, Patricia, have two kids and five grandchildren. Kruse met his wife at a CYC dance at St. Mary Magdalen in Brentwood where he went to grade school. They have been married for 45 years.
This article was updated to delete information that Kruse served as chief in Sunset Hills and correct location of school where Kruse met his wife.