Twenty-one years ago, I had lunch with Leonard Lipic. He was then 86 and a gentleman of the old school. He wore a monogrammed shirt, and his cuff links were solid gold nibs. Nibs are the tips of a fountain pen.
Lipic was the grandson of George Berg, who opened a one-room pen-making shop down by the river in 1863. Berg was 18 years old when he started his business.
Those must have been heady times for pen makers. No computers, no typewriters, no mimeograph machines. The commerce of the world was recorded in ink. St. Louis was then a commercial center. Berg's business did well.
It was taken over by his son-in-law, Joseph Lipic. He grew the business and soon the Joseph Lipic Pen Company was famous for the quality of its pens. Fountain pens, of course.
That is the world Leonard Lipic grew up in. The company's store downtown was the most successful retail pen store in the country.
"We had nine girls doing nothing but selling pens all day. Sometimes there were lines to get in," he told me.
The world changed. Ballpoint pens came along. To Lipic's practiced eye, they were too inferior to be considered as competition. You couldn't "shade" your signature — make this stroke thin, that stroke wide — with a ballpoint pen. Shading could only be done with a fountain pen. And that meant something. You could tell a gentleman by his signature.
But, of course, ballpoint pens were successful, and then, as the world continued to deteriorate, ballpoint pens were replaced by disposable pens.
We had lunch at the Missouri Athletic Club. Lipic was a member, which meant he could sign for lunch. He did so with a fountain pen. He shaded his letters.
The Lipics had much in common with the Levines. Their heydays in St. Louis overlapped. Ben Levine came to this country from Russia early in the last century. He made hats. His talents translated well to his new country. Before long, the Levine Hat Company took up an entire block in downtown.
Men wore hats. They knew the difference between a fedora and a homburg. (Different crown shapes and brims.)
Social modes changed. A lot of hat people blamed John F. Kennedy. He seemed uncommonly proud of his hair. Soon, hats were not considered essential. Before long, they seemed outdated.
Edward Levine was Ben's grandson. He came of age when men wore hats. He was still occasionally coming into the store when I met him a little more than 10 years ago. I had gone to Levine's to see if somebody could restore my father's old fedora. (The answer was yes.) The company no longer manufactured hats, only sold them, but Levine still loved them.
"I wouldn't take the garbage out without a hat on," he said.
Listening to these men, I was nostalgic for the days of fountain pens and fedoras, even though I didn't really remember them.
In fact, I got a ballpoint pen when I graduated from grade school.
But even as I wrote about both men and their emotional connections to their livelihoods, it never dawned on me that the same wave that had washed over them was rushing toward newspapers. And me.
I am writing this column from the new offices of the Post-Dispatch. We are a scaled-down operation and don't need the room we used to need. Technology has done much of the damage. It's been going on for years. Whole departments have disappeared. Printers and typesetters seemingly vanished overnight. Hardly anybody remembers the rotogravure department.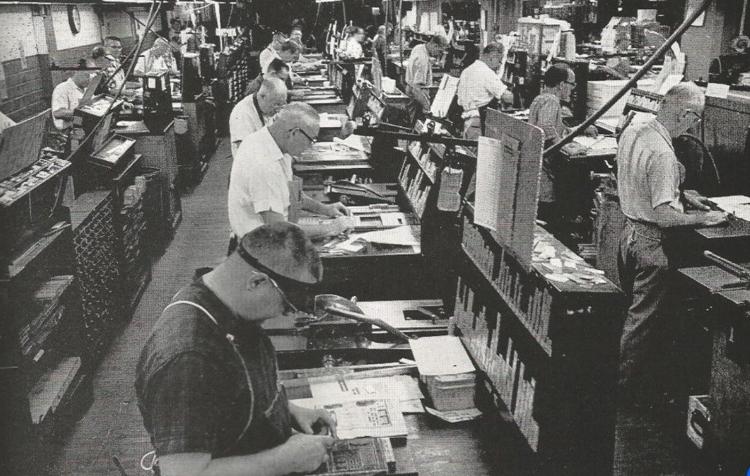 Also gone are the days when wealthy families, rather than corporations, owned newspapers. The number crunchers are after us. Plus, there are smartphones, cable news, Facebook, blah, blah, blah.
At any rate, here we are. In a new place.
I'd like to turn the clock back. Go back to my lunch with Leonard Lipic. I think I'd gush a little more about those cuff links, be a little more effusive about his signature. I'd visit with Edward Levine again. He told me some stories about the company that made my dad's fedora. Some were made with beaver and some were made with rabbit. (My dad's was rabbit.) I'd ask Levine about the hats that his father and his grandfather made. What was his favorite hat?
Meanwhile, I take solace in knowing that some men still wear hats, a few still shade their signatures and a good many people still enjoy and appreciate newspapers.
---
From office to office, and from Pulitzer to Lee, the Post-Dispatch has served St. Louis
Dec. 12, 1878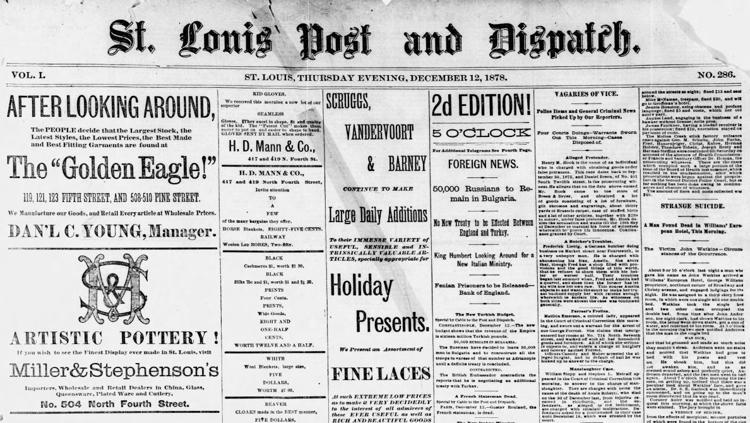 The St. Louis Post and Dispatch, operating from 321 Pine Street, has a first-edition press run of 4,020.
The afternoon newspaper costs 5 cents. 
March 10, 1879
The newspaper moves to new offices at 111 North Fifth Street (now Broadway), which feature the paper's first presses. 
The name also gains the hyphen that still graces the paper: St. Louis Post-Dispatch.
Aug. 4, 1880
A rival paper instigates a newsboys strike. The newsboys want the paper to cut its wholesale price. The ownership says the boys make as much on each copy as the paper does, says a brief note.
"There is no raison d'etre in the so-called newsboys 'strike' against the Post-Dispatch and the instigators of it must feel ashamed of their shabby showing. Even a newsboy ought to know that 'twenty-five papers for a nickel' can't be maintained very long outside of China. 
"The newsboys make as much on each copy of the Post-Dispatch sold as we do, and we furnish the white paper, ink, presswork, type-setting and just enough brain to keep the thing going."
The strike only lasts a few days; the price of the paper didn't change.
Jan. 12, 1882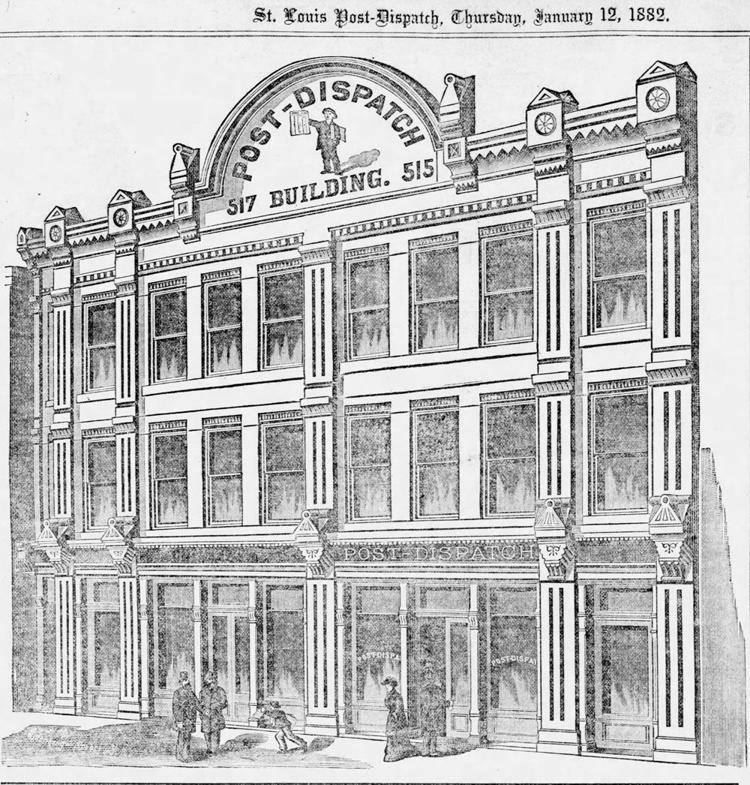 The newspaper has a new building at 513 Market Street, just off Fifth Street. The daily circulation is more than 20,000. 
Pulitzer bought a new press that can automatically cut, fold and count copies as they roll off the machine.
Oct. 14, 1882
The newspaper publishes an account of a fatal shooting in its offices.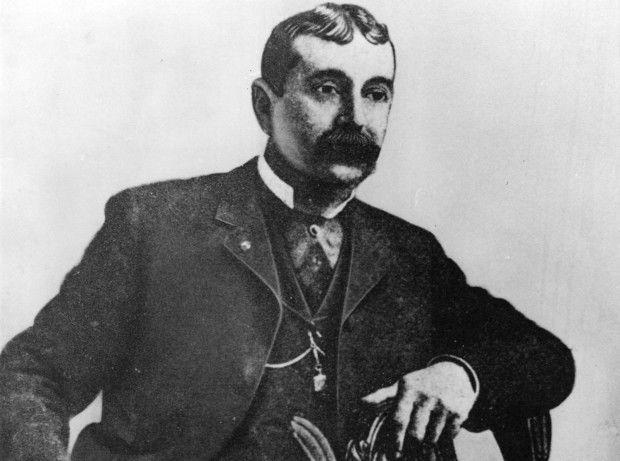 Managing Editor John A. Cockerill shot attorney Alonzo Slayback after the attorney stormed into the editor's office, angry after a series of critical editorials. Slayback drew his pistol, Cockerill reached for his, lying on his desk, and the gun fired. 
Cockerill isn't charged with a crime, but resigns after more than a thousand people cancel their subscriptions. Pulitzer later hires Cockerill to be editor of the New York World.
April 15, 1888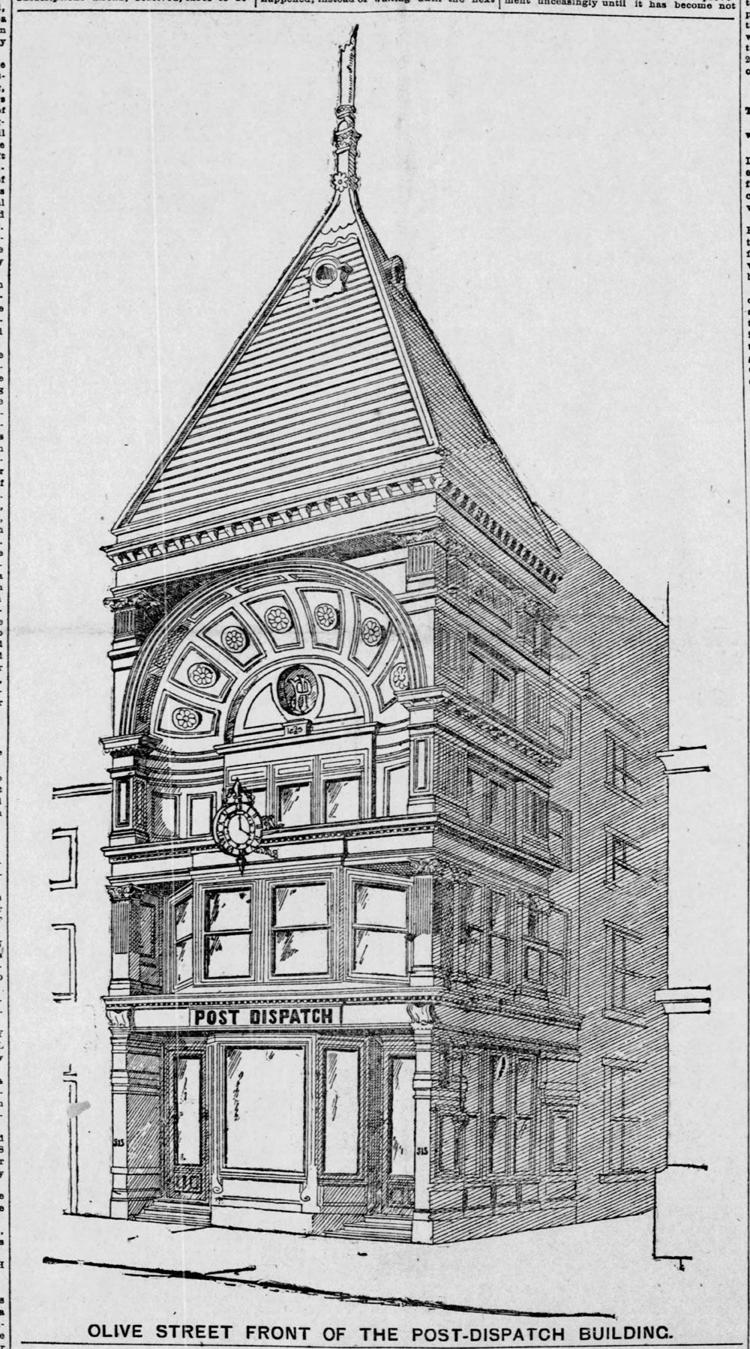 The paper begins moving to a new building at 513 Olive Street. The daily circulation of the paper is just under 33,000. 
The newspaper announced the move with a full page article and image of the office: "The change ... will be made in 24 hours, and on Monday morning the telegraph will be clicking its world-wide news as steadily in the new rooms as in the old, the swift reporters will be ready for their daily flight from the new headquarters, the smiling clerks in the new and magnificent counting-room will give welcome to all whose business opens our door, the mailing slips will lie in order for the evening packages, over head the type-setters will take copy in the finest composing-room in the city, the stereotypers will 'keep the pot a-boiling,' while down stairs in the basement the mighty Corliss engine will drive the cylinders of three presses and furnish the waiting public with ... papers."
Sept. 16, 1894
The Sunday newspaper publishes color illustrations — and comics.
(Microfilm, however, captures the pages in black and white, not color.)
Sept. 14, 1898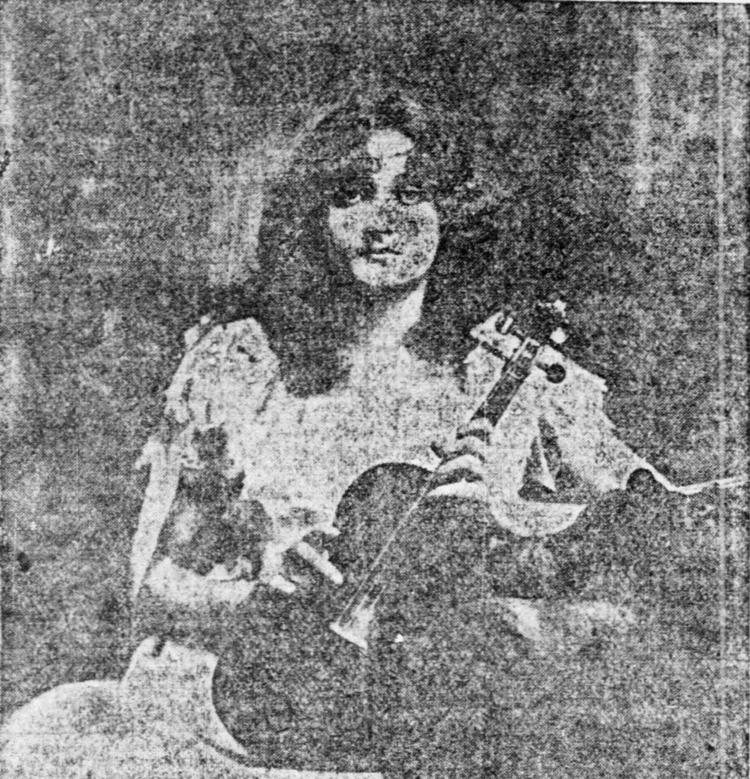 The newspaper publishes the first new photograph published in a St. Louis paper (so it claims).
The picture is of Giacinta della Rocca, a violinist playing at a local theater. 
March 28, 1902
The Post-Dispatch moves again, this time to 210-212 North Broadway.
The previous building is put up for lease; the ad notes that the 10,000 square-foot building has electric light, steam heat and an elevator. 
April 10, 1907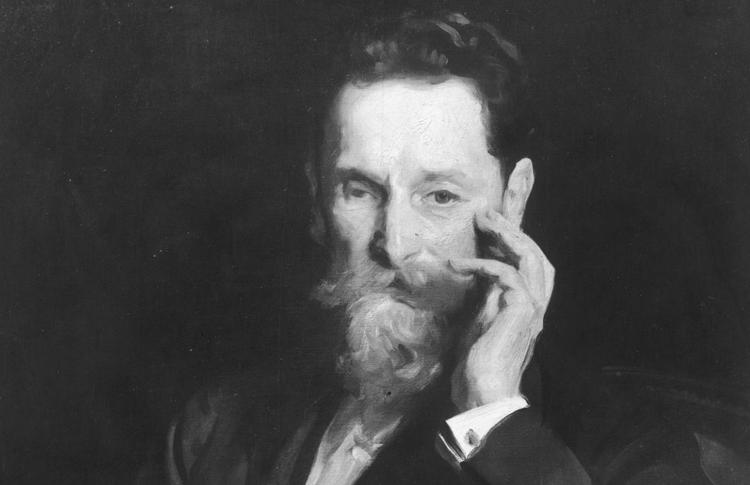 Joseph Pulitzer retires at 60 years old. 
His retirement announcement later becomes the Post-Dispatch Platform: 
"I know that my retirement will make no difference in its cardinal principles, that it will always fight for progress and reform, never tolerate injustice or corruption, always fight demagogues of all parties, never belong to any party, always oppose privileged classes and public plunderers, never lack sympathy with the poor, always remain devoted to the public welfare, never be satisfied with merely printing news, always be drastically independent, never be afraid to attack wrong, whether by predatory plutocracy or predatory poverty."
Pulitzer died on Oct. 29, 1911. 
Feb. 14, 1912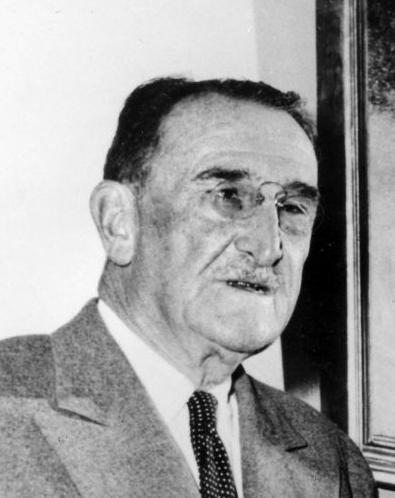 Joseph Pulitzer II is elected president of the Pulitzer Publishing Co., following in his father's footsteps.
Aug. 19, 1917
The Post-Dispatch offices move again, to a new building at Olive and 12th (now Tucker).
Feb. 25, 1925
The newspaper prints a photograph of a train accident, but the accident itself wasn't as newsworthy as how the paper obtained the picture.
The image was sent through wire from the New York World office to St. Louis. It took 10 minutes, which set a record. Photographs previously had to be sent by mail.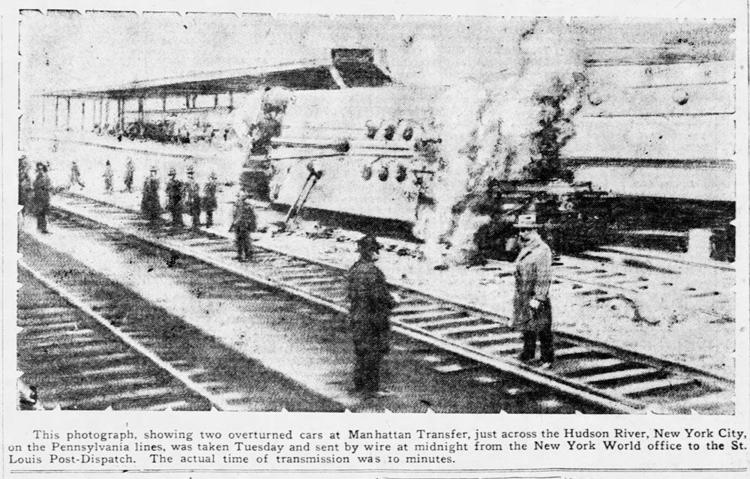 Dec. 7, 1938
Staff at the newspaper's radio station, KSD, receive "specially prepared facsimile newspapers," sent to their homes through ultra high frequency radio broadcast.
The receivers that printed out newspaper pages sent through the system cost about $260; the paper planned to place several in public areas for demonstration.
It took 15 minutes to send one page; the first edition was nine pages long. The experiment lasted for "many months," according to a 1948 article.
Sept. 7, 1945
A 22-day newspaper strike ends, and the paper resumes daily publication.
There were no Post-Dispatch papers from Aug. 16 to Sept. 1, when a special edition started publishing. "St. Louis Daily News" was published by an inter-union conciliation committee "under emergency conditions." 
The city's three daily newspapers ceased publication during the strike, which started with the carriers union. 
Feb. 8, 1947
The Post-Dispatch's television station goes on air.
KSD-TV has programming from 2:30-4 p.m., including interviews with the coach of the St. Louis Browns and Cardinals catcher Joe Garagiola.
Pulitzer Publishing Co. traded the station in 1983 to Multimedia Inc.
April 4, 1955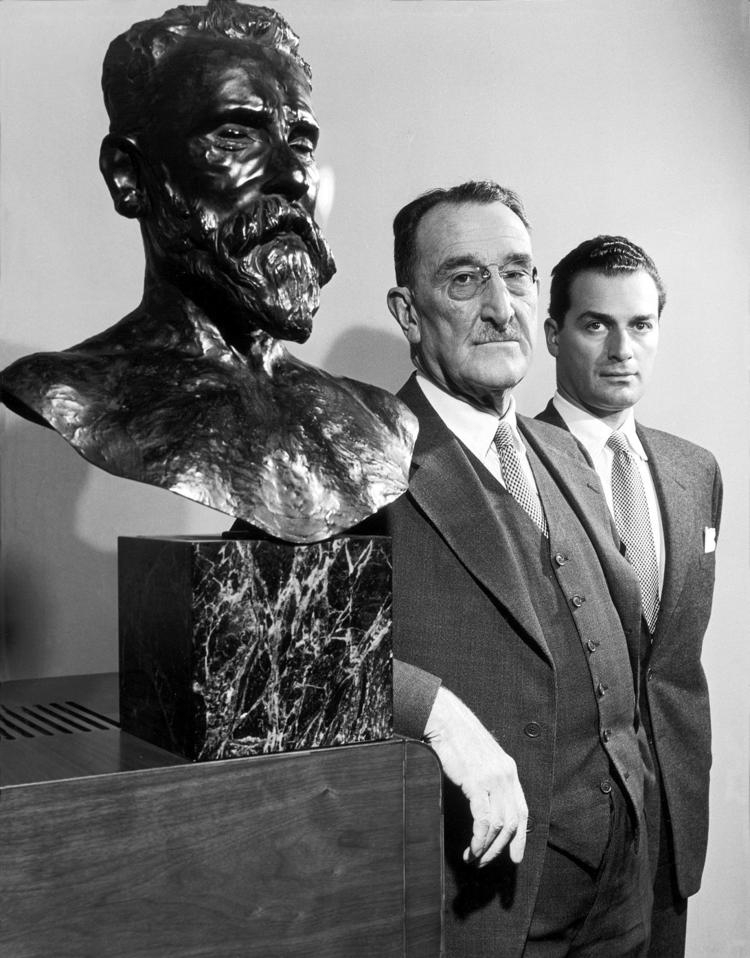 Joseph Pulitzer Jr. becomes president of the Pulitzer Publishing Co., days after the unexpected death of Joseph II. He also succeeds his father as editor and publisher of the Post-Dispatch.
Sept. 6, 1960
The newspaper offices move to 1133 Franklin Avenue (now 900 North Tucker), the current location.
The Post-Dispatch bought the Globe-Democrat building several months earlier, along with that paper's printing presses. 
In 2018, Lee Enterprises (the paper's current owner) sold the building. The newspaper now leases its office space.
Jan. 14, 1979
The newspaper publishes again after a 53-day strike.
The longest strike in the paper's history started with the Web Pressmen and Flymen's Union No. 38. Other unions also struck: the St. Louis Paperhandlers and Electroplaters No. 16, and two units of Teamsters Local 610 (the dockmen and the truck drivers). 
The newspaper had 1,650 employees at the time, and 11 unions represented many of its workers. Previous contracts with all 11 unions expired on Aug. 31, 1978; the strike began on Nov. 20. 
New contracts offered 6 percent per year wage hikes during the three-year contracts. Wages weren't the initial issue, however. Pressmen struck over requirements for certain numbers of employees to run presses.  
The strike also shut down the Globe-Democrat, since it was printed on the same presses as the Post-Dispatch. 
Feb. 27, 1984
The newspaper moves from afternoon production to morning delivery.
March 31, 1986
Joseph Pulitzer Jr. retires as editor and publisher of the Post-Dispatch (he remains board chairman). 
For the first time in the paper's history, a Pulitzer was not at the helm.
Pulitzer Jr. dies of cancer on May 26, 1993. His half-brother Michael succeeds him as CEO and chairman of Pulitzer Publishing Co.
June 3, 2005
The sale of Pulitzer Inc. to Lee Enterprises for $1.46 billion was finalized during a shareholders meeting.
Pulitzer Inc. owned 14 daily newspapers and more than 100 weeklies. With the purchase, Lee became the nation's fourth-biggest chain (in terms of dailies owned). 
In 2004, Pulitzer had a revenue of $444 million; Lee had a revenue of $683 million. In 2017, Lee Enterprises had revenue of $566 million. Lee is still paying off the debt it incurred to buy Pulitzer. 
September 2019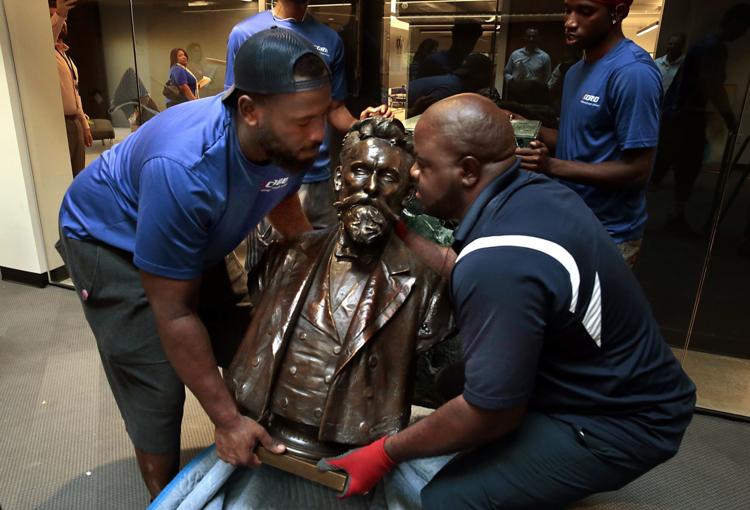 The Post-Dispatch offices move from 900 North Tucker Boulevard to 901 North 10th Street.