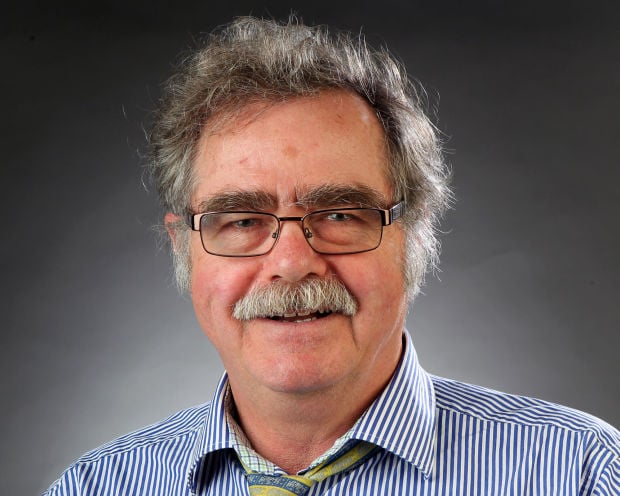 Gregory Berin goes to Stray Rescue several times a week and walks whatever dog they give him. On a recent night, it was a bulldog-terrier mix named Meathead.
"I know how they feel being penned up," Berin said.
Berin is 51. He got out of prison in August. He'd been penned up for 13 years. That was just his last stretch. He's been to prison a total of five times. His first sentence began in July 1983. In the 30 years since, he has been in and out, mostly in. He has been free for a total of 37 months. Prison officials refer to such a history as a life sentence on the installment plan.
Not surprisingly, Berin said he is done with prison. He said he is a changed man.
He used to be a thief. Maybe the worst kind of a thief. He stole from people he knew, people who trusted him. What's more, he didn't have to steal. At least not at first. He stole for the thrill of it. Later, when his criminal record made it difficult to get a job, there were times when he stole to pay bills. That is how he tells the story.
He said he has finally turned a corner in his life. He took all the right rehabilitative courses in prison. He said he has his mind right for the first time in years. Mainly, though, he has the support of Project COPE, a nonprofit organization that offers a variety of services to help men and women when they get out of prison.
In a sense, it's a Stray Rescue for people.
Berin will be a challenge. On the night he took Meathead for a walk, he said all the right things. He took responsibility for all the bad things he has done in the past.
On the other hand, part of being a thief is being a con man. In his most infamous theft, he victimized a young woman who had fallen in love with him. According to a made-for-television movie, he proposed to her before stealing her grandmother's jewelry and then her own. According to the movie, she was a private detective who became suspicious and then helped the police arrest the man whom she had thought of as Prince Charming.
Berin told me the parts about the thievery were accurate. He said he stole jewelry from her and her grandmother. He said the romance angle was over done. I was unable to reach the woman.
Crime was not part of Berin's upbringing, but jewelry was. He said his parents owned a jewelry store across Clayton Road from Plaza Frontenac. He had a normal, happy childhood and graduated from Parkway Central in 1982. He said that was about the time he started stealing. If he didn't need the money, why did he do it?
"Originally, it was a thrill," he said. "An impulse. Something comes over you, and instead of thinking about it, you just do it."
He said he has a twin brother and a sister. Neither has been in trouble.
When a person gets in trouble over and over, he burns a lot of bridges. When Berin was released from prison in August, nobody came to pick him up. He took a Greyhound bus to St. Louis.
Thanks to Project COPE, he had a place to live. Also, a support team. Counseling, too.
"I'm not walking a tightrope without a net below me, anymore," he said.
He's found a part-time job. He's looking for full-time work. He's supposed to transition out of his current apartment in a few months. Typically, landlords want first and last month rent and a security deposit.
Project COPE has a history of success. It has been around since 1984, and it claims a success rate of 86 percent. It sends volunteers into prison to screen potential clients. Actually, it calls the newly released men and women "partners."
So Berin was screened and then selected. Project COPE has a strong religious slant. Churches are involved. The people who volunteer believe in redemption.
I thought about that as I watched Berin and Meathead stroll along the streets near Stray Rescue, which is on Pine Street just east of Jefferson Avenue. It was an early evening, chilly, and the end of rush hour traffic was zipping past. Nobody paid much attention to the man and the dog. Two strays, almost invisible. The dog completely without guile, the man a question mark. I'm sure it's possible for a con man to reform, but how can you tell?
The next day, I stopped at Stray Rescue to learn more about Meathead. Where had he been picked up? How long had he been at the shelter?
A worker told me such information is confidential.
Berin told me he's walked Meathead before. So maybe he'll get him again. If you happen to be driving some late afternoon or early evening in the western part of downtown, and you see a guy about 50 walking a bulldog-terrier mix, give them a wave. Or say a prayer. They both need some luck.