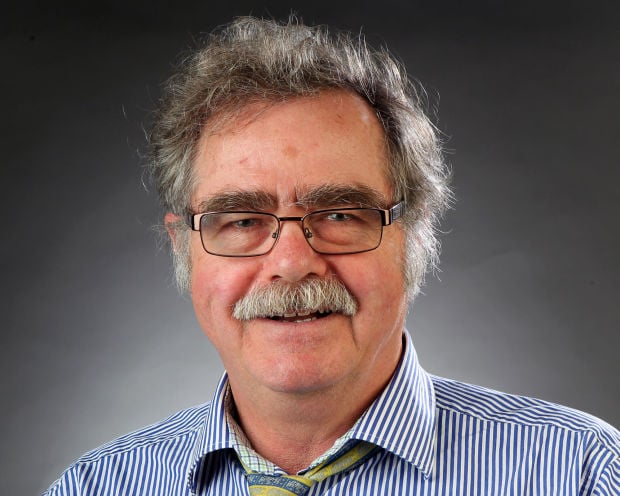 The jury had not yet come back from a break, and defense attorneys Brent Sumner and Adam Olszeski told Judge Mark Neill that their client would be taking the stand. The judge nodded.
At this point in criminal trials, judges give a quick lecture to the defendant. They explain that a defendant may testify, but does not have to. If he chooses not to testify, jurors will be instructed not to make any inference about guilt or innocence from that decision.
Neill began to explain things to the defendant, and then he stopped.
"Look at you!" he said. "Your shirt is not even tucked in!"
The defendant was wearing a gray T-shirt. Actually, it was a little dressier than a T-shirt. It had a collar. But no pocket or anything, and it was, as the judge had noted, not tucked in.
"Everybody else in here respects the court. They're all wearing ties," said the judge. Then he glanced out at me. "Almost everybody," he said. In my defense, I was wearing a nice shirt and nice slacks. No tie, but then again, I wasn't testifying.
The defense attorneys led their client into the hallway, where he tucked in his shirt.
Later, I spoke with the judge. He acknowledged that society has embraced informality. He said he can remember — as can I — when people dressed up to go on airplanes. They dressed up to go to hockey games. There was a time — you can see it in old newsreels — when men wore suits and ties to baseball games. And hats, of course. Always hats. Those days are gone, the judge conceded.
"I don't mind the change, but when we do solemn things, we should dress appropriately," he said. "We do solemn things here. We make decisions that affect people's lives. We administer oaths to jurors and witnesses."
Amen to that. I may have wondered aloud about the Ballpark Village dress code, but that's a place to drink and watch sports on big televisions. Courtrooms are different. As regular readers know, I have long bemoaned the decline in standards of dress in courtrooms.
I mentioned to the judge that I once saw a young man show up for a probation revocation hearing wearing a T-shirt declaring, "Public Enemy Number One."
Neill said he recalled a case from his days as a criminal defense attorney. His client was pleading guilty to a drug charge. "I told him to dress up. I said, 'Wear something you'd wear to a wedding.' He showed up in a bright green outfit. He looked like a leprechaun. I said, 'What the heck is that?' He said, 'It's what I'd wear to a wedding.'"
Maybe a gray T-shirt is better than a bright green leprechaun outfit. Or maybe defendants should be encouraged to dress normally. Let the jury see the real you.
I don't believe the defendant's attire mattered too much. He was charged with carrying a concealed weapon. He told the jury that he was having an argument with his woman. Actually, she was having an argument with him. There was apparently a question about somebody he had friended on Facebook.
His woman wanted to talk about their relationship. He didn't want to. She threw some dishes. She punched him. He called the police. Then she called the police and said he had waved a gun in her face.
At that point, he took some clothes and his gun — legally purchased — out of the closet, put his stuff in a backpack and left the house. A police officer arrived, found the gun in his backpack and arrested him.
The young man had a job. He did not have a criminal record.
I felt bad for the prosecutor, assistant circuit attorney Tom Dudash. This seemed like a domestic disturbance, but once a woman claims a man has threatened her with a gun, the state has to do something. What happens if you don't prosecute and he later shoots her?
On cross-examination, Dudash asked the young man if the blows from the woman had hurt him. "They weren't love taps," he said. The jurors laughed.
The next and final witness for the defense was the woman. She said she made the story up about the gun. She said she wanted to talk about their relationship and the defendant had just ignored her. It really got her angry, she said. She decided to hurt him the way he had hurt her, she said.
She also said that after he left the house, she tried to run him down in her car.
By the way, she didn't dress up for court, either. She wore blue jeans.
The jury was out long enough to elect a foreperson and take a vote. They acquitted the young man. Still, I hope he listened to the judge. At the very least, tuck your shirt in when you go to court.