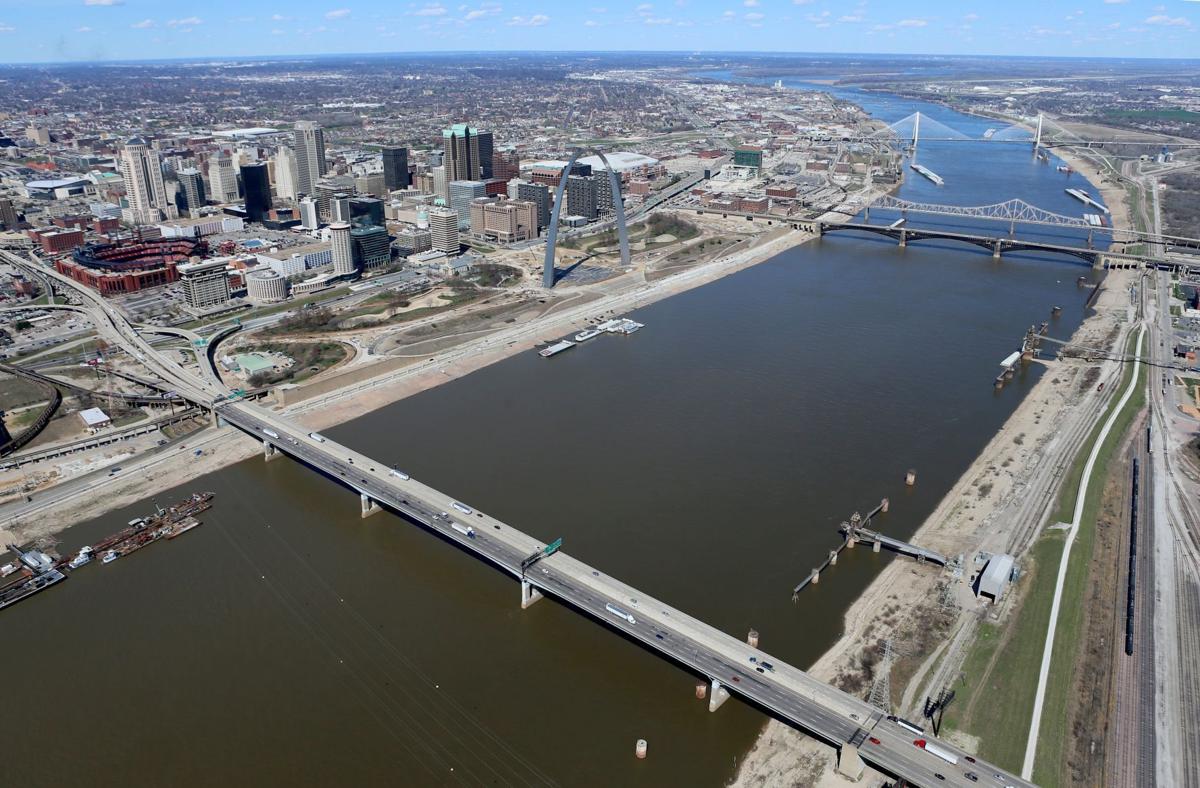 Do you remember the anguish — or elation — you felt on that October day in 2013 when the Bernard F. Dickmann Bridge became the Congressman William L. Clay Sr. Bridge?
Most people, including me, didn't know it was the Bernard Dickmann Bridge until we heard the announcement that it had become the William Clay Bridge, and official announcements to the contrary, it was, is, and shall remain, the Poplar Street Bridge.
As long as it's not a paid holiday, no one will remember it. That particular day, by the way, is already National Hot Tea Day, National Marzipan Day and National Pharmacist Day. Also, Work Harder Day and Feast of Fabulous Wild Men Day.
What caught my attention, though, were the comments from one of the legislators who is sponsoring the bill to honor Limbaugh. "He loved the people of Missouri," said Hardy Billington, a Republican from Poplar Bluff.
If so, he loved us from afar. Limbaugh lived in Florida.
That speaks to one of our most endearing traits. We are able to convince ourselves that this is a great place to live. We believe it's just undiscovered, and therefore under appreciated.
We believe this even though evidence points in another direction. There are people who have discovered us and are not impressed.
Tennessee Williams is a prime example. He lived here as a youth — his "formative years," we like to say — and we have a Tennessee Williams Festival every year. The festival puts on a play and people make a pilgrimage to his gravesite. He was, after all, one of us.
But here is what Williams himself said in an interview with this newspaper in 1946. "I found St. Louisans cold, smug, complacent, intolerant, stupid and provincial. I hate the place."
Most people aren't that explicit. They just leave. Until Dick Gephardt's retirement from Congress, he loved St. Louis. He was an alderman before he was a congressman, and he said the Midwestern virtues of this city defined him. But upon his retirement, he announced he was buying a home in California and a condo in Florida. Plus, he was establishing a lobbying firm in Washington and a "labor policy institute" in Atlanta.
At least he waited for retirement. Josh Hawley uses his sister's residence as his Missouri voting address. He lives in a Virginia suburb of D.C. That's hardly surprising. After graduating from Yale law and clerking for John Roberts, Hawley could have gotten a job anywhere. He went to D.C. He made some contacts, moved back here, ran for Senate and left again.
It's like having Tennessee Williams as one of our senators.
Of course, it's not just politicians. We see this in our everyday lives. I remember when this newspaper hired Foster Davis as managing editor in 1992. He came from the Charlotte Observer in North Carolina. He loved North Carolina. He used to go back for haircuts. Seriously. He kept his old barber, doctor, dentist, everybody. We used to have a newsroom pool on Friday afternoons. Would he leave by 3 p.m.?
Elaine Viets was a popular local columnist. Her husband got a job in D.C. and Elaine moved there. She continued writing a local St. Louis column. This irked Foster. If he had to live here, why shouldn't a local columnist have to live here? Elaine threatened to organize a protest. She said the Post-Dispatch wanted to break up families. She never moved back. She began writing mystery books. Eventually, she moved to Florida.
About that same time, another columnist, William Childress, went on a hunger strike to show his displeasure with the way the bosses were treating him. After about a month, he resumed eating and then moved to California.
In April of 2011, Brian Hall wrote an essay for the Southwest Airlines magazine, "Southwest Spirit." The magazine had a monthly feature called "Freedom Story," in which people wrote about ways in which the airline afforded them freedom. Hall's essay began, "Every Friday is like a homecoming for me," and he went on to describe how great it was to be able to fly to his home and family in Baltimore.
That was of interest to me because Hall was, and is, the chief marketing officer to the St. Louis Convention and Visitors Commission, which is now called Explore St. Louis.
I wrote a column about Hall, and there was not a big uproar about our chief marketing officer being grateful to get the heck out of town every Friday. We are an understanding people. Family counts. So does weather. Or maybe somebody likes beaches. Or mountains. Maybe they prefer less crime. Or they sense greater opportunity elsewhere. We understand.
Still, if we were to honor somebody with a day, wouldn't it be extra special if the honoree had not chosen to live somewhere else?
How about somebody who was born and raised here, left to make a fortune, and then came back and started giving his money away?
His dad died and his mom was so poor she put Sinquefield in the St. Vincent Home for Children. He later made a fortune in Chicago. Then he came back here and started giving money away. All right. Mostly, he bought politicians, but of both parties. That counts for something. He has also made us a center of the chess world.
I don't care for his politics, and some of my friends see him as a mad scientist performing experiments on Missouri, but if the legislators have a hankering to honor somebody with a day, Sinquefield's birthday is Sept. 7.
By the way, Dickmann died at his winter home in Mississippi. Clay stayed in D.C. after leaving office. Tennessee Williams, who lived in Key West, had asked to be buried at sea. His estranged brother had him buried here.