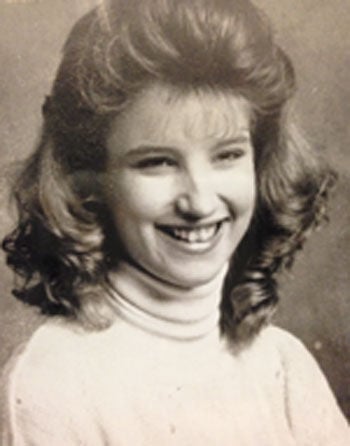 Kelli Hall would have been 43 next month. As a teenager, she was headstrong, smart and hardworking. If it's possible to plot a future from the trajectory of a life stopped at 17, she'd have gotten married at a young age. Would have had kids. Beyond that, things are hazy. Maybe she'd have worked outside the home. Maybe not. She might have been a soccer mom. The possibilities are endless.
Because he snuffed out those possibilities, Jeffrey Ferguson was executed early Wednesday.
After the execution, the state released his final statement. "At this point in my life, I believe that I am the best man that I've ever been ..."
That is a nice thought. It speaks of redemption. On the other hand, it speaks of a squandered life. Ferguson was not a dead-end kid who needed prison to find himself. He came from a solid, middle-class family. His father was a photographer for this newspaper. Jeffrey Ferguson himself married a nice woman and had two daughters. He had a clear path to a good life.
He became a boozer and a druggie. He left his family. His new girlfriend later told police that he had broken her face. Literally. She had a metal plate in her face.
When he kidnapped Kelli from her job at a gas station in St. Charles, he was drunk. It was not a carefully conceived crime.
"We knew who we wanted before we found her body," Tim Harvey said. Harvey was a detective with the St. Charles Police Department who worked the case. He attended the execution with Patrick McCarrick, who still works for the department. Harvey now works as an investigator for the St. Charles County prosecuting attorney's office.
McCarrick and Harvey were state witnesses. So was I.
After the execution, Kelli's father, Jim Hall, read a statement to the press. Kelli's mother, Susan King, sat next to her ex-husband. They were divorced before Kelli's murder, but they have remained friends throughout the years. When Jim momentarily seemed overcome by emotion, Susan rubbed his back. Jim's statement was gracious. He spoke about Kelli and bemoaned the long wait for her killer's execution, but he also made reference to Ferguson's other victims.
This crime devastated two families, Jim said.
Executions are somber affairs. The death chamber is a small room with viewing areas on three sides. The state's witnesses and the condemned prisoner's guests are on either side, facing each other. The family and friends of the victim face the condemned. They are not visible to the other two groups.
The condemned prisoner is lying on the gurney. He is covered by a sheet. An IV can be seen coming from the wall and snaking under the sheet.
When the curtain opened shortly before midnight, I saw several people on the other side, but my eyes were drawn to two young women. I figured they were Ferguson's daughters.
I first saw them 25 years ago. I was at the St. Louis County jail to interview Joseph Paul Franklin. I saw a woman with two young girls in the waiting room.
Several years later, I was visiting a man in prison. The visiting area was a cafeteria with tables in the middle and vending machines along the walls. I saw the same woman and the same little girls sitting at a table with Ferguson. Then the little girls went to a vending machine and Ferguson and his wife were alone. "What does a man say at a moment like that?" I wondered.
I visited Ferguson in prison last year. He told me his wife had long ago divorced him and had remarried. He was no longer part of her life. He said his daughters wouldn't take his calls or answer his letters.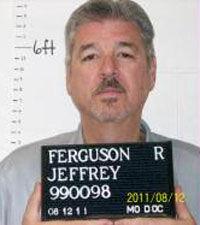 But there they were as Tuesday night turned into Wednesday morning. Good for them, I thought.
They looked at their father and suddenly they both smiled. His face was turned toward them and I could not see what he was doing. I figured he was mouthing words. I later learned he put his tongue out and waggled it. He had told a television reporter he intended to make funny faces.
He sent me a letter last month after the state set his execution date. "I should have been home with my family. I should have been a more responsible man and father and I failed miserably," he wrote.
Paradise Lost. That's what he's looking at in his final moments.
His death itself was anticlimactic. He must have closed his eyes, because his daughters quit smiling. Then the curtains closed while medical personnel confirmed that he was dead.
Afterward, Jim and Susan and other family members came into the media area. They had a photo of Kelli for the television people who didn't have one. This is our daughter, he said.