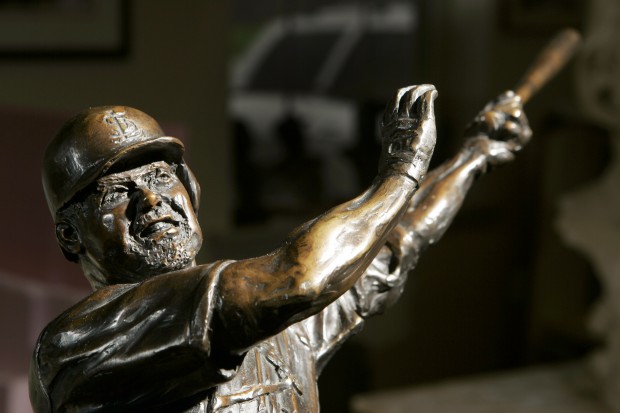 PUJOLS IMMORTAL: In an article in today's New York Times, George Vecsey, sports columnist and author of a recent biography about Stan Musial, speculates about where an Albert Pujols statue will go.
The answer -- West Port Plaza.
No matter whose team Pujols is on next week, a statue of the slugger, paid for by an anonymous donor and crafted by our town's nationally acclaimed sculptor Harry Weber, will be dedicated on Wednesday at the plaza just outside the doors of the Pujols 5 restaurant.
Vescey wrote that when he stopped to look at "The Plaza of Champions" surrounding Busch Stadium yesterday, he spoke to James Rooks from Myrtle Beach, S.C., who had a ticket for tonight's canceled game. Vescey said he asked Rooks where "the eventual Pujols statue would be placed."
"Maybe in the bathroom," Rooks said. "Depends on whether he signs with them."
Weber is the sculptor of 10 of the ballplayer statues that stand guard around Busch Stadium, and an eleventh of Mark McGwire, which has not yet been unveiled and whose future remains uncertain.
But Pujols statue will not join the legion of those surrounding the stadium -- at least not yet. The statue belongs to the Pujols Family Foundation, which is headquartered at West Port Plaza along with Pujols' restaurant.
Weber has been working on the statue for two years. Unlike his other statues around Busch, the Pujols statue will be 10-feet-tall and weigh 1,100 pounds. The others -- which Weber calls "action portraits" -- are 5-feet-tall.
A spokeswoman for the plaza said she didn't know whether the foundation would move the statue if Pujols were to leave town and that the plan always was to have it be located at West Port.
Albert and Dee Dee Pujols are expected to attend the dedication ceremony, which is free and open to the public. Todd Perry, executive director and CEO of the Pujols Family Foundation, will also be there. The statue is due to be unveiled at 11 a.m.
KTRS' McGraw Milhaven will emcee the ceremony.