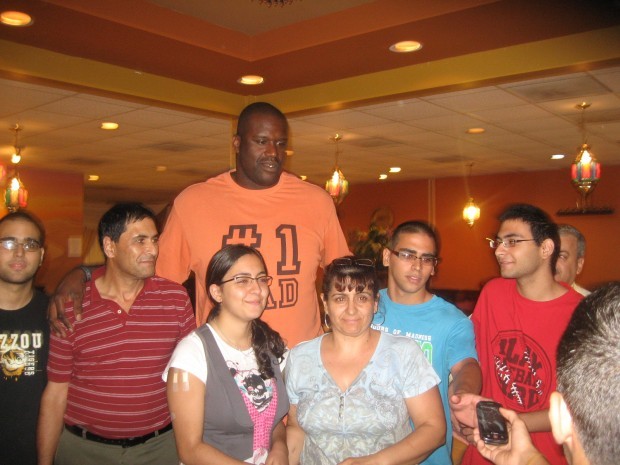 HOOKAH HEAVEN: After a day at the Country Club of St. Albans, Shaquille O'Neal had dinner in town Monday night and then showed up about 11:30 p.m. at the Sahara Mediterranean Cuisine and Hookah Lounge in Bridgeton, according to the lounge owner.
Owner Sam David said he and his wife, Majdolin David, were about to close up when the unmistakable Shaq showed up with a party of four - three women and another man.
"I think he may have proposed to his girlfriend," Sam David said today. "He brought a chair into the middle of the dance floor and he put a ring on her finger."
David said he did not know the name of the woman who was with Shaq, nor of any of the others in the new Boston Celtics center's entourage.
A Google search shows that Shaq and Shaunie Nelson were married on Dec. 26, 2002, and that he filed for divorce in 2007. The couple then reconciled for a time and Nelson filed for divorce in 2009. Reports indicate the couple reached a divorce settlement in March.
David said Shaq and the group came in for dessert and to use the hookah pipes. He said they didn't know the Sahara served food and told him they had eaten before coming to the restaurant and lounge.
"He had a lot of fun," David said. "He was clapping and laughing. He didn't dance but the other people in his group did."
David said the group stayed until about 2:30 and that he was so excited to have a celebrity in the club that he didn't even charge them. David has owned the Saharah for about seven months.
He added that the restaurant's cook, Majda Jaouni, and a friend, Tom Ramaha, stayed late to help serve Shaq and his friends. The Davids are partners in the restaurant with Maurice and Luna Alyatim.
Shaq was in town to participate in the 8th annual Pujols Family Foundation golf tournament. Albert and Dee Dee Pujols organize the golf tournament as a fundraiser for their foundation, which helps people with Down syndrome in the St. Louis area and people living in poverty in Pujols' native Dominican Republic.
Be the first to know
Get local news delivered to your inbox!