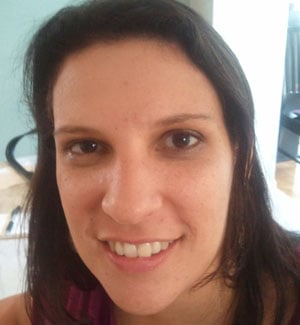 Dr. Susana Lazarte, 34, a fellow in the Division of Infectious Diseases at Washington University School of Medicine.
FAMILY • In the process of divorcing her husband, Dr. Edmundo Rodriguez-Frias, a hospitalist with Alton Memorial Hospital. Lazarte lives in the Central West End. She is the second of three children born to Victoria and Oscar Lazarte of Lima, Peru. Her father, 73, is retired from his job in public relations for the Peruvian national telecommunications company; her mother, 70, was a housekeeper who baked goods at home to sell to retail outlets. In the late 1980s, when Peru underwent a recession, Victoria took a job in sales and eventually wound up selling and training salespeople in the funeral industry. There was no such industry in Peru when her mother started in the business. Susana's older sibling, Vicky, 45, is a travel agent in Lima; her younger sister, Ines, 30, is a psychologist who is working as a project manager for the international not-for-profit agency, Save the Children, in Lima.
EDUCATION • High school at a private British-Peruvian school, Colegio San Silvestrie, 1993; Universidad Peruana Cayetano Heredia, Peru, M.D., 2003; residency at the University of Texas-Southwestern in Dallas.
When did you move to St. Louis?
In 2008 I came to Washington University for an I.D. fellowship. My husband was already a hospitalist here, so we were fortunate to find positions in the same place.
What do you plan to do when your fellowship is over?
I plan to stay in St. Louis. I think St. Louis is a city that has many things to do. I love where I live and I liked to get out and walk. I have a good support system here, and I like being close to an outstanding medical system.
I would like to make a difference in treating the Hispanic community here. I would like to work to improve HIV and STD treatment, prevention and information.
Are you the first doctor in your family?
My grandfather, my mother's father, was a doctor, but he died before I was born, so I don't think that had any influence on me. But ever since I was a little girl, I always said I wanted to be a doctor. When I was about 11 or 12, I met a child who was about 2 at the time. She was a very special child, and she died of cancer when she was 6. I think that influenced me a lot in deciding I wanted to become a doctor.
Do you want to be in pediatrics?
I started out thinking I would go into pediatrics, but I had a difficult time with sick children. I really want to help people and I'm now doing a specialized HIV fellowship, and I think I will be able to do a lot of good.
Were your best subjects science and math?
I loved biology. I loved learning. Part of the reason my mother went to work outside the house was so she could afford to send me to a good high school. I think I got an excellent education in high school, and that helped me go on to medical school. In Peru you don't go to college, but you can go right into a specialized program like medical school. It was an 8-year program and very rigorous.
What do you like to do when you're not at the medical center?
I love to play and watch soccer. I learned to play when I was in medical school, and I just love it. I play on a team in a co-ed league every Monday night, and then I play in a pickup team on Thursdays. I'd like to be a soccer coach at some point. I also like to socialize and to dance to Latin music, but I haven't found anywhere here where I really love to dance. The Latin dancing in the clubs here is more formal than in Peru.
What was the last best book you read?
"A Thousand Splendid Suns," by Khaled Hosseini, who also wrote "The Kite Runner." It was inspiring, especially for the women who have to struggle only because of their gender.
Honda CRV. It's light blue and a 2007.