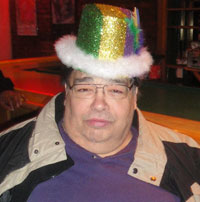 RIGHT FOR RUDY: The late Rudy Piskulick - friend, neighbor and unofficial "Sheriff of Soulard" - is being memorialized with a plaque at the main entrance into Soulard Market, which has been renamed "Rudy Commons."
Piskulick, 58, a longtime Soulard resident, manager of Johnny's Restaurant and Bar and past president of the Soulard Business Association, died Sept. 23. He was president of the Mardi Gras Inc. board at the time of his death.
The plaque honoring Piskulick was unveiled at the end of Thursday night's "Twelfth Night" parade in Soulard, which is the kick off to the community's Mardi Gras season.
"The Soulard Renaissance" newspaper wrote a farewell to Piskulick in which he was referred to as: "The ultimate ambassador for Soulard." The article also said that "Rudy was always up for a good time but behind the scenes was one of the hardest working guys in the neighborhood."
"Rudy was a big guy with an even bigger heart," Tim Lorson, director of Mardi Gras Inc., said today.
Piskulick is survived by his mother Agnes L. Piskulick; brother, Arthur W.  Piskulick; godson, Scott (Becky) Brugnara; and three grandchildren.