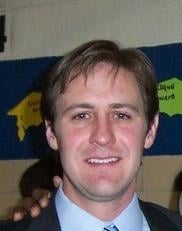 IT'S THE PRINCIPAL: Rob Lescher yelled down to a student today at St. Louis' Busch Middle School of Character and Athletics and then said into his cell phone, "I'm micro-managing from the roof."
This colyumnist was on the other end of the phone talking to the middle school principal about spending the night and most of today on top of the school's roof at 5910 Clifton Avenue in the St. Louis Hills neighborhood.
"It went alright," said Lescher, 34, a Webster Groves native. "I don't remember not sleeping well, although my eyes are a feeling a little heavy today."
Lescher promised the school's 308 students in 6th through 8th grades that he would spend the night on the roof as a reward for their diligent work and academic gains on a standardized test that is preparation for the upcoming MAP exams.
As well as an incentive, Lescher said the promise was a reward for their achievement. He coupled the challenge with an offer to allow a student with good grades to be selected in a drawing to serve as principal for the day today. Cory King, an 8th grader, was selected and chose to allow the kids to have outdoor recess, which is partly what Lescher was micro-managing from the rooftop.
Lescher said he passed the night reading a "Twilight" series book and kept snug in a tent he set up. He's a camper and brought along a blow-up mattress and a computer and set up a power cord to keep his phone charged.
He even had a visitor -- Julie Linder of the St. Louis Public Schools media relations office. Lescher said Linder was wearing high heels when she climbed a narrow ladder to the roof.
"I was impressed," he said, adding, "I think she's young."
Be the first to know
Get local news delivered to your inbox!