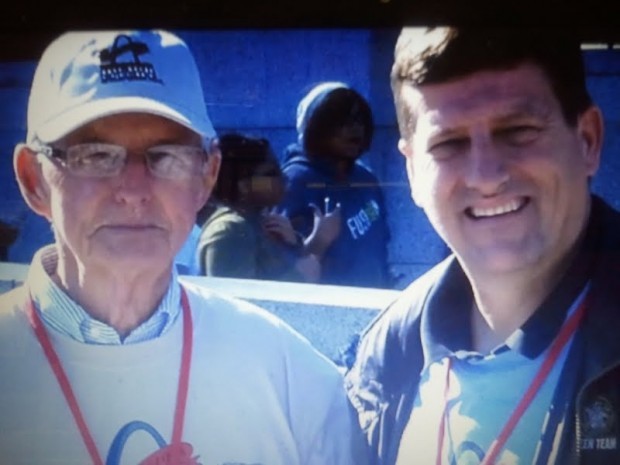 HONORING HIS SERVICE: St. Louis Attorney John Newsham gave his dad a special gift for Veterans Day this year.
He was his father's guardian on a St. Louis Honor Flight to Washington to visit the WWII memorial, which honors the 16 million who served in the U.S. armed forces and the more than 400,000 who died.
Raymond Newsham, 85, is a World War II vet who came back to St. Louis after his service and, with his wife Emily, raised a family of six children. Raymond is a retired chemical salesman from O'Fallon.
John said his father saw a sign-up list at a church a couple of years ago for the flights and put his name on it. About a week before Tuesday's trip, John said the Honor Flight organizers called to tell him that his father's turn had come.
They asked if his dad had a guardian -- vets take the trips for free but they have to be accompanied by a guardian who pays his or her own way. John said he would take the flight with his father and then cleared the decks to make it happen.
"It was a memorable day," John Newsham, 53, said today, adding that there were 26 WWII vets on the flight. "The group does some unique things -- for instance when we landed in Baltimore's airport there were folks from the Honor Flight program there who were on the ground to welcome the group. They get all these folks who are waiting for their own flights to gather around and cheer the veterans when they arrive.
"It was an inspiring day," he added. "Many passengers on other flights were coming up to the vets and thanking them for their service. My dad really loved it. It meant a lot to him."
The Honor Flight Network is a non-profit organization that was created to honor America's veterans for their sacrifices. They provide transportation for the vets to see the memorials and reflect on their service. They say that their top priority is the senior veterans - World War II survivors -- and terminally ill veterans.