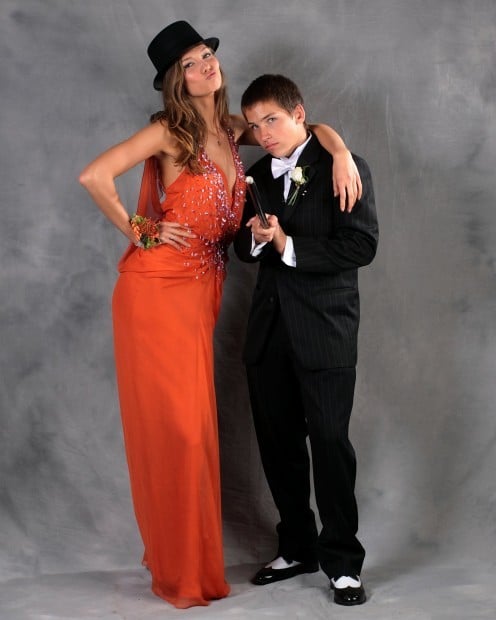 So it came as no surprise to family, faculty and friends when the 6-foot glamour queen attended Saturday's prom with 5-foot-6-inch Gabe Smith, one of her best friends since the two were tots playing together in mom's day out programs and at pre-school.
Smith, 17, who makes his money mowing lawns, umpiring baseball games and dog-sitting, insisted on buying Kloss' ticket to the prom and drove them in his father's '07 Ford Fusion four-door sedan. They left Kloss's silver Land Rover, which she bought for herself, at home in the driveway.
She wore flats and a deep orange dress that we can only guess came from some hot designer, while Smith rented his tux from Men's Wearhouse because he had a $40 off coupon.
Kloss, 18, spends so much of her time on the road and in Manhattan, where she keeps an apartment, that she maintains a high-grade point level through the high school's Statesmen Center for Independent Studies and Non-Traditional Learning. She's also been a cheerleader.
Friends from home keep in touch via text and online chatting, and when Kloss is in town she is busy catching up on homework and spending time with her family — including three sisters — and friends. She's athletic and likes to play golf and tennis. Smith asked her to the prom while they were playing nine holes at Westborough Country Club in Oakland.
In the interest of full disclosure, Smith is the son of STLtoday.com's online sports editor, Mike Smith. He is the seventh of seven kids and known to his siblings by the nickname, "Da Angel." Mom, Karen Smith, is a realtor who founded a nonprofit organization, Get the Word Out, that is helping kids in Kenya and Uganda.