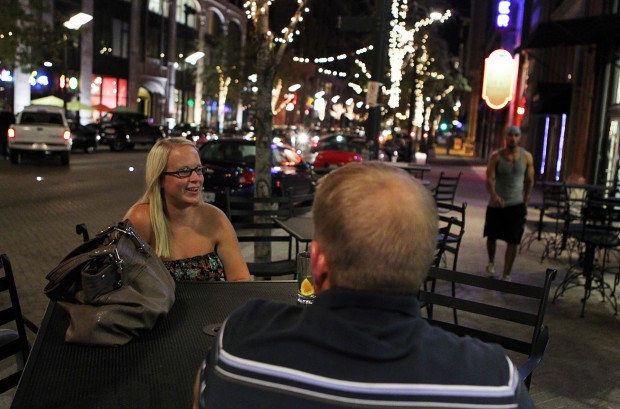 GREAT STREET • Washington Avenue's architectural diversity, forward-thinking planning and the fact that it's "brimming with new life," are among the chief reasons the street was designated one of the country's "Top 10 Great Streets for 2011" today by the American Planning Association.
The association said in a news release that it singled out Washington Avenue for "its outstanding assemblage of industrial architecture, mix of land uses and lively atmosphere."
The designation comes via the association's "Great Places in America program," under which the APA release said it chooses places with exceptional character that highlight the role of planners and planning in creating communities with lasting value.
When the warehouses on Washington Avenue were abandoned because garment-industry jobs moved elsewhere, the street "re-emerged as one of St. Louis' favorite spots for walking the dog, meeting for lunch or enjoying a night out with friends," the APA noted.
Mayor Francis Slay lauded the street, saying its heavy population, walkability and diversity, played out against a backdrop of great buildings, monuments, parks and art are "what urban living is all about."
He noted that Washington Avenue, which was once neglected and decaying, is now the "urban corridor of St. Louis and its revitalization a core element" of a downtown redevelopment plan.
The nine other "2011 Great Streets" are Santa Monica Boulevard in West Hollywood, Calif.; U Street N.W. in Washington, D.C.; Front Street in Hahaina, Hawaii; Main Street in Galena, Ill.; Main Street in Nantucket, Mass.; Market Street and Market Square in Portsmouth, N.H.; Downtown Woodstock Streetscape in Woodstock, Vt.; King Street in Alexandria, Va.; and Davis Street in Culpeper, Va.
The streets will be celebrated this month as part of APA's National Community Planning Month. The organization began recognizing "Great Places in America" in 2007; since that time 50 neighborhoods, 50 streets and 40 public spaces have been designated in all 50 states and the District of Columbia.