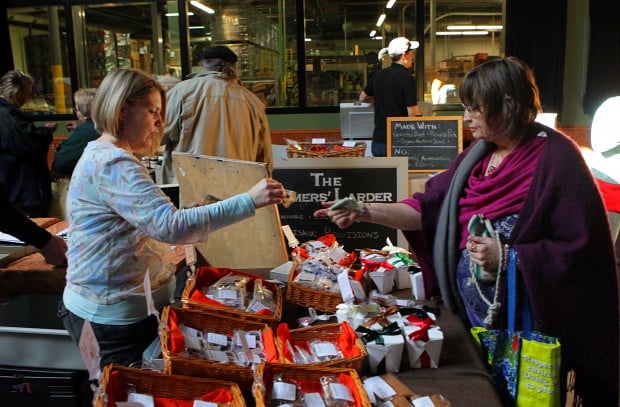 Some farmers markets get it right, and some don't. No apostrophe is necessary in "farmers" because the phrase is what the AP Stylebook calls a descriptive phrase, not a possessive phrase.
A descriptive phrase means the word "farmers" is being treated as an adjective, not as a noun. In such cases, an adjective cannot possess, so it cannot be a possessive. If you say "farmers' land," you use an apostrophe because a noun (farmers) is possessing something (land).
The AP Stylebook sums it up like this: The apostrophe usually is not used if for or by rather than of would be appropriate in the longer form.
So we say farmers market, Cardinals pitcher, teachers college, writers guide. A market for farmers, a pitcher for the Cardinals, a college for teachers, a guide for writers.
An exception is when the phrase uses a plural word that does not end in s: children's hospital, people's republic.
As for The Editors' Desk, we went with the possessive because we own our own building and desk. We love that desk!