Many times, even though they were right there, it was like they weren't there at all.
In March, the Philadelphia-based institute uploaded a photo taken in the 1940s at Jewish Hospital of St. Louis, now part of Barnes-Jewish Hospital.
The photo shows the late Dr. Michael Somogyi, a renowned physician and biochemist at Washington University.
The shot also includes five female laboratory assistants, identified as "female laboratory assistants."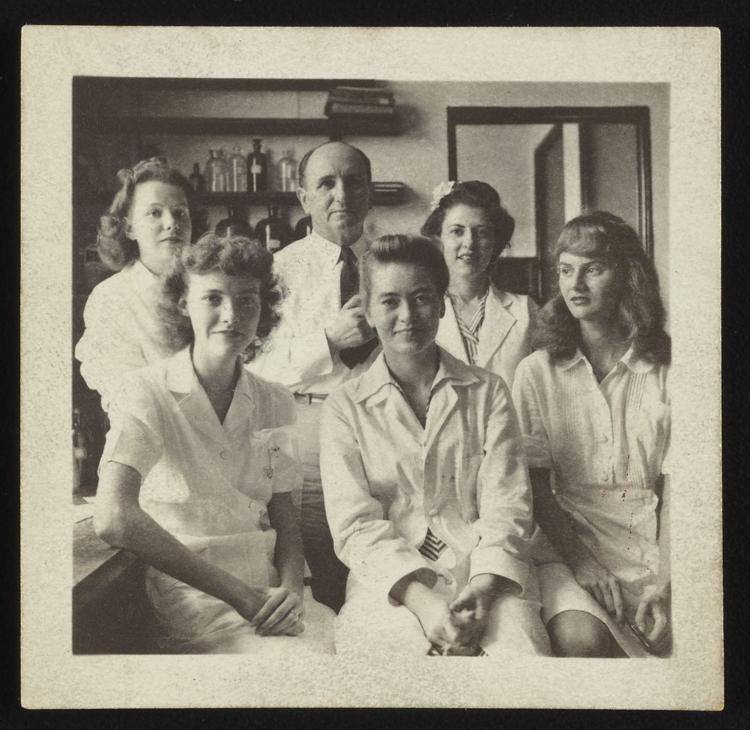 That's where Rebecca Ortenberg steps in.
"Women scientists are often invisible in the historical record, even when they're staring right at us," said Ortenberg, the institute's social media director.
"It can be difficult to find official references to their work because they were so often shut out of high-status research positions ... or their work was subsumed by that of their male colleagues and collaborators," she said.
The spark for the institute's project was yet another social media story, one that went viral in 2018: A photo was posted that showed a 1971 scientific conference on the biology of whales.
There were 38 people in the photo, and 37 were identified. The only unnamed subject was, you guessed it, the lone woman in the group.
(Through social media, she was identified: Sheila Minor Huff, a technician at the Smithsonian National Museum of Natural History.)
Then let's jump forward to earlier this year, when Ortenberg met with Hillary S. Kativa, chief curator of the institute's audiovisual and digital collections. They were talking about ways to celebrate Women's History Month (in March) when Kativa remembered the 2018 story.
"She told me a lot of the photos we have in our collection are just like that. We have tons where the men are identified but the women aren't," Ortenberg said.
So they decided to post one of those shots on their social media accounts.
The Somogyi photo was chosen because it contained documented information about the time period and place. Also, it was significant that it included Somogyi, who is a known historical figure in medicine because of his groundbreaking work with diabetes.
In 1922, Somogyi prepared the first insulin treatment given to a child in the U.S. In 1926, he was the first biochemist appointed to the Jewish Hospital staff, and he was the director of its clinical laboratory until he retired in 1957.
And his name still gets mentioned in the profession: "The Somogyi Effect" is used to describe how the body reacts to low blood sugar by overcompensating and producing high blood sugar levels.
But female researchers need recognition, too, Ortenberg said. "It's like 'here's Dr. So-and-So ... and some other people,'" she said.
To help solve the mystery of the Jewish Hospital photo, the institute called on Philip Skroska, an archivist for the Bernard Becker Medical Library at Washington University's medical school.
By looking at old hospital newsletters, Skroska uncovered some clues about the women who worked with Somogyi in the laboratory.
First, he found a separate photo showing three women working in the lab: Peggy Chosid, Charlotte Kanter and Bonnie Oxenhandler.
In another newsletter entry, three other assistants are named: Jackie Bergman, Dorothy Kessler and Wilda Mae Ulery.
Of those six candidates, Skroska found relatives of Peggy Chosid. But, alas, they eliminated their family member as being one of the five women in the photo.
Still, Ortenberg hopes someone in the St. Louis area will recognize one of the female faces and share that information. (And if they do, they are welcome to contact this bureau with the information: jholleman@post-dispatch.com.)
"This year marks the 100th anniversary of the passage of the 19th Amendment, which gave women the right to vote," Ortenberg said.
"So it would be nice to have these women identified as part of that."
Your weekly capsule of local news, life advice, trivia and humor from Post-Dispatch columnist Joe Holleman.