ST. LOUIS — "The best laid schemes of mice and men ..."
When the party started Saturday around Busch Stadium before Game 2 of the National League Championship, it was clear someone's strategy did not pay off.
That someone was Tim Parker, the guy decked out in L.A. Dodgers gear.
"I bought tickets for today's game a week and a half ago," which was well before the Washington Nationals upset the Dodgers and moved on to face the Cardinals.
"Obviously, it didn't work out," said the Troy, Missouri, man. "Wanted that Dodgers-Cardinals game."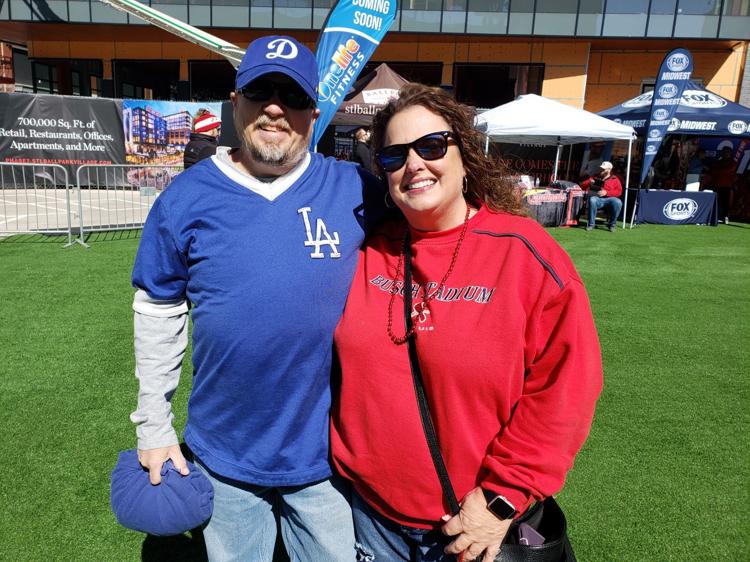 Shockingly, Parker is a lifelong STL resident, born and reared in Florissant, the rebel son of righteous parents.
"They were good Cardinal fans, but I was just defiant. And the Dodgers were the team back then," Parker said of the 1970s.
Robin Willman of O'Fallon, Missouri, has been dating Parker for about six months. She was decked out in Cardinals red.
"I'll give him credit that he was right upfront about that fact right after we first met," Willman said. "He was like, 'Hey, I've got to tell you ...'"
But the Dodgers fan was on the Redbirds' side at Saturday's game. "Only time I don't root for them is when they play the Dodgers," Parker said.
The Nationals took the lead early in Saturday's game, but Willman didn't let it get her down.
She said, "I have faith."
As to faith, twins Todd and Trevor Schloessman of Ballwin had it in identical heaping doses — though it was sorely tested Saturday by the Cardinals' continued lack of hitting.
For the second straight game, the Nationals silenced the Redbirds' bats and won 3-1, taking a 2-0 series lead back to their home field.
"Been this way all year: We get good pitching but we can't score runs," Trevor Schloessman said. "I mean, it's just so frustrating."
His brother added, "Going into Washington down two games to none is not good.
"And we wasted yet another great outing from Waino (Adam Wainwright)," Todd Schloessman said. "That's a shame if that was his last game with the Cardinals."
Tom and Anna Lange of O'Fallon, Missouri, sat at one of the stadium bars, wondering what happened to the Cardinals' offense.
"It got lost somewhere right after the third inning of the 13-1 Atlanta game," Anna Lange said of the Cardinals' takedown of the Braves on Wednesday to advance to the NLCS.
"We forgot how to hit," said Tom Lange, who is also known as "The Hat Man" for the elaborate lids he has created for every opening day since 2006.
"But I guess it's a bit of a surprise we're here" in the NLCS, Tom Lange said. "It's been a struggle all year."
HOUSE OF USHER: Baseball is all about streaks, and Randy Thomas has one going at first base with the St. Louis Cardinals.
To be accurate, it's actually along the first-base line.
On Saturday, Redbirds usher Thomas appeared in his 1,503rd straight home game, dating back to May 4, 2002.
"My sister got married that day. It was a noon game and the wedding was at 1," said Thomas, a Pevely resident.
"But then the reception wasn't until 7. I mean, what can you do but just sit around after the wedding and wait for the reception," Thomas said, maybe still a tad miffed.
"If she'd had the ceremony at 6, then I wouldn't had to have missed the game."
Thomas, who started as an usher in 1993, indeed loves his job.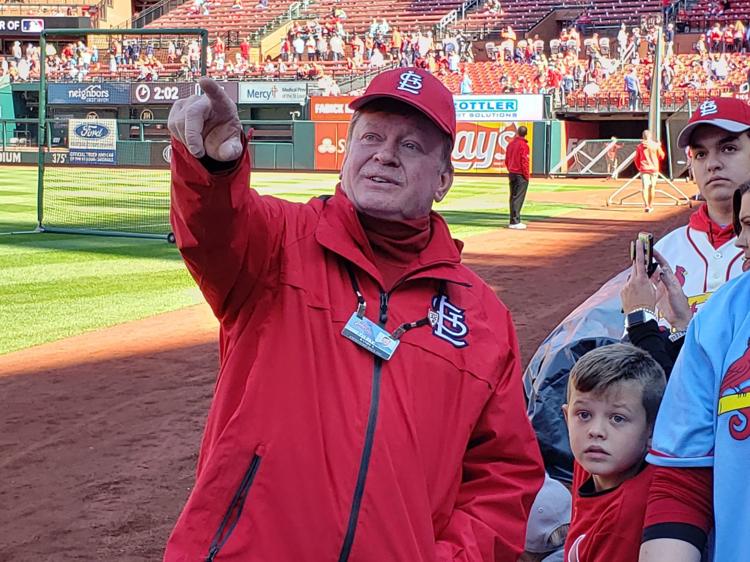 "I just love baseball," said Thomas, who graduated from Fox High School in 1978. "I was a bleacher bum as a kid and I'd come to about 30 games a year."
Thomas said he was especially pleased the Cardinals qualified for postseason play this year.
"If we hadn't made the playoffs, my streak would've stopped at 1,499," he said.
Asked what was his favorite game while guarding the line, Thomas said what most any Cardinals fan would say — using one word, one number and one year: