Every plan has its ups and downs, but few include the elevation changes of the Frisco Hill Challenge.
The bicycling event on Sept. 14 will raise money to pay for a granite marker to replace one installed 100 years ago by avid cyclists who liked riding heavy bikes up steep hills.
The structured runs — of 50-, 75- and 100-mile distances ($25-$40) — begin at 7 a.m. and are organized by Trailnet. A shorter ride also is available.
From 1 to 6 p.m., food, beverages and live music will be offered, sponsored by the Jefferson County Heritage & Historical Society.
Society secretary Kay Clerc said the event is a fitting tribute not only to the marker's 100th anniversary, but also to the 200th anniversary of the founding of Jefferson County.
But let's pedal back on this tale:
In 1919, the St. Louis Cycling Club — billed as the oldest continuous cycling organization in the U.S. — installed a granite marker on Frisco Hill Road, near Old Lemay Ferry Road in Imperial. (Headquartered at the old Lindell Hotel in downtown St. Louis, the club installed four markers between 1919 and 1923 to signify areas of interest in the club's history.)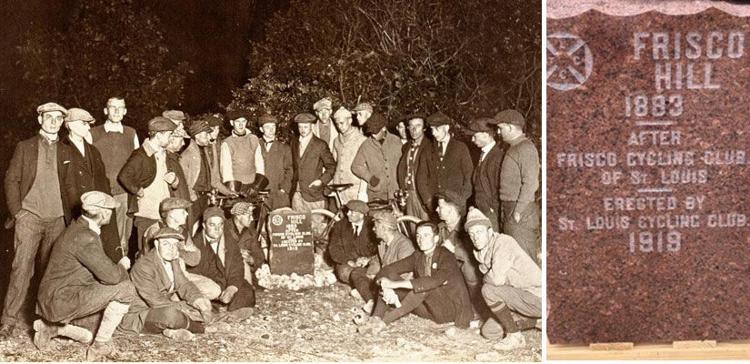 Frisco Hill had become a popular, and often necessary, rest stop for area cyclists who were making the established 40-mile ride from St. Louis to De Soto in the late 1800s and early 1900s.
After Clerc heard about the marker, she enlisted the help of the county highway and sheriff's departments, but no trace of it could be found anywhere near Frisco Hill. So the society decided to have a new marker made, as close to the original as possible. This new monument, which should be installed by race day, stands 27 inches high, 16 inches wide and 11 inches thick.
"And it weighs somewhere between 400 and 500 pounds," Clerc said.
The other three St. Louis Cycling Club markers already are in place:
Smith's Hill (1921) • Commemorates a steep, rite-of-passage hill for early cyclists on Old Manchester Road on the western edge of Wildwood. The name comes from Victor Smith, who owned the land at the top of the hill. Smith and his wife offered cheap meals to cyclists then, and riding the hill at midnight on New Year's Eve became a fad for a time.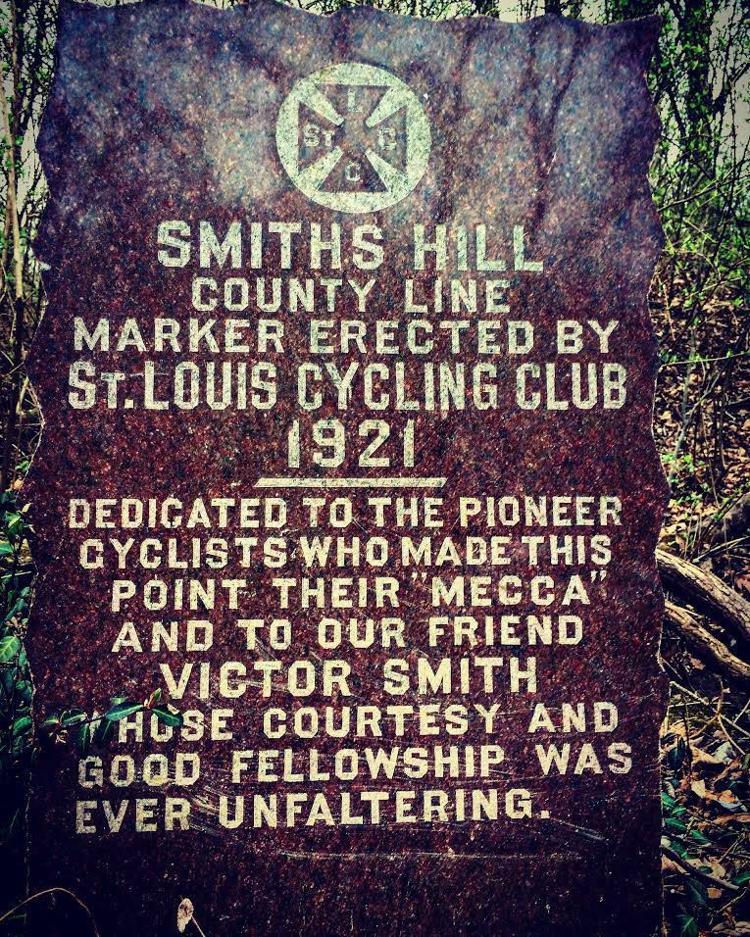 Hilltown (1922) • This marker, the end spot of the cycling club's annual race, originally was on Olive Street Road near Schoettler Road in Chesterfield, near Henry Hoch's general store. The store was relocated to Faust Park in the late 1980s and the marker, which had been at the home of a former cycling club president, was re-installed at Faust earlier this summer.
Pond (1923) • This marker sits on a vacant lot on the south side of the 17000 block of Manchester Road in Glencoe. The marker is dedicated to William M. Butler, an "ardent cyclist .. educator, traveler and nature lover," whose favorite rest stop was there at the long-gone Pond Hotel. He died suddenly in 1923.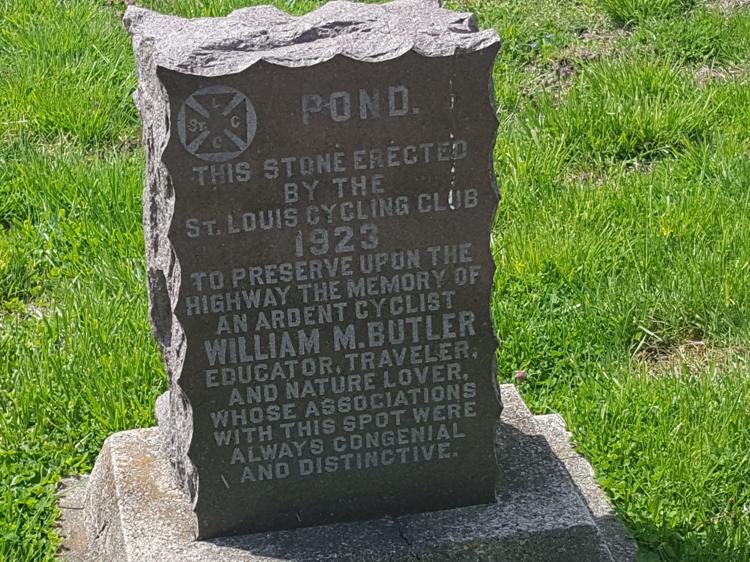 "Who knows, there may be more markers," Clerc said. "But these are the only four we know for sure, and now they'll all be where they belong."