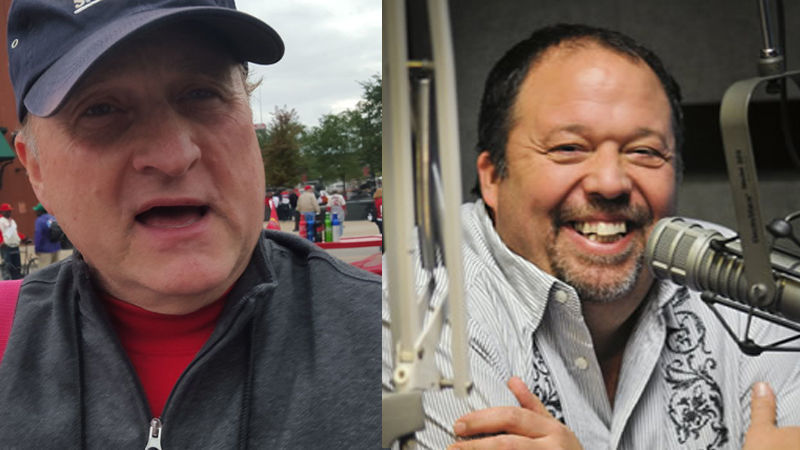 Don't expect John Carney and J.C. Corcoran to team up anytime soon on STL airwaves.
The veteran radio hosts had a heated encounter Monday afternoon in Soulard that, according to Carney, included Corcoran hitting him in the face.
On Tuesday, St. Louis Circuit Judge Barbara Peebles issued an order of protection that bans Corcoran from communicating with Carney or coming within 300 feet of Carney, his home or workplace.
Carney said he had been broadcasting live on Monday afternoon from Mission Taco, 908 Lafayette Avenue in Soulard.
"So then I'm walking to my car (shortly after 3 p.m. Monday), which was parked right on Ninth Street, and J.C. is waiting by my car," Carney said Wednesday.
Last week, Carney took a shot at Corcoran on the air when reading a story about divers finding the body of a missing man. Carney cracked that police also may have found traces of Corcoran's radio career.
Carney and Corcoran have had a contentious history dating to when Corcoran first came to STL in 1984 to work at KSHE (94.7 FM). At that time, Corcoran made an irreverent remark about Carney's father, legendary KMOX radio host Jack Carney, after the elder Carney died of a heart attack after a scuba diving lesson.
Carney said that on Monday after the Soulard broadcast, Corcoran told him if he ever mentioned Corcoran on his show again, "he would kill me."
Corcoran then threatened his family and began to walk away, Carney said.
Carney said he replied to Corcoran that now he knew how it felt to be the butt of insults.
"So J.C. walked back and slap/punched me in the face," Carney said, adding that he did not retaliate.
"I was holding my cellphone and a cardboard guacamole at the time," Carney said, referring to an avocado-shaped pinata used as a prop during Monday's broadcast.
The blow did not leave a mark and Carney did not seek medical treatment, he said.
Corcoran, however, gave this account:
He said he went up to Carney on Monday to "politely insist that he stop saying my name in an insulting, disparaging manner," according to a statement he sent to this bureau on Wednesday.
Corcoran said Carney told him he had "no intention of ceasing his routine abuse of my name" and then claimed that Carney "shoved me away from the car."
Saying he wanted to avoid a noisy scene, Corcoran walked away, but returned when Carney continued to yell at him.
"At that point Carney made an aggressive move toward me, screaming and raising his hand. Instinctively, I swung my hand in his direction, possibly grazing his cheek in the process," Corcoran's statement said.
Carney said he filed a report Tuesday with St. Louis police. The report was not available Wednesday; a department spokeswoman said the case is under investigation.
Carney has been at KTRS since 2011; he worked at KMOX (1120 AM) for 12 years before that.
Corcoran came to STL in 1984 and has worked at many of STL's most prominent stations, including KSHE, KSD (twice), KIHT, KLOU, KTRS, KYKY, KMOX, KXFN and KFNS.
EDITOR'S NOTE: Joe Holleman is a regular paid guest on KTRS' mid-morning show with Jennifer Blome and Art Holliday. Over the years, Holleman also has been a guest on numerous shows hosted by both Corcoran and Carney.