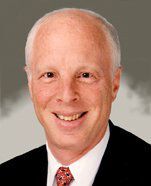 Edward J. "Ted" Koplar, a former chief executive officer of KPLR (Channel 11) and longtime entrepreneur, died Sunday at his home in Ladue. He was 77.
Koplar first worked as a show producer at the station that was started in 1959 by his father, Harold Koplar.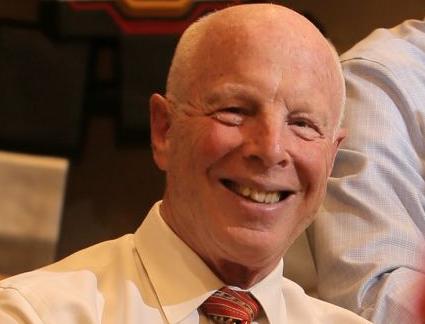 The younger Koplar became president and chief executive in 1979 and under his leadership KPLR was consistently ranked among the top independent stations in the U.S.
The station became affiliated with the WB Network in 1995 and was sold to Acme Communications in 1998.
Under the banner of his World Events Productions company, the show made its debut in 1984 and eventually was aired in more than 80 countries and generated several sequels and spin-offs.
Eric Rothenbuhler, dean of Webster University's communications school, said Mr. Koplar "was quite a character."
"He just had so much energy, and was always looking for new ideas," Rothenbuhler said. "When most people at his age were retiring, he was always searching for a new talent, a great idea."
Said Rothenbuhler, "Basically, he was always looking for, 'What comes next?'"
In 1982, he started KICK, which produced and televised kickboxing matches. Five years later, he formed Koplar Interactive Systems Inc., which developed ways to send information through video signals.
In 2005, Mr. Koplar and one of his sons, Sam Koplar, helped renovate Maryland Plaza in the Central West End.
Mr. Koplar returned to television ownership in 2009 when he founded KRBK (Channel 49) in Springfield, Missouri. He sold the station in 2018.
He served on numerous civic boards, including those for Barnes-Jewish Hospital, the Nine Network, Webster University and Missouri University of Science and Technology.
Mr. Koplar is a member of the St. Louis Media History Foundation's Hall of Fame and of the Gold Circle of the National Association of Television Arts and Sciences.
Among Mr. Koplar's survivors are his wife, Nancy Scanlon Koplar; five children, Emilee Wolfe, Robert "Bob" Koplar, Alison Wyatt, Sam Koplar and Kevin Koplar; 11 grandchildren; and a sister, Susan Brown.
Funeral services are private.
Ehrhardt, who has a relentlessly upbeat demeanor, takes the job seriously but not himself. 
St. Louis TV meteorologists: Where are they now?
Introduction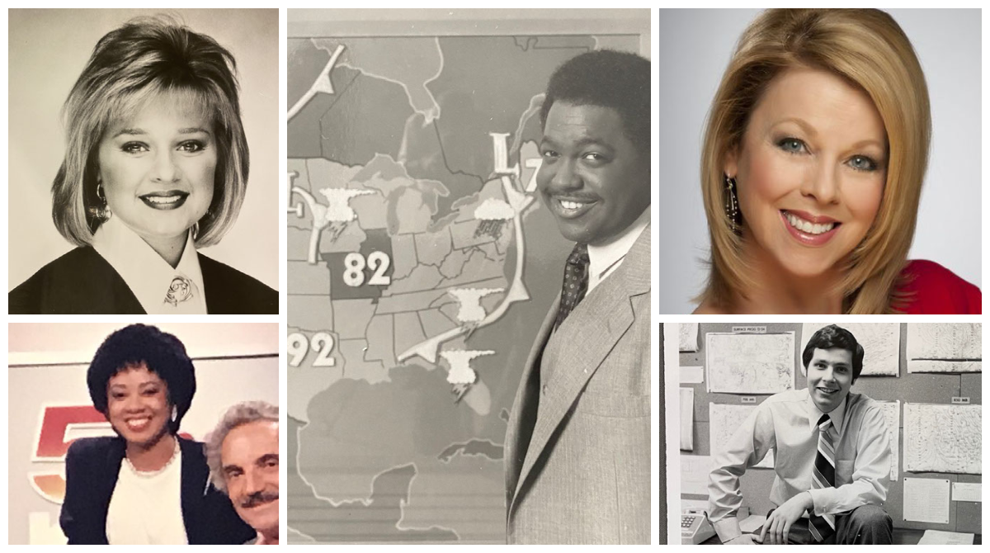 St. Louis gets more than its share of weather action. 
We've had historic floods, heat waves, blizzards, tornadoes and wild temperature swings. On Nov. 11, 1911, the temperature swung 60 degrees on a single day. 
There's some truth in the saying that if you don't like the weather here, just wait five minutes. We've coined "Starm Mode" and the French toast forecast, as in how much milk, bread and eggs are required to weather a storm. 
Naturally, the weather is a huge part of the local news report. Those whom we trust to predict our weather have also made news, in both tragic and enduring ways. The suicide of Bob Richards in 1994 shocked the region. 
Dianne White Clatto was the first Black weathercaster in the country when she joined KSD-TV in 1962, where she worked for more than 25 years. Longtime weatherman Jim Bolen had also appeared as "Cookie" in the children's show "Cookie and the Captain." 
We caught up with a few meteorologists who forecasted locally and asked them to tell us what they are doing now (their answers have been edited for length and clarity). 
Dave Murray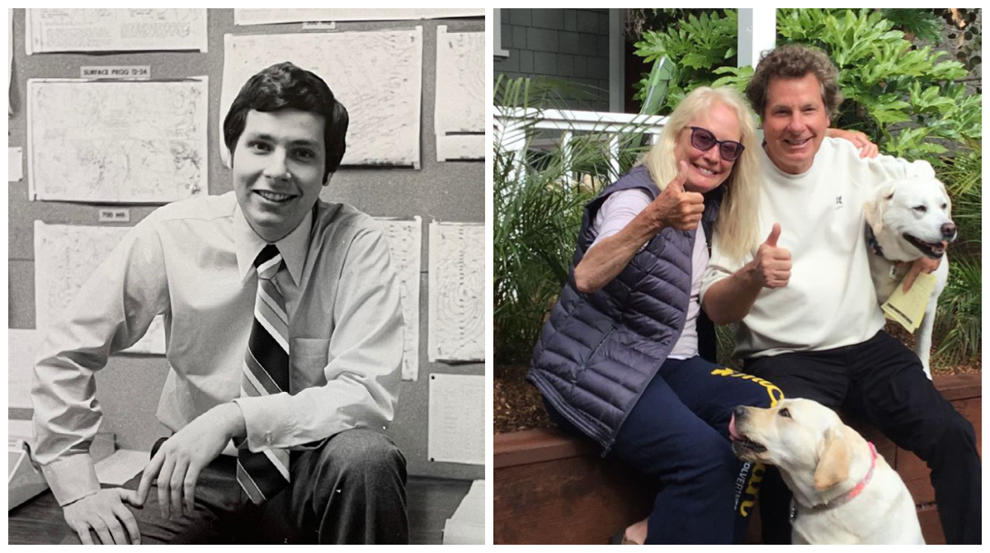 Then • In 1976, I became the first certified meteorologist on nightly local newscasts in St. Louis on KSDK-TV at age 22. This career was my dream since third grade when I became fascinated with weather. I was hired while in graduate school focusing on thunderstorm research. On the air, I integrated moving, color radar graphics with scientific explanations in forecasts. I hold the record for severe weather, live continuous coverage — staying on-air for more than 8 hours in April 2011. By the time I was 29, I became chief meteorologist for ABC's "Good Morning America" and "World News This Morning" in New York. But I missed severe weather forecasting and returned to KTVI-TV in 1990. After a career total of 12 Emmy awards, I retired after 42 years in television in 2018.
Now • Weather is still a big part of my life. I can be heard on radio daily, live on "The Dave Glover Show" on 97.1 FM, on "The Viper" 100.7 FM station in St. Charles and on KBDZ FM's "J.C. Corcoran in the Morning." My Facebook page, Dave Murray's Weather, has nearly 100,000 followers. There, I answer questions in addition to daily and seasonal forecasting. I work from a small studio at home. I keep active walking our dogs, Rain and Snowflake, playing golf, pickleball and growing vegetables in the garden. Best of all, I finally have evenings free at home with my wife of 40 years, former KSDK reporter, Janis Settle Murray. We have been blessed with one grandchild who just turned 1 year old. And yes, I still have that full head of naturally curly hair. As my early picture shows, I tried to control it when I started out. Later, I said the heck with it and let it go. We mow it a little now, like the lawn, about once a month.
Cindy Preszler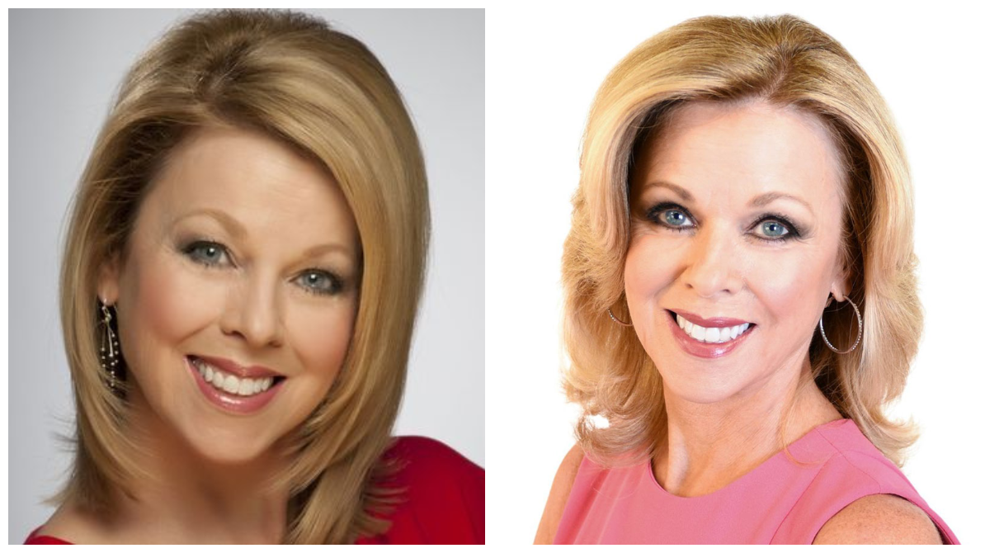 Then • I was the chief meteorologist from 1998 to 2016 at KSDK. I feel very fortunate to have worked with some of the best broadcasters and meteorologists in the country there. Some of my favorite times include doing shows with Kay Quinn, Mike Bush and Frank Cusumano at Busch Stadium for the Cardinals playoff games in October. We hated the cold but still had so much fun cheering on the Cards and fans. Kay and I were so bundled up, we looked like Randy in "A Christmas Story." I loved doing emcee work for the various charities, speaking engagements and parades. St. Louis viewers are so generous with their support, and we enjoyed talking with them at every occasion. I had the opportunity to meet big stars like Jimmy Fallon and Conan O'Brien. But of course, so many of my favorite memories are about the weather. I couldn't have done my best work without my colleagues and very good friends Mike Roberts, Scott Connell, Chester Lampkin, Anthony Slaughter, Jessica Quick, Ric Kearbey, Bree Smith and Garry Seith. All the folks I worked with at KSDK are family to me and always will be.
Now • After a year of running my own weather website, WeatherSTL.com, I realized how much I missed working in TV. So, I accepted an offer from WFTX Fox 4 in Fort Myers, Florida. We moved down here in January 2019. Now I'm doing the 5 p.m. and 6 p.m. weathercasts Monday through Friday. I couldn't be happier to be living in paradise. The weather is sunny and warm, but look out for those hurricanes. I still have a bit of a love affair going with St. Louis. We miss all our family and friends back home but enjoy having them come visit, at least after COVID has passed.
Mike Roberts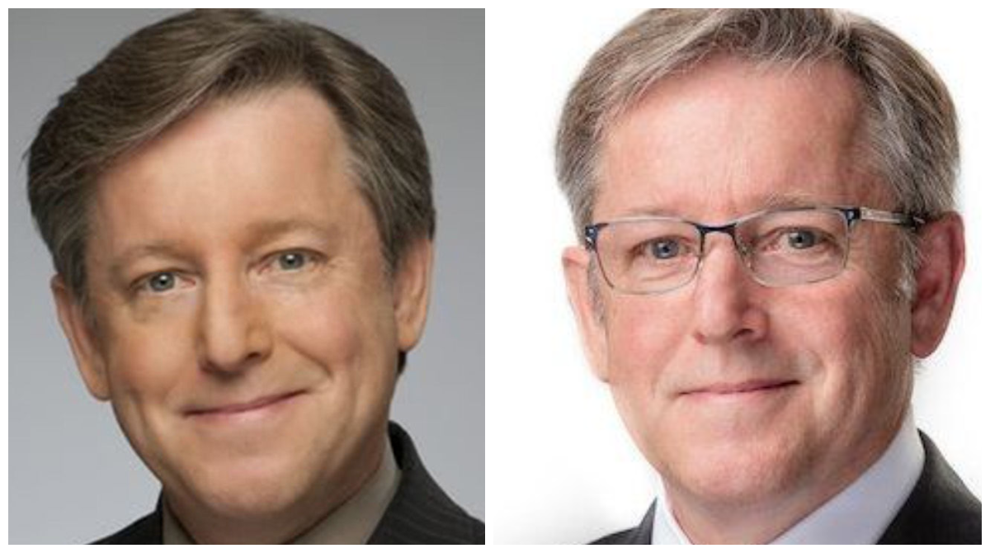 Then • My first month in St. Louis was crazy. It was December in 1989 at KMOV. We had three ice storms the first 10 days of the month followed by record cold, then two inches of snow before Christmas. After three weeks of being indoors, everyone went outside to enjoy the snow but forgot about the ice underneath. The area's emergency rooms filled up. A few years later, the flood of 1993 was just astounding. And long. I moved to KSDK in 1996 and stayed until 2016. The most active period of severe weather during my entire career started with the Sunset Hills tornado on New Year's Eve in 2010 and continued through the Good Friday tornado in St. Louis on April 22. St. Louis didn't lose a single life. Exactly one month later the Joplin tornado hit with far more tragic results.
Now • I became a hospice volunteer in 2001 and found that to be quite a moving experience. Later, when my wife went through hospice, I was given an even deeper insight to the hidden beauty in end-of-life care. So, when I was faced with the prospect of having to choose another career path, I hoped it would be doing something with those who were finishing their life journey. I worked for a year at Home Care Assistance helping to provide in-home care and then for two years at the Visiting Nurse Association as the manager for marketing and communications. In 2019, I became the business development manager for Ascension Living — Live at Home. We provide assisted living for those who would like to continue living comfortably and securely in their home. In 2014, I remarried and my wife, Karen, and I live in Godfrey.
Garry Seith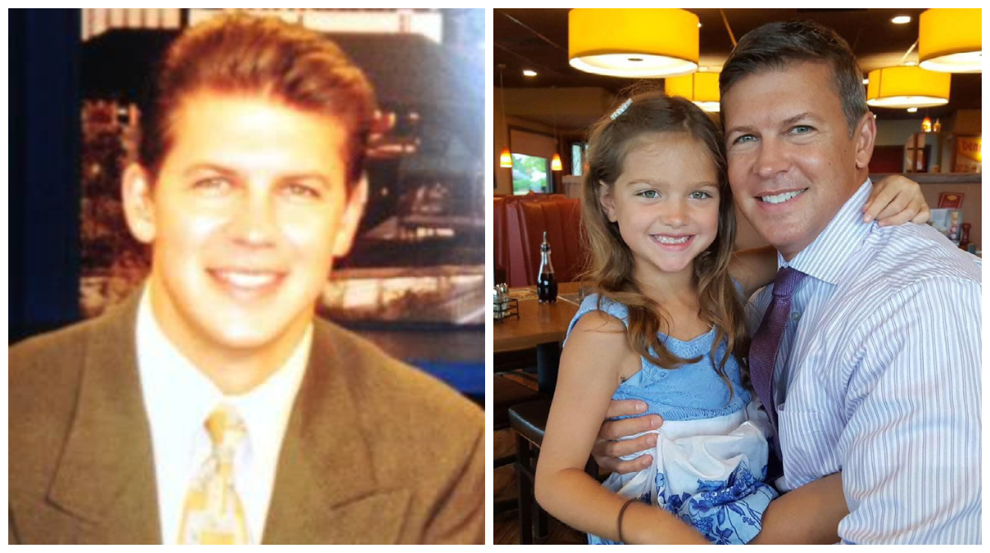 Then • My media career in St. Louis began in August of 1998 with KSDK. I worked weekends and filled in during the week where needed. A year later, I joined KPLR and served as its chief meteorologist until 2006 when I accepted a position with CBS in Dallas-Fort Worth. I was gone for almost a decade, so it's an honor to be remembered in St. Louis. In 2013-14, I made one of the most important decisions of my life. I quit the media business and moved back to St. Louis for my daughter. She was 4 to 5 years old. I also wanted to be closer to my parents in their senior years. I ended up back on-air with KDSK reporting traffic and covering significant weather events. It was supposed to be a temporary thing that lasted three years until 2017.
Now • Since leaving the news, I've been a public speaker, spokesperson, emcee and coach. As a coach, I'm instructing others how to speak on camera. Now that COVID has radically changed the face of business, the need for a skilled on-camera presence is even greater. Being a meteorologist, I'm focusing my time on the burgeoning field of forensic meteorology. It's the process of reconstructing weather for a given time and location through historical data and other sources. Imagine the numbers of personal injuries and property damage caused by just one ice storm or tornado or flood. Insurance companies and the legal system rely on meteorologists to be an expert witness and attest to the accuracy of the weather information. Also, this year I will be getting more involved in commercial work and corporate speaking roles. While spinning several plates in various areas may not be as glamorous as being a TV weatherman, it has allowed me to do something very important and meaningful — being more involved in my daughter's life.
Janice Huff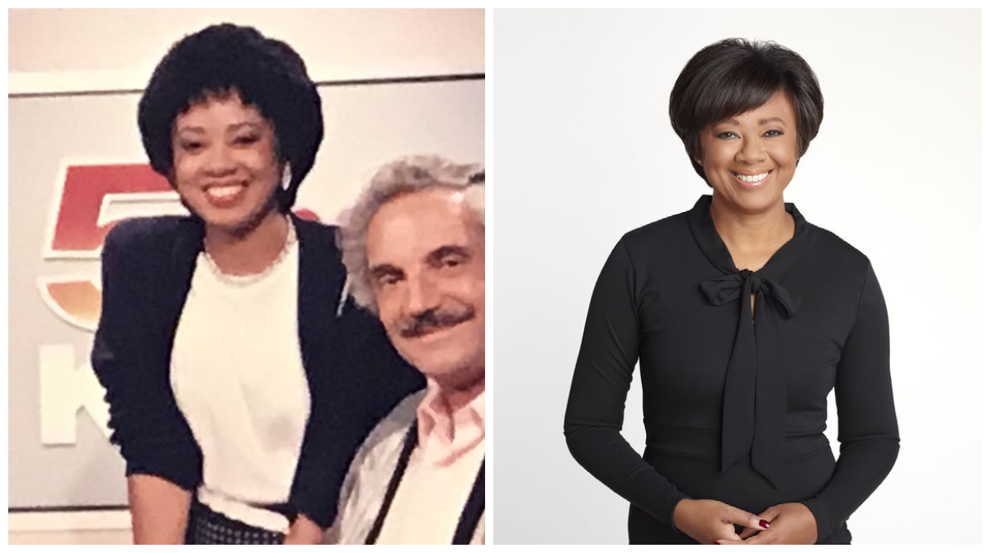 Then • I came to KSDK in 1987 from WRBL-TV in Columbus, Georgia. I was the morning and noon meteorologist on "Today in St. Louis" with Jennifer Blome and Art Holliday. I also worked with other legends there, like Karen Foss, Huel Perkins and John Fuller. During my time in St. Louis, I was awarded an Emmy for best weathercaster in 1988. Some of my favorite memories and places to visit were the Gateway Arch, Forest Park, the St. Louis Zoo, the Missouri Botanical Garden, Union Station, restaurants on the Hill, St. Louis Cardinals baseball games at the old Busch Stadium, and listening to live blues music at the numerous clubs throughout the city. I would also make occasional trips to Chicago, Kansas City, Detroit and Indianapolis. Some of my favorite local foods were toasted ravioli and concretes from Ted Drewes. My all-time fave were the buffalo wings and fries at Culpepper's in the Central West End. I left KSDK and St. Louis in 1990 to work for KRON-TV in San Francisco.
Now • I serve as chief meteorologist for NBC 4 New York, delivering weather reports for the station's 5 p.m., 6 p.m. and 11 p.m. newscasts. I was inducted as a Fellow of the American Meteorological Society in 2020 and am a member of the New York State Broadcasters Association's Hall of Fame. I have provided weather information to tri-state viewers for more than 25 years. I joined NBC 4 New York in January 1995 and held a variety of positions at NBC. I came to WNBC from KRON-TV, the NBC affiliate in San Francisco, where I was the primary on-air meteorologist for the station since 1991. I'm a native of Manhattan and graduated from Florida State University at Tallahassee with a major in meteorology. I am married and live in New Jersey.
Jessica Quick Hafner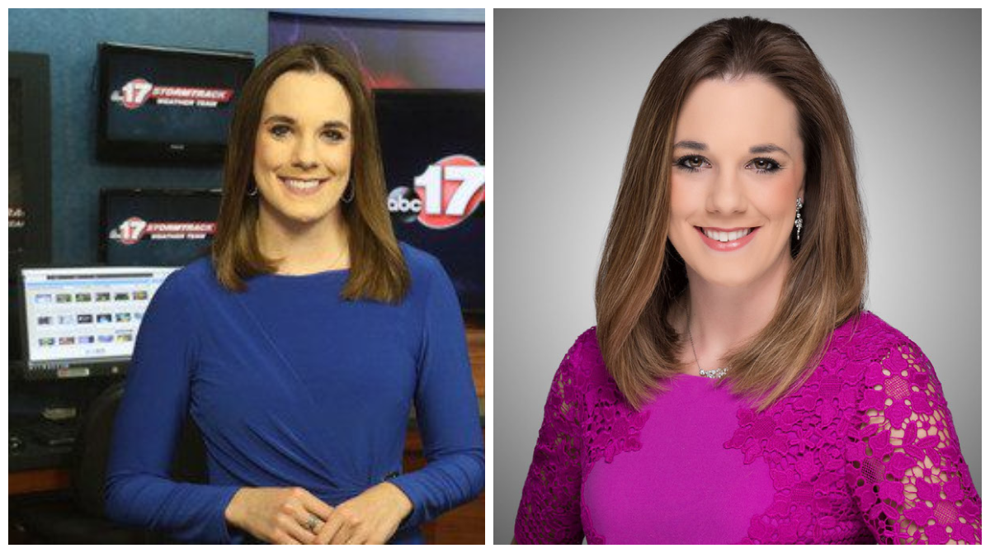 Then • I worked at KSDK from 2016-2019 and had the pleasure of working with Cindy Preszler and Mike Roberts for a short time. It was an honor to learn from them and to spend so much time with Scott Connell and Craig Moeller during my time at Channel 5. I am grateful for their expertise in forecasting St. Louis' fickle weather. The most memorable severe weather events I covered happened within a week of each other: An EF-4 tornado hit Perryville, Missouri, in February 2017, and then a week later another weaker tornado hit Wentzville. I enjoyed putting together a piece for the 25th anniversary of the Great Flood of 1993 and telling the story of Prairie du Rocher, Illinois. I won't forget covering the weekend-long winter storm in early January 2019 with nearly a foot of snow near the metro and spending hours watching people push their cars up the hill near Highway 141 at Interstate 64.
Now • Since early 2019, I have been back at the networks of Mid-Missouri, where I am the chief meteorologist for the Fox and ABC affiliates for Columbia and Jefferson City. I have enjoyed the challenges of leading the team, mentoring our younger student forecasters and planning our severe weather coverage. I've grown so much as a lead forecaster for our wild Missouri climate, and I'm always looking forward to our active days. I've enjoyed exploring the mid-Missouri trails, state parks and hidden gems with my dogs. I'm thankful for more time for pre-COVID travel with a nightside schedule. I married my St. Louis-native husband at SLU College Church in November 2020. We're in the process of building a house in Columbia. We're looking forward to hopefully watching some Cardinals baseball in person this summer.
Trish Brown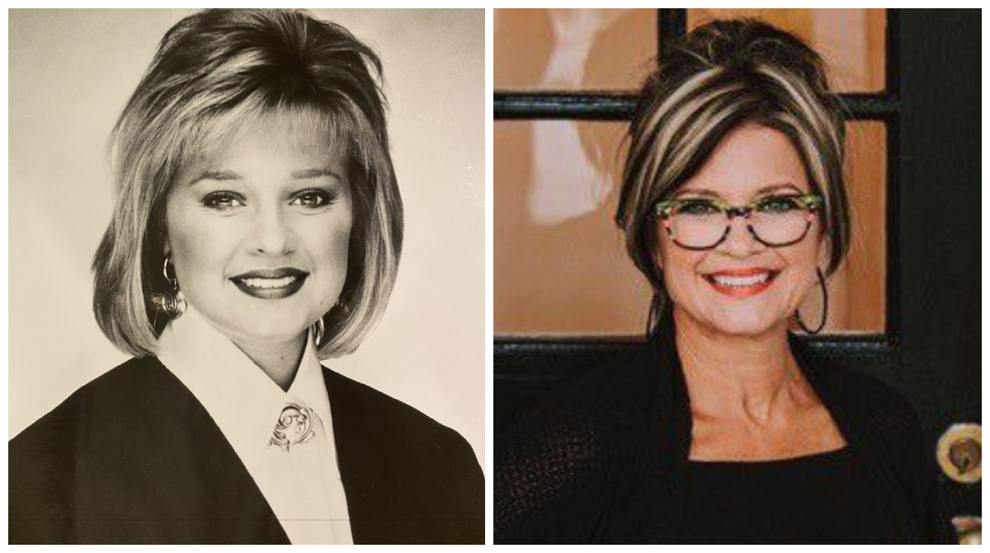 Then • I was KMOV's chief meteorologist from 1991 through 1998. I was a young hire at 23, but I had worked for five years in the business before coming to St. Louis. I had big shoes to fill after Mike Nelson, but St. Louis welcomed me with open arms. I forecasted through the floods of '93 and '95, which were tough times for the community. We also started the "Clear the Air" campaign to lower pollutants and advise the city of poor air quality days. My favorite memories come from working with the people from Channel 4 and forecasting from St. Louis events like the VP Fair, the Muny, airshows and the Great Forest Park Balloon Race. One year, while recording the race, we landed in a horse pasture owned by Anheuser-Busch. They were kind to cut down the fence so we could get out. Another year, the balloon landed sideways, and we were dragged about 40 feet before coming to a stop. There was never a dull moment.
Now • Since my time in St. Louis I mostly have stayed home to raise our three daughters. Emma, 24, lives in Chicago and works in advertising. She also is a wedding photographer. Our second daughter, Alyse, will graduate from nursing school this May and is ready to take on the pandemic. Mia is 17 and still at home. She has dreams of being an astrophysicist. As they began to leave the nest, I started to fill my time with other things. I recorded a year-long radio show called "Get Real," which dives into classical metaphysics. I am a client manager for AuctusIQ, a company specializing in developing global sales forces. I started a home staging business. And, by the way, I have some umbrellas to sell. They all say, "Trish Said It Would," if I can find anyone interested. Lol.
Bryan Busby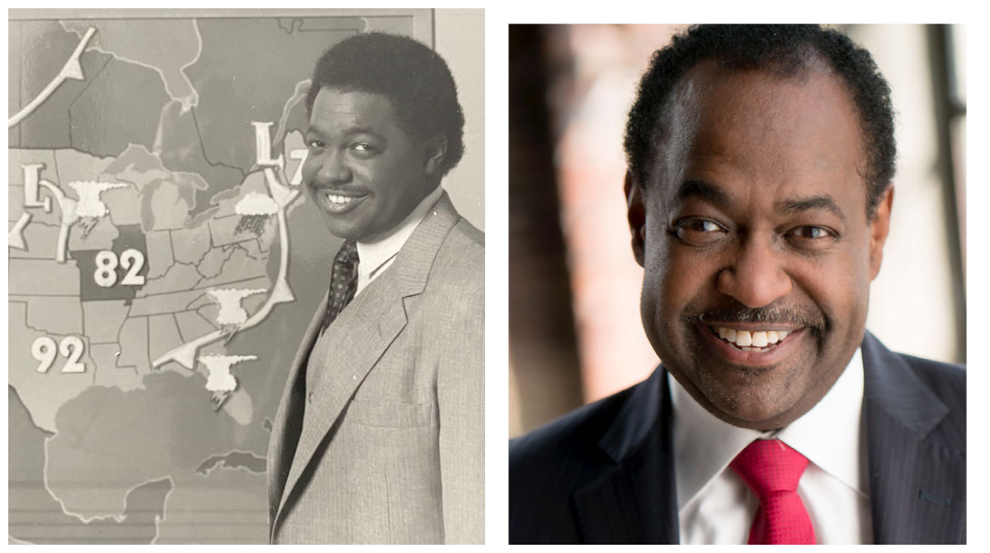 Then • In 1978, I started on the weekend news at KTVI my freshman year at St. Louis University, where I majored in meteorology. For a couple of years in the early '80s I did the weekend weather alongside Christine Buck at KPLR. I stayed there until going back to weekends at KTVI when Ron Yaros was promoted to the weeknight broadcasts. Because I was working full-time while a full-time student, it took a few additional years to earn my bachelor's degree. But that extra time allowed me to hone on my broadcasting skills guided by the wonderful mentors who were on the weekends with me those last few years: Sports anchor Greg Gizinski and news anchors Al Ruechel and Donn Johnson. I also used the time to take a couple of graduate-level courses. In the fall of 1985, I left St. Louis for my first full-time, multi-year contract with KMBC in Kansas City.
Now • In November 1985, I packed up my Chevy Citation and drove to Kansas City to become their weekend meteorologist. I only anchored the weekend newscasts until early 1987, when I was also assigned the 5 p.m. newscast on the other three days of my work week. They premiered a morning newscast in February of 1988, so I was doing both morning and early evening newscasts for a few months — working from 5 a.m. until 5:30 p.m. In June of 1988, I was promoted to chief meteorologist. In August 1998 I was a finalist for the weathercaster position on ABC's "Good Morning America." It was a great week auditioning. But I've remained in Missouri ever since, delivering the weather forecasts Monday through Friday at 4 p.m., 5 p.m., 6 p.m., 9 p.m. (on our CW sister station) and 10 p.m.
Chester Lampkin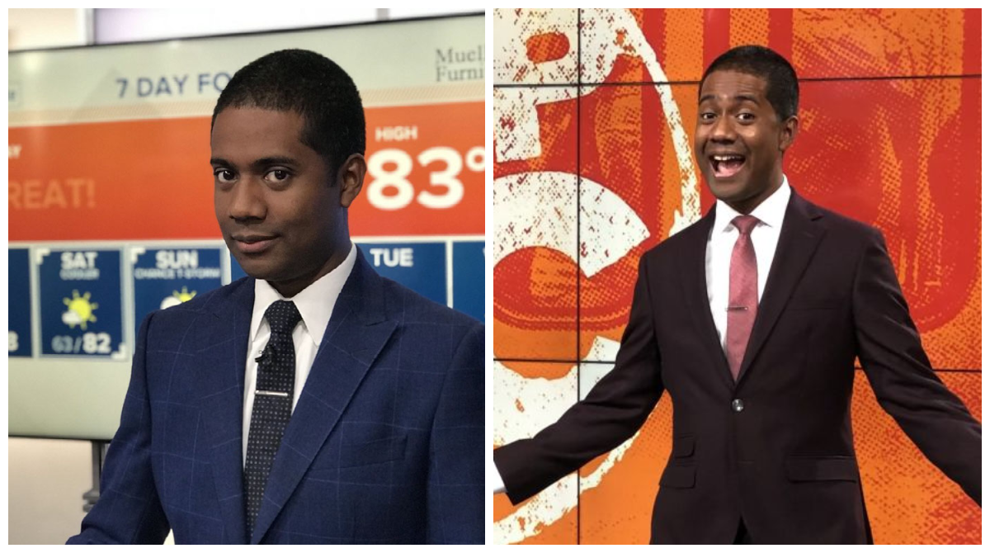 Then • I did two stints at KSDK in St. Louis. First, I was the weekend morning meteorologist from 2012 to 2015. I took a break to work abroad in New Zealand. Then I returned as a weekday morning meteorologist from 2017 to 2019. The most memorable thing was working with an amazing team in my hometown. Every day was an opportunity to bring a few smiles and good vibes to the city I still love to this day. Our numerous public appearances were also a highlight along with the extreme weather that St. Louis experiences. Additionally, KSDK was the station I grew up watching in the '80s and '90s, so being able to work with some of the veterans at 5 On Your Side was a dream come true.
Now • I've continued living out my dream career on the East Coast, working for the CBS station in Washington, D.C., WUSA-TV. We are the sister station of KSDK, owned by the same parent company. I've covered numerous storms out here, including a couple of hurricanes and tropical storms. I'm still waiting on the next big Nor'easter, which is a big storm that can cripple the East Coast with snow. I've also had a firsthand view of the political change and unrest here in D.C. I'm the weekend evening meteorologist, which means no more early morning alarms for me.