Former KMOV (Channel 4) meteorologist Meghan Danahey — fired by the station four months ago — is not going quietly.
Danahey, whose legal name is Meghan Hodge, has filed a sex and age discrimination lawsuit against the station's owners, Meredith Corporation of Iowa.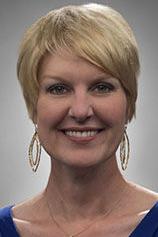 In the suit filed Friday in St. Louis Circuit Court, Danahey also names station news director Scott Diener as a defendant.
In her suit, Danahey claims that Diener's conduct toward her was "intentional or reckless" and "extreme and outrageous."
Diener referred questions to a Meredith spokesperson, who said the company had not yet seen a copy of the lawsuit and therefore would decline comment. 
Danahey, 46, was hired by KMOV as a meteorologist in April 2014 and worked weekday mornings and afternoons. Before coming to town, she had worked in Texas, Florida and North Carolina.
Danahey alleges that in February 2018, Diener planned to remove her from her time slots and reassign them to lead meteorologist Steve Templeton and Kent Ehrhardt, both men.
Her lawsuit claims that after she complained about the pending demotion to her union, SAG-AFTRA, Diener backed off his plan.
The suit flashes forward to January 2020, when Danahey alleges that Diener demoted her by moving her to weekend broadcasts.
Danahey argues that Diener assigned her to perform general-reporting duties, even though she had no experience in that area. She filed a formal grievance with her union that same month. 
The station eventually fired Danahey in September.
In her suit, Danahey argues that the actions by the station and Diener have damaged her earning potential and that she also "suffered extreme emotional distress and physical harm."
She is asking for a minimum of $75,000 across three separate claims of discrimination, retaliation and emotional distress.