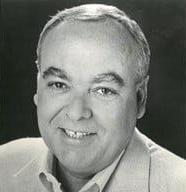 Funeral services for John Larrabee, a longtime voice on STL radio, will be held Saturday in Troy, Missouri.
Larrabee, who was 73, died July 10 at his home in Moscow Mills.
Often referred to as "Johnny Mac," Larrabee was a music disc jockey for 21 years, 1980-2001, on KYKY (98.1 FM), where he hosted "Cartunes," the afternoon-drive show.
After being let go from KYKY in 2001, Larrabee worked for about eight years as a traffic pilot and reporter for KMOX (1120 AM).
A California native, Larrabee came to St. Louis after working at stations in California, Utah, Tennessee and New York.
Larrabee also founded the now-defunct Teddy Bear Express, a program that distributed the toys to various children's hospitals.
Visitation is from noon to 2 p.m. Saturday at Kemper-Keim Funeral Chapel, 351 Monroe Street in Troy, Missouri. A service will be held at 2 p.m. at the funeral home chapel.