Angela and David Porter started the FURminator pet-grooming company in 2002, sold it in 2008 for millions of dollars, then moved to a Ladue estate the next year.
But now the fur is flying in a divorce fight that includes claims of spying, squandered money and "evil motives."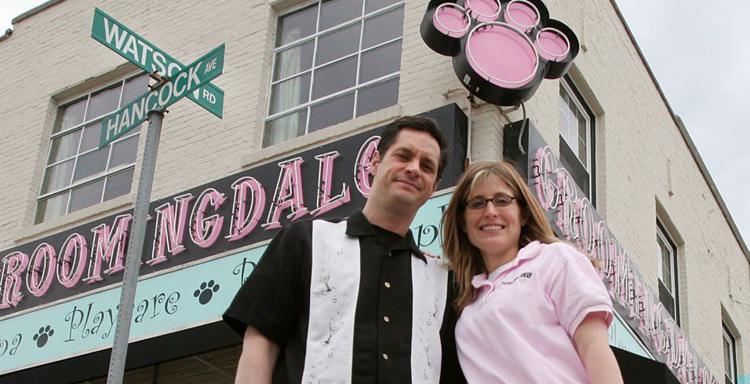 Angela Porter developed a de-shedding tool in the late 1980s when she owned Groomingdale's pet salon in south St. Louis. The couple was married in 1998.
Angela Porter filed for divorce in July 2018 in St. Louis County Circuit Court. Since then, more than 40 court actions have been filed.
On July 3, she went back to court to claim that after the couple sold the company, David Porter "began making extravagant purchases and invested large sums of money" in Popticals, a high-end sunglasses company.
She claims that his operation of Popticals has led to "the squandering of more than $13 million."
Furthermore, she alleges that to hide the spending, David Porter "surreptitiously accessed" her computer and cellphone and monitored her private communications. 
Angela Porter also claims that when she found out he'd gotten into her phone and computer, "he admitted to taking the iPad and reading (her) personal communications, including text messages and emails."
Saying he "possessed an evil motive," she wants at least $75,000 in damages from him for invasion of privacy, tampering and computer fraud.
David Porter also has filed motions.
One contends that in September 2018, Angela Porter froze assets that he needed when Popticals was at a "critical juncture."
David Porter claimed that his wife had conducted a "campaign of disruption" to damage the company's operations.
He also has claimed that although his wife has been staying primarily at a $5 million home they own in Florida, she employed what he "believes to have been armed guards" to remove him from the Ladue home.
That Ladue home is a 34-acre estate in the 1700 block of Woodlawn Avenue, which they bought in 2009.
According to a Post-Dispatch article at the time, the Porters paid $7.5 million for the property and then built a house, a 13-stall stable, pool and an indoor equestrian arena.
Aside from Ladue and Florida, the couple also own properties in Sunset Hills, Fenton and the Lake of the Ozarks.
David Porter is on record as liking finer things. An August 2017 article in Sophisticated Living magazine, titled "The Empire of David Porter," says the interview was conducted in his two-story office/garage known as the "Dave Cave."
He told the publication that things he can't live without include: "Italian cars, specifically a lime green Lamborghini Aventador Roadster," and "Italian driving shoes. Porter says, 'Ferragamos please!'"
In March, Circuit Judge Nicole S. Zellweger appointed a special master to help reach a settlement. Attorneys for both parties declined to comment.