St. Louis is home — as in the ship of that name, and home as in Mayport, Florida.
The latest ship to bear the name of our fair burg, the USS St. Louis, arrived at its home base earlier this week and awaits official commissioning on Aug. 8.
The ship's official sponsor is STLer Barbara Broadhurst Taylor, wife of Enterprise Holdings executive chairman Andy Taylor.
She kicked off the vessel's construction in May 2017 when she authenticated the ship during a keel-laying ceremony. She also broke the champagne bottle in christening the ship in December 2018.
The ship, officially known as a littoral combat vessel, is designed to combat both surface and submarine threats in coastal waters. It is 388 feet long and can travel more than 40 knots (about 46 miles an hour). It has a crew of about 70.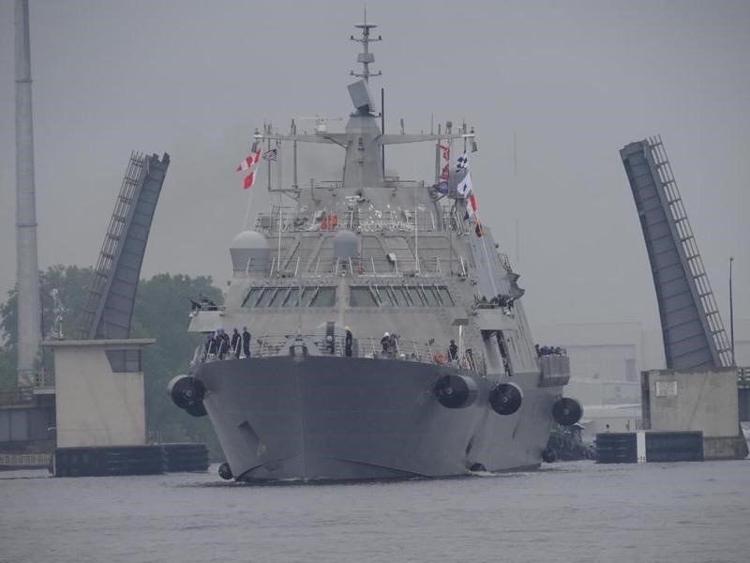 The journey to Florida began about one month ago, when it left Wisconsin, sailed the St. Lawrence Seaway and then traveled open sea to its base.
In Florida, the ship now joins its sister littorals, all named after cities: Billings, Detroit, Indianapolis, Little Rock, Milwaukee, Sioux City and Wichita.
This will be the seventh ship to bear St. Louis' name.
The first was a sloop of war launched in 1828. Then the name was carried by a Civil War gunboat, a Spanish-American War troop ship, a World War I cruiser, a World War II light cruiser, and most recently a cargo ship decommissioned in 1991.
Your weekly capsule of local news, life advice, trivia and humor from Post-Dispatch columnist Joe Holleman.