On Saturday, the Navy's newest combat ship sailed from Marinette, Wisconsin, on its way to Florida, where it will officially be commissioned to join the Navy's operating fleet on Aug. 8.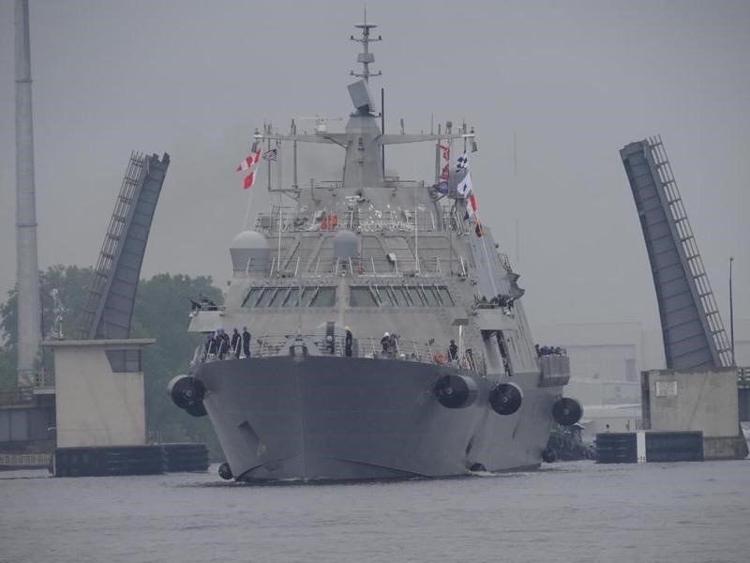 Even better, the ship is flying the flags of the St. Louis Blues and Cardinals (among others) on its voyage.
The trip, known as a "sailaway," signals the end of the ship's construction period. The Navy still refers to the ship as LCS-19; it will not get our fair burg's moniker until it is commissioned.
During its one-month journey to Florida, the ship will go into the Great Lakes to the Wellington Canal, then through the Saint Lawrence Seaway and into open sea.
The ship's official sponsor is STL's own Barbara Broadhurst Taylor, wife of Enterprise Holdings executive chairman Andy Taylor.
Barbara Taylor kicked off the ship's construction in May 2017 when she authenticated the ship during a keel-laying ceremony. Her initials were welded onto a steel plate that is part of the ship's hull. She also broke the champagne bottle on the ship when it was christened in December 2018.
In January, the ship's top two officers and highest-ranking enlisted man were in STL and met with students from the Cleveland Junior Naval Academy and Vashon, Pattonville and Fort Zumwalt East high schools.
The Navy reports this will be the seventh ship to bear St. Louis' name:
The first was a sloop of war launched in 1828. Then the name was carried by a Civil War gunboat, a Spanish-American War troop ship, a World War I cruiser, a World War II light cruiser, and most recently a cargo ship decommissioned in 1991.
The latest ship is designed to combat both surface and submarine threats in coastal waters. It is 388 feet long and can travel more than 40 knots, which is about 46 miles an hour.
Your weekly capsule of local news, life advice, trivia and humor from Post-Dispatch columnist Joe Holleman.