A Midwestern newspaper, struggling to stay afloat in a climate of media mistrust and predatory publishing companies, still fights to expose corruption...
Who thinks up these crazy storylines anyway?
Meet Chris Lawing, the writer and director of the crime thriller "Liberty."
Under the banner of Mercury Films, Lawing and his cast and crew spent three days in late March shooting at two locations in south St. Louis and one in Troy, Illinois.
Lawing hopes to have the 12-minute short subject ready for a few film festivals this summer, and to eventually raise enough money to turn his work into a feature-length film.
Setting artistic aspirations aside, Lawing gave the bottom-line about filmmaking.
"Film is a business, and you have to raise the money," he said. "So we wanted to have some proof of concept, something to show investors that we have a top-notch product."
A Kansas native who has been in St. Louis for 16 years, Lawing's "day job" is being a filmmaker, of the commercial/promotional variety.
But anyone who makes any kind of film always holds the notion of one day making a movie that packs theaters with approving fans.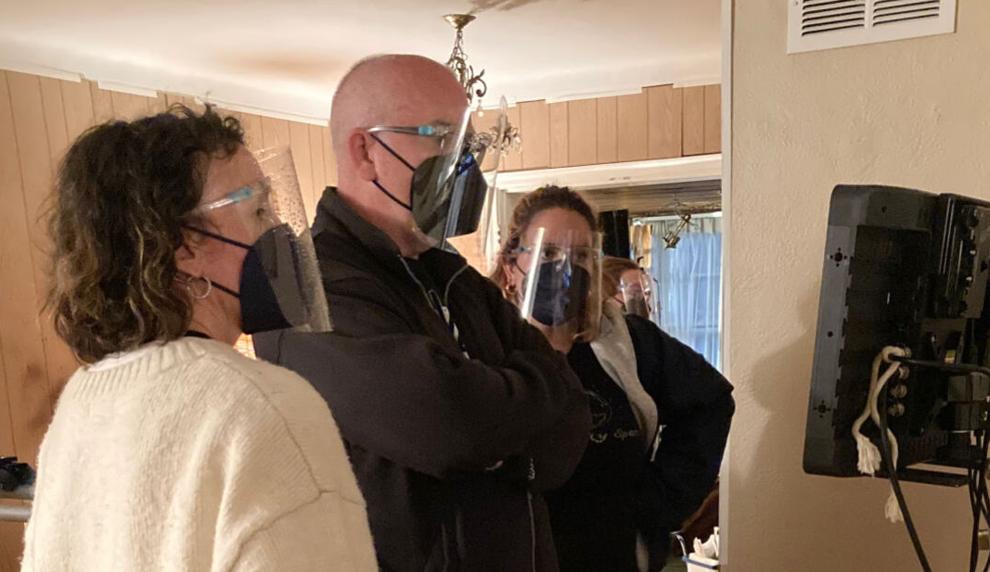 For Lawing, that dream dawned while growing up in Kansas with "a family of film buffs." And it continued when he went off to the University of Kansas.
It was there, in 1994, that he met his future wife, Angie Clerc Lawing, a lifelong St. Louisan, in a video production class. She serves as the producer on "Liberty."
The oldest of their three children, college junior Helene Lawing, worked as a camera assistant.
So if family support plays any part in cinematic success, Lawing is set. Angie Lawing is one of 10 children, and her mother is one of 11 — most all living in St. Louis.
"Liberty" is set in present-day Kansas, where a young reporter lands a job after having her career damaged while working in New York.
But once on the beat in the seemingly bucolic town, she uncovers some nefarious corporate misdeeds in the local meat-packing industry.
And while she fights to get the story, the newspaper, now run by the longtime owner's widowed wife, tries to avoid the greedy grasp of takeover companies.
Speaking to Lawing's "top-notch product" goal, the film features some top-shelf talent.
First and foremost is Jim Beaver, a well-known character actor who has had recurring roles in television series such as "Deadwood," "Justified" and "Supernatural."
"Jim is just amazing," Lawing said. "He plays the villain — and he does it quite well. He was here in St. Louis for two days and he just nailed it" on every take.
Playing the newspaper owner is Dale Soules, who starred as Freida Berlin in "Orange is the New Black" and won three Screen Actors Guild Awards for ensemble acting.
Landing the role of the young reporter was Natasha Coppola-Shalom, whose uncle is Nicolas Cage and great-uncle is director Francis Ford Coppola.
"So while the reporter is trying to resurrect her career, she runs into this story of corruption and runs up against the meat-packing plant's security boss," Lawing said.
He said getting access to the Troy site was a stroke of luck.
While scouting locations in 2020 during the coronavirus shutdowns, Lawing discovered that the old offices of the Troy Times-Tribune had been empty since the paper moved to new digs in February 2020.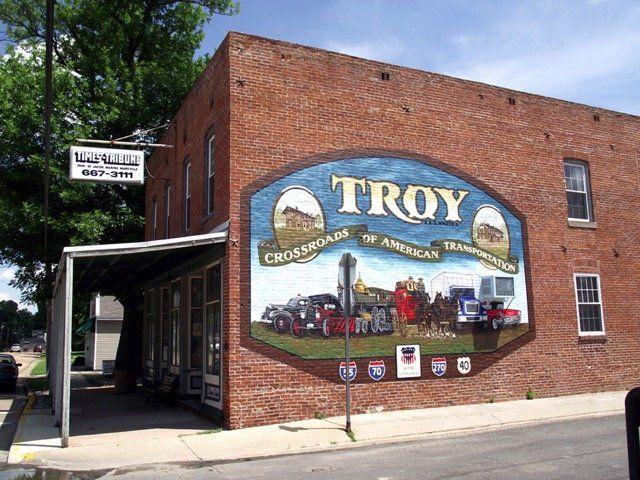 Political history buffs may recall that former Illinois U.S. Sen. Paul Simon got his public start in the 1950s as the editor-publisher of the Troy Tribune.
Lawing said the old newspaper office had not been remodeled, so he could shoot the newsroom scenes without spending much on modifications.
The two St. Louis sites were a house on Rhodes Avenue, near Bishop DuBourg High School, and the Clartec chemical warehouse in the 5000 block of Fyler Avenue.
And speaking again of family, that warehouse once was owned by Lawing's father-in-law, Oliver Clerc Jr., whose father started a chemical company in 1942.
But getting back to childhood dreams, it should be noted that making movies was not Lawing's first choice of professions.
"Ever since I can remember, I'd always wanted to be a writer — more specifically a poet," he said. "But I quickly realized that I wasn't going to make any money as a poet.
"So that's how I decided on filmmaking."