Greg Amsinger is a nationally known baseball show host, a native of the St. Louis area — and one dedicated shopper.
The face seen most nights hosting MLB Network's "MLB Tonight" could be seen Friday racking up sales at the Cardinals gift shop before the Redbirds met the Washington Nationals in Game 1 of the National League Championship Series.
"It's so rare that I get any time off during the baseball  season, so I'm making the most of it," Amsinger said.
Amsinger was not alone on his spree, being joined by his wife, Erica; daughter Vanessa, 16; and son, London, 9. Together, they had hauled in some jerseys, tee-shirts, caps, jackets, and one foam finger.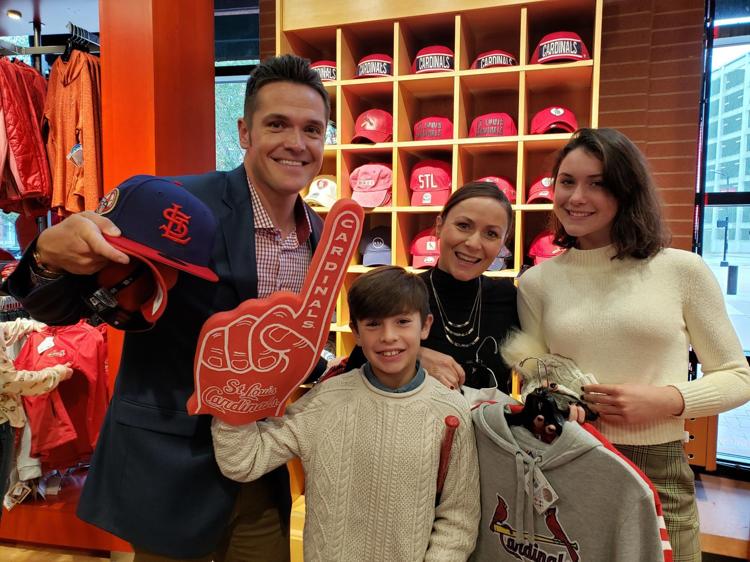 The four days off that Amsinger is enjoying took a little negotiating with his bosses, he said, explaining that during baseball playoffs, he only gets one day off a week.
"So I said 'How about I take all four days I get off in the month and take them at one time.' That way, I could actually sit in the stands and watch a Cardinal playoff game" as a fan, Amsinger said.
Another reason for the trip was a visit to Washington University, where Vanessa, a high school junior, would like the play basketball.
A 1997 graduate of St. Charles High and a 2001 grad of Lindenwood University, Amsinger said his parents have relocated to upstate to New York. But he still has some relatives in the area.
"And I've got some college buddies still around town," he said, adding that he is attending Game 1 with some of them.
A die-hard Cardinal fan who has mentioned more than once that Ozzie Smith is his favorite ballplayer of all time, Amsinger said he works to maintain his objectivity while on the air.
"I always say that I love all 30 teams equally, but I really drive my (studio) partners crazy with my Cardinal rooting during the commercial breaks," he said.
Specifically, Amsinger kept telling his colleagues how he wanted things to go.
"I said we needed the Nationals to beat the Brewers, because they had a better chance of beating the Dodgers. Then we beat the Braves and get (Game 1) here while I was in town," he said.
"So this," Amsinger said, "is the best I could've hoped for."