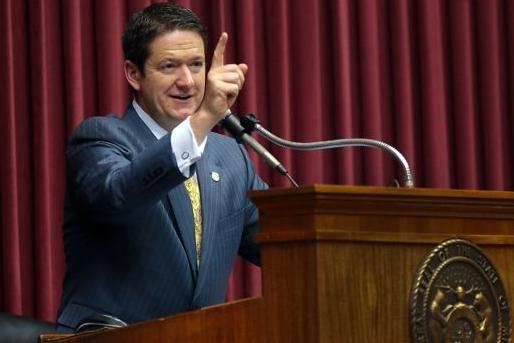 A conservative talk-radio battle is coming soon to a listening device near you.
Starting Monday, "NewsTalkSTL" will hit the airwaves at 101.9 FM, with an on-air roster peppered with familiar local voices and one rising star on the syndicated circuit.
"When people tune in they'll hear voices that they know and trust talking about the issues that impact their city." said Jeff Allen, co-owner and programming boss of the new station.
Because the station uses a translator to get on the air at 101.9 FM, the actual call letters are not the standard digits: It's K270BW.
"Now you see why we went with NewsTalkSTL," Allen said.
The station, which is locally owned and not part of any chain, seems poised to compete for the conservative audience now being served by KFTK (97.1 FM).
Allen was the longtime program director of KFTK, until he was let go in 2018 after the station was bought by Entercom Communications (now Audacy), which also owns KMOX (1120 AM) and several other frequencies.
Longtime STL radio sales executive Joe Rusch is the managing partner of the station, which will operate under the corporate name of Epic STL.
Allen is not the only KFTK alum joining the new station. In fact, much of the on-air talent are alums of STL's first conservative talk station.
One of the more familiar radio names to join the station is Vic Porcelli, a longtime music jock who has worked at several stations in STL over the last 28 years. He will have the helm from 9 to 11 a.m.
Another former KFTKer, who made a short stop in between at KMOX, is Tony Columbo, a longtime co-host on "The Dave Glover Show."
Columbo remained with Glover's show several months after it moved in March to KMOX from KFTK, but then said in June that he was leaving the radio business "for a short time, long time or forever."
Apparently, "a short time" won out and Columbo will be on from 2 to 3 p.m. and also will join Jones' show as co-host.
Katie Fitzpatrick, who for the last three years has been the producer and a co-host on "The Annie Frey Show" on KFTK, will fill the same roles on the Porcelli and Columbo shows.
Chris Arps, who had been doing podcasts for KFTK, will be a co-host of Jones' show.
Arps is a longtime Republican politico who also heads Move On Up, which bills itself as a "social network of African American conservatives and moderates."
The morning-drive slot, 5:30 to 9 a.m., will be hosted by Mike Ferguson, who also hosts an afternoon show at KSSZ (93.9 FM) in Columbia, Missouri.
And finally, two more former KFTKers, lawyer Rodney Boyd and physician Randy Tobler also will join the station and be featured on weekend shifts and occasionally on weekdays.
On the out-of-town side, the new station will feature nationally syndicated conservative commentator Dan Bongino, show will run from 11 a.m. to 2 p.m.
Bongino's show has been the most popular pick-up for stations looking to replace the late Rush Limbaugh.
Also, a short 20-minute show from longtime conservative talker Bill O'Reilly will air at 3 p.m. weekdays.
The station, which also will be heard on 99.1 HD3, will broadcast from the old Emmis/KSHE studios in the Powerhouse at Union Station.