ST. MARY, Mo. — At a tiny church in a little town, a small group honored a big man.
Moses Riney died 100 years ago, after living his entire life around St. Mary — save for the places he went to fight Civil War battles as a corporal in the U.S. Colored Troops.
The gathering was held Tuesday at Immaculate Conception Church in St. Mary, about 70 miles south of St. Louis, and featured the unveiling of a portrait of Riney.
Speakers at the event included some of Riney's descendants, and other works by the Ste. Genevieve Artists Guild were revealed.
All this for a man who in far uglier times was once valued — on the county's property tax records — at $900.
"When I saw those tax records saying Moses Riney was a piece of property worth $900 … and then I thought that he still went off to fight for his country?" Michael Schaaf said, pausing before he could continue.
A member of the Sons of Union Veterans of the Civil War, Schaaf stumbled upon Riney while he was researching his own ancestry. He uncovered the fact that he is related to the white Rineys who once owned slaves.
"I wondered that if I was Moses Riney, could I even begin to forgive this injustice," Schaaf said. "I wondered if I could be such a man."
What we know about the man is this:
Riney was born a slave on Jan. 18, 1844, in Perry County, just outside St. Mary.
The town itself has a quiet past. It sprung up around 1818 as a shipping point for salt and minerals from the nearby Missouri Lead Belt.
It has never had a population of more than 722, in 1920, and its one famous son, until now, was Sonny Siebert, a former major league pitcher who was born there but grew up in St. Louis County.
But in this town, young Moses Riney, owned by a man named Thomas Riney, worked and worshipped during his youth.
Shortly after being emancipated in 1863, Riney traveled to Cape Girardeau in February 1864 to enlist in the Union Army.
He was sent for training to Benton Barracks, now the site of Fairground Park in north St. Louis. Then he joined the 68th Colored Infantry Regiment.
And after that, it was war.
His first engagement was in April 1864 at notorious Fort Pillow in Tennessee, where more than 200 Black Union soldiers were massacred — after they had surrendered.
Surviving that, Riney went on to take part in four other fights, including the Battle of Tupelo and the occupation of Mobile.
He mustered out of the Army in early 1866 and returned home to St. Mary — where he bought a farm not far from where he had worked as a slave.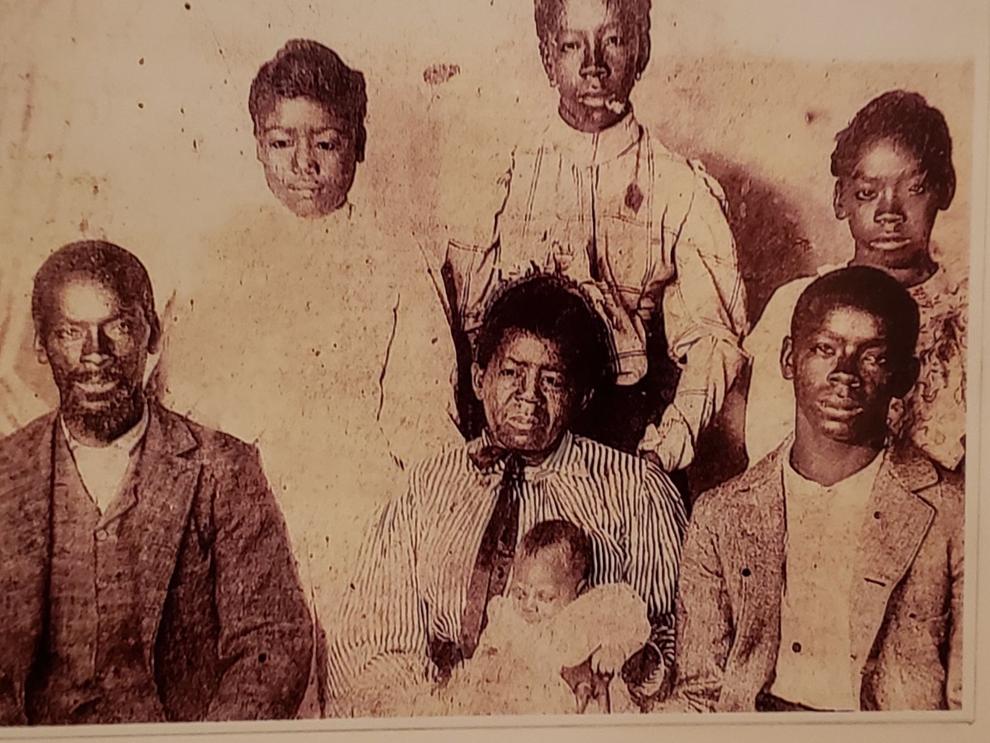 Riney spent the next 55 years of his life in St. Mary, farming, worshipping at Immaculate Conception and fathering 13 children, some of whom never survived childhood.
He died in St. Mary on Feb. 16, 1921, at the age of 77. The dozen or so family members who attended Tuesday's ceremony are just a few of the large clan that exists today.
"The obituaries of him that I've read always mentioned that he was well-liked and respected by both whites and Blacks," said James Riney, a great-grandson.
"And that is such a blessing," he said. "We know racism still goes on, but it's nice to know it wasn't a problem in St. Mary then."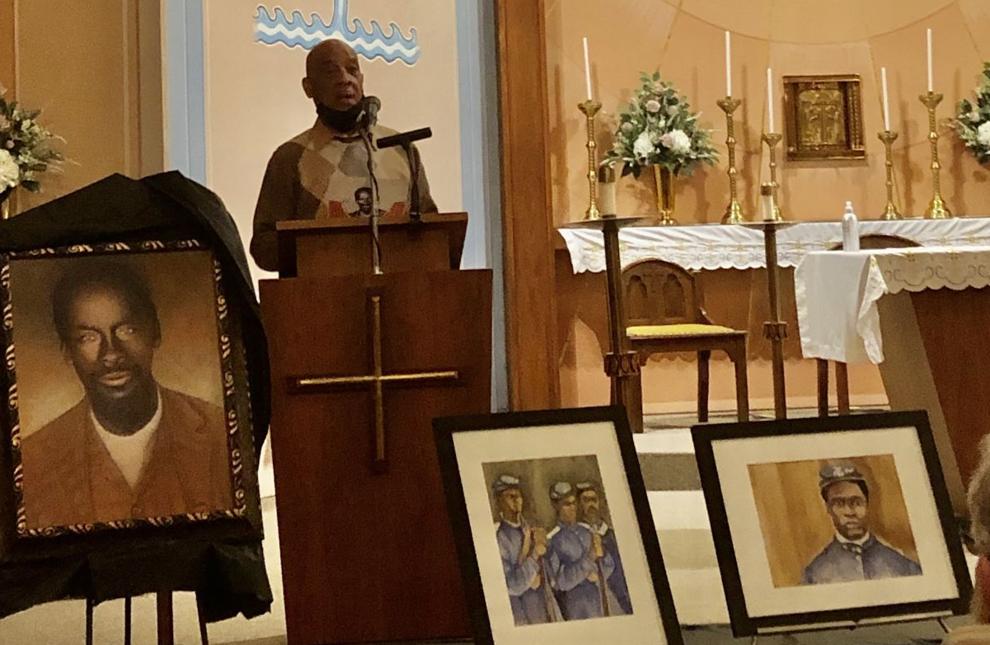 In fact, church records show that one of Moses Riney's daughters was the first person baptized at Immaculate Conception in February 1871.
The Rineys were regular members of the parish, and Moses and other relatives are buried in the church cemetery.
Greg Elder, a St. Mary man who does his best to promote his hometown and was the one who organized Tuesday's gathering, said he was like others who became interested in the life of Moses Riney.
"I doubt that members of the Colored Troops were honored or even recognized when they came home from the war," Elder said.
"So this just seemed to be the right thing to do," he said.
The artwork will be transferred to the Ste. Genevieve Art Museum, where it will stand as a memorial to Riney, he said.
Related works by the artists guild included a wood carving, paintings of Black Union soldiers and portraits of two of Riney's daughters. The portrait of Riney himself was taken from a tin-type photograph that is the only known image of him.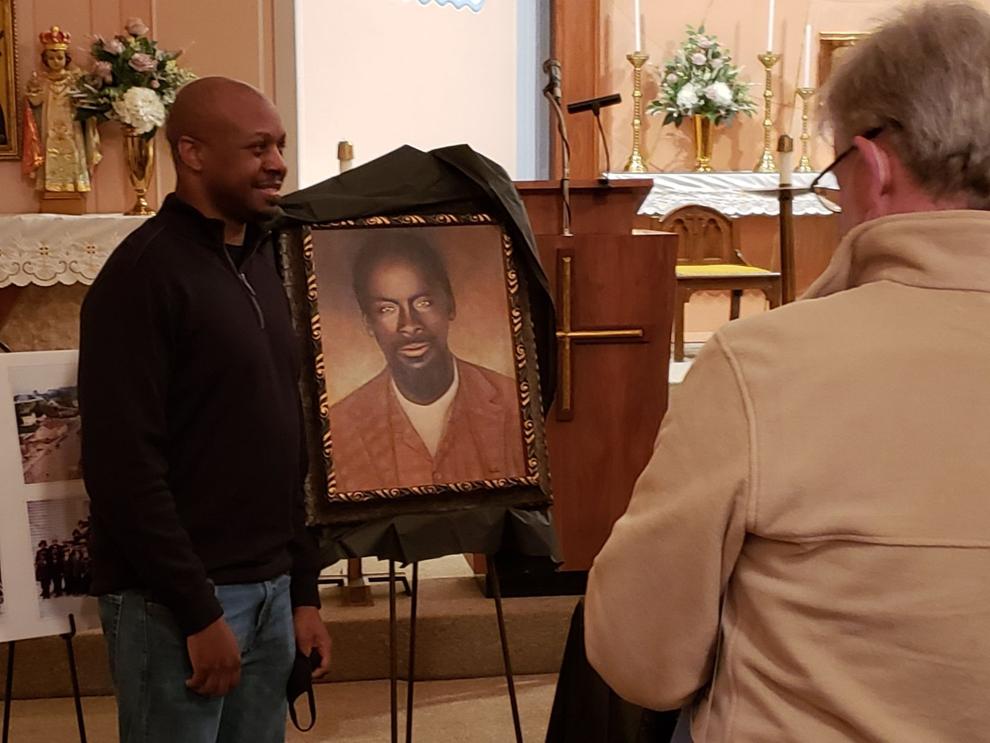 It was the artwork that struck an emotional chord within Brant Riney, a great-great-grandson who lives in Florissant.
"All this for a man who was not famous or anything," Riney told the people in the pews.
"It all came from the heart, and that is a lot of caring."