Modern music comes to us through cutting-edge, micro-processed technology that screams of physics and electrical engineering.
Funny how it all began with what looks like a flattened soup can known as the "St. Louis Tinfoil."
This 142-year-old strip of tin, about 5 by 15 inches, contains music and a human voice recorded in St. Louis in July 1878.
"This is the common ancestor to every piece of recorded music we have heard ever since," said Andrew Wanko, public historian for the Missouri History Museum.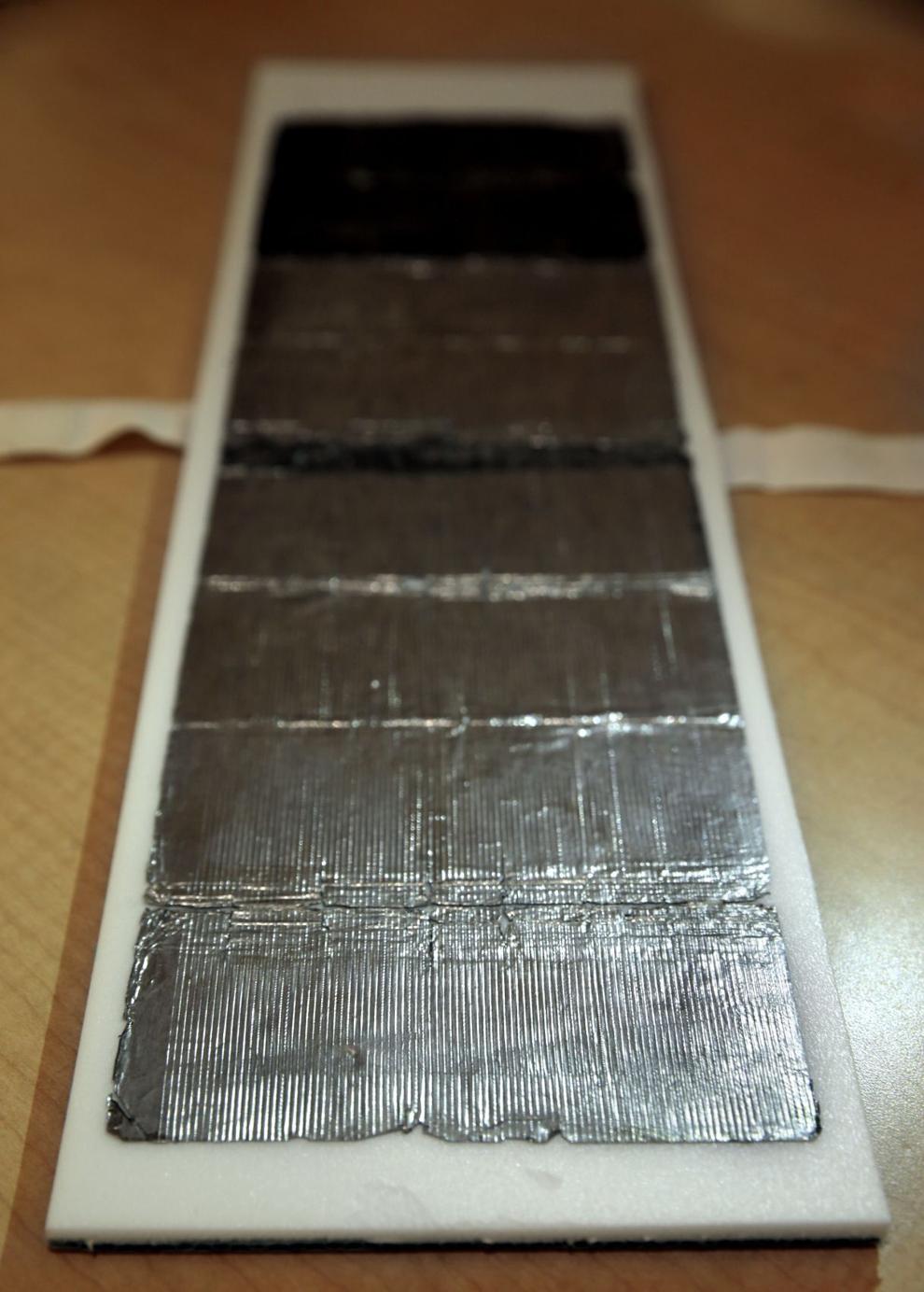 "It's akin to magic," Wanko said, describing the 78-second clip as the oldest playable audio recording of an American voice.
Cranking up the tinfoil's importance is the fact that last week it was included by the Library of Congress on its latest list of "audio treasures worthy of preservation for all time based on their cultural, historical or aesthetic importance in the nation's recorded sound heritage."
So how did this irreplaceable historical artifact come about, and why here in St. Louis?
Furthermore, where has it been for all these years, and how do we know what's on the recording?
All good questions, so let's begin with the first track:
In 1878, Thomas Edison was nationally marketing the new audio recording machine he invented the year before.
"Edison thought it would be amazing to record speeches" by politicians and dignitaries, Wanko said. "He never even considered recording music."
One person who took Edison's bait on the new technology was Thomas Mason, a St. Louisan willing to make an extra buck.
Under the pen name "I.X. Peck," Mason was a political cartoonist for the Missouri Republican newspaper. He also worked at a hatter's shop at 309 North Fourth Street in downtown St. Louis.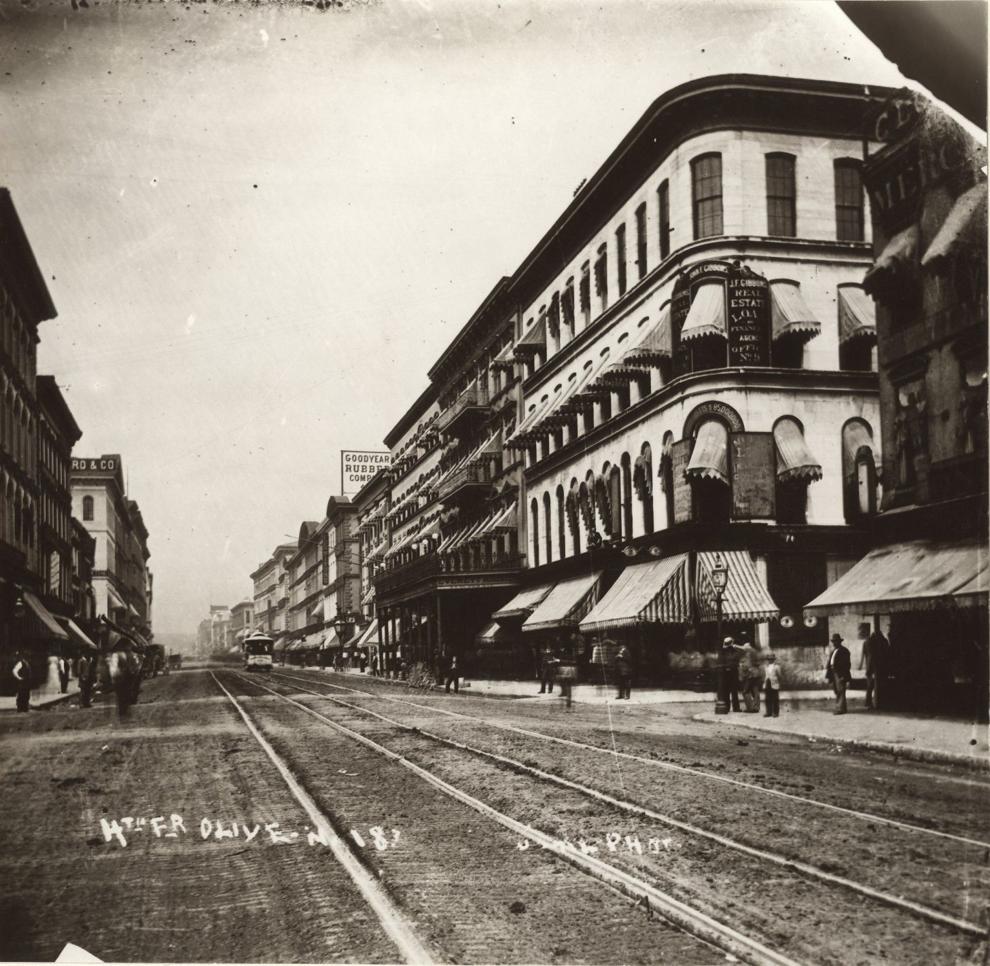 Wanko said Mason bought one of the machines and promoted it through daily public demonstrations at the shop.
"It wasn't a cheap machine," Wanko said. "It cost $95, in a time when the average laborer was making about $10 a week."
People attending the shop demonstrations could buy a tinfoil recording, which was then placed in a keepsake-style envelope that explained its contents.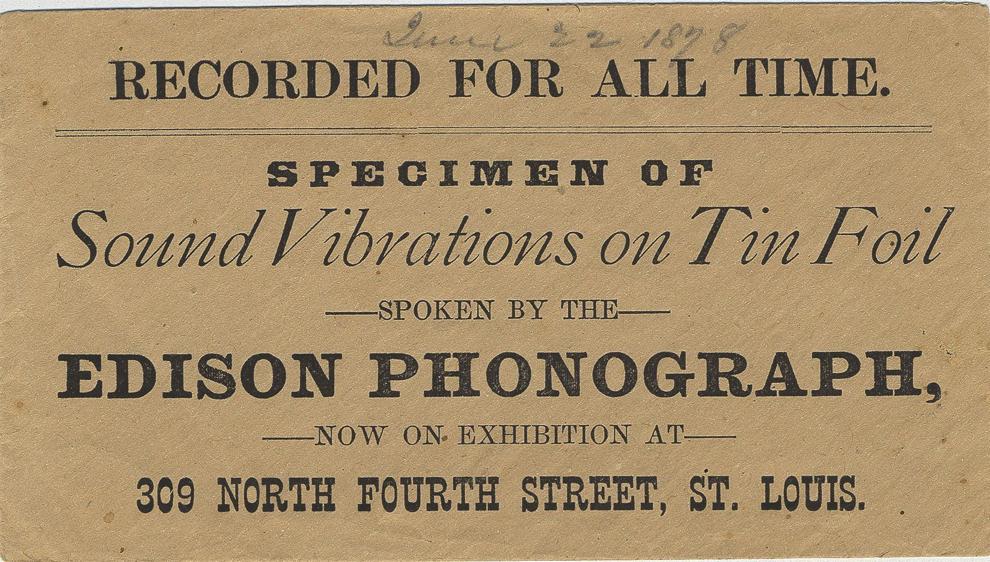 This historic tinfoil contains a snippet of music, a male voice reciting "Mary Had a Little Lamb," more music, and then the male voice reciting, and botching, "Old Mother Hubbard."
"You can hear the man laugh because he forgets the words," Wanko said. "So along with everything else, it's also the first blooper reel."
(It can't be proven, but Wanko said it is assumed that the voice belongs to Mason.)
Then the tinfoil vanishes from historical record for 100 years, until Helen Maier of Connecticut donates it in 1978 to the Museum of Science and Innovation in Schenectady, New York.
Seems the tinfoil had ended up in the collection of the woman's father, Forest Sweet, a Michigan antiques dealer. When he died in 1956, it went to his daughter, who then passed it on to the Schenectady museum, Wanko said.
There it sat some more, for about 34 years, until scientists at the Lawrence Berkeley National Laboratory created a three-dimensional image of the tinfoil.
By using mathematical analysis and physical modeling to calculate how a needle would have played the recording, sound could be heard without physically touching the tin.
To listen to the recording, please click here:
Thanks to a loan from the Schenectady museum, area history buffs will be able to see and hear the tinfoil when it becomes part of St. Louis Sound, a larger exhibit opening in August at the Missouri History Museum.
The exhibit also will feature trumpets played by Miles Davis and Clark Terry, dresses worn by Josephine Baker and Tina Turner and, of course, a guitar played by Chuck Berry.
"Basically," Wanko said, "it covers music in St. Louis from the tinfoil to Nelly."
Getting the tinfoil ready for the exhibit will be the responsibility, and worry, of exhibit registrar Carlie Doggette and the museum preservation staff.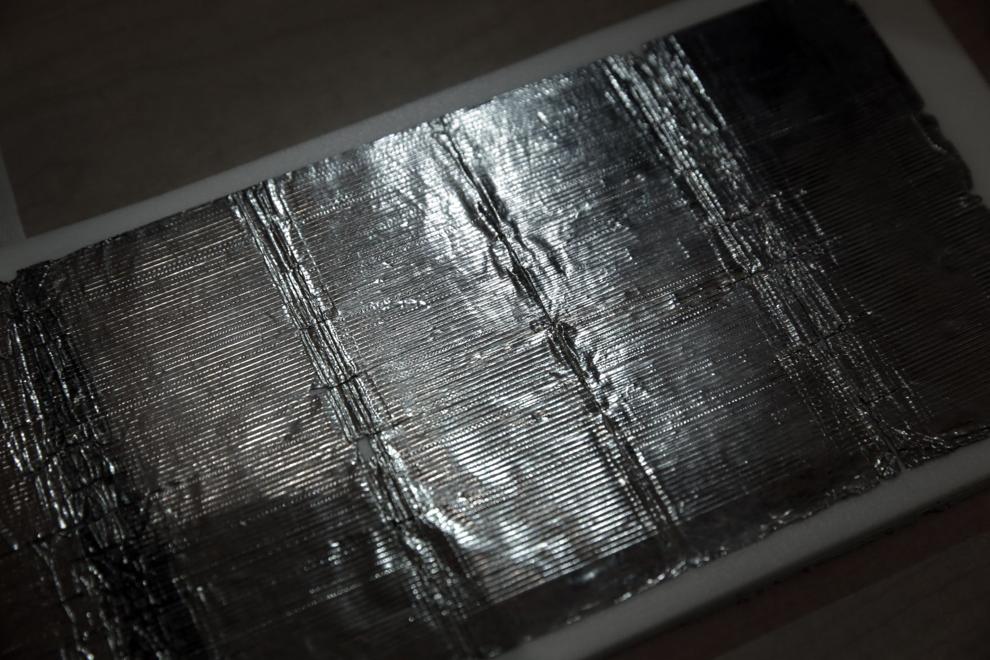 Given its age and brittle nature, great care is taken with handling it.
"You see how small it is?" Wanko said. "Well, the crate they shipped it to us in could've held a recliner."
Doggette said the mounting of the tinfoil for public display will require it to be securely sealed, but in such a way that no weight is pressed on either side.
So, said Doggette, "It'll be a hold-your-breath moment."